Crazy Rich Asian fans are buying out theaters in hopes of a #GoldOpen, and Hollywood are you listening?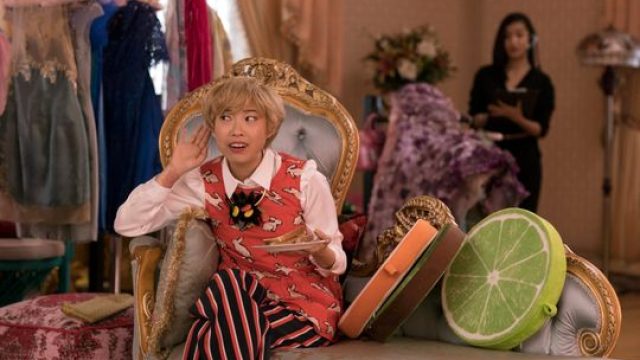 There is an unfair burden placed on Hollywood blockbusters that aren't mostly white or mostly about straight white men—films like Wonder Woman, Black Panther, and now Crazy Rich Asians. The burden is that thesefilms cannot just be great, they need to prove their worth at the box office in order for Hollywood to appreciate their value. If Girls Trip wasn't successful, naysayers would wag their fingers as if to say, "See, black women can't open a film." If Wonder Woman wasn't the massive hit it is, we probably wouldn't be talking about the Batwoman series right now. Because of the unreasonable financial pressures placed on movies about women, POC, and the queer community (read: anything that diverts from what Hollywood typically promotes)—fans of Crazy Rich Asians have come up with the perfect plan to speak Hollywood's language. Affluent fans are buying out Crazy Rich Asians showtimes in hopes of dominating the opening weekend box office in a move they're calling a #GoldOpen.
"High tides raise all boats, so we wanted to see if we could be that high tide," Andrew Chau, a co-founder of Boba Guys, told The New York Times.
It's a perfect idea. The movie is about the crazy rich segment of Singaporean society—so it's not a stretch for rich fans to swoop in and use their affluence to influence the box office. Even better, the theater buyout is also giving fans, youth groups, and school-age kids who can't afford a ticket a chance to see the film.
According to the Times, this idea was hatched by a group of venture capitalists and Silicon Valley types who have the shared goal of ensuring Crazy Rich Asians is a financially successful film…because representation matters, but Hollywood listens to the box office. Now, fans and the movie's stars have joined in, and it's become a bona fide movement.
"If our movie does well, four [Asian-centric] projects will go into production….if it doesn't, they're going to be in unknown states," director Jon M. Chu told The Hollywood Reporter.
As of Thursday, August 16th, the film has a 94% rating on Rotten Tomatoes out of 109 reviews. Crazy Rich Asians is in theaters now.