Um… "Crazy Ex-Girlfriend" star Rachel Bloom made a secret musical of Sugar Ray songs and oh yeah, you can watch it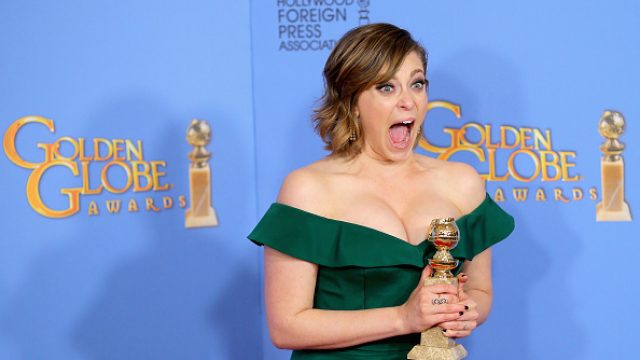 We've been obsessed with Crazy Ex-Girlfriend co-creator and star Rachel Bloom since we first saw her videos on YouTube. How could we not? In addition to having an amazing TV show, the woman is a talented, hilarious genius who has been sharing videos with us for years. We're particularly in love with "Jazz Fever" with Seth Green!
https://www.youtube.com/watch?v=nKXC2ZCmMwU?feature=oembed
So, of course we were not surprised to learn that Rachel Bloom, being a child of the 90's, wrote a Sugar Ray musical and, yes, you can watch it online.
As Rachel explained to James Corden on The Late Late Show:
I was in middle school in the late '90s and when you're in middle school, you're most susceptible of taking pop culture, breathing in the most popular things.  So, a lot of my music references are late '90s bands, which a lot of people don't consider the pinnacle of music history.
And, suddenly, with her love of all things 90's, Sugar Ray: The Jukebox Musical was created by Rachel Bloom.
Not only was it created, it was performed AND recorded at the Los Angeles Upright Citizens Brigade Theater in 2014. Borrowing heavily from the plot of Rent (which, to be fair,stole its storyline from the opera La Boheme), the musical, which you can watch below, opens with the cast standing in a straight line on stage singing Sugar Ray's "Every Morning."
Rachel plays addict Phoenix/Starstreak, the "Mimi" of the group, for those of you who love Rent. Like most addicts in heroines in dramatic musicals, she dies from an overdose, which leads into a heartrendering reprise of "Every Morning" mashed up with "Seasons of Love" that ends with them declaring "that Smashmouth sucks."
https://www.youtube.com/watch?v=li1uORCIYeI?feature=oembed
Regardless of what you think of Smashmouth, you are going to love this musical!