Why you should binge-watch "Crazy Ex-Girlfriend"
Combining catchy songs with drama and comedy is an arduous task. But, Crazy Ex-Girlfriend is doing it with style. Co-creator and lead Rachel Bloom won a Golden Globe for Best Actress in a Television Comedy or Musical, and the network gave the greenlight for a full season of episodes. This, all with "that" title, which was deliberately chosen to be off-putting. As Bloom told Salon, "The title is meant to be a deconstruction of a stereotype, and the whole show is about deconstructing the boxes that we're supposed to be put into."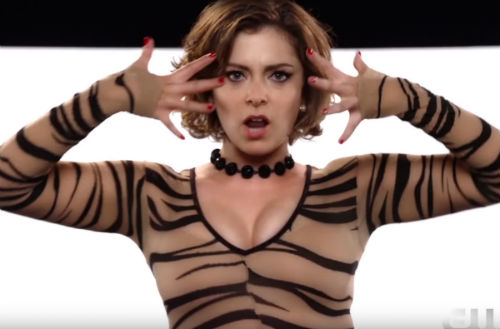 Crazy Ex- Girlfriend centers around Rebecca Bunch (Bloom), a very successful but equally unhappy attorney in New York. Through serendipity, she becomes convinced she should try to rekindle her relationship with Josh Chan (Vincent Rodriguez III), her summer fling at camp in 2005. Thus, she gives up her life in New York and decides to move to the not-so-glamorous city of West Covina, California. It is a refreshingly quirky and funny show, and before the new episodes return tonight, we're telling you why it should be your next binge:
Rachel Bloom is a gem.
It's all about comedian, writer, actress Rachel Bloom. Bloom honed her writing on shows such as Allen Gregory and Robot Chicken, and as well as by performing standup at Upright Citizens Brigade. Before the show, Bloom was best known for her viral video "Fuck Me, Ray Bradbury." She created the show with screenwriter Aline Brosh McKenna (The Devil Wears Prada), but without Bloom's physical acting, comedic timing, and vocal abilities, the show wouldn't work. Rebecca is a neurotic character, but Bloom nails her outrageous situations and accurately portrays her erratic tendencies.
The secondhand embarrassment is enjoyable.
The show has an outstanding supporting cast with equally messy characters. There are various situations which will make you curl your toes in embarrassment, like in the pilot: Rebecca's boss Darryl Whitefeather (Pete Gardner) tells Rebecca that his wife's divorce attorney is "one of those real smart Jewish guys." When Rebecca tries to nip his casual racism in the bud by telling him that she's also Jewish, he's flabbergasted. "Such a tiny nose! It's like a button!"
From stalking Josh's Facebook or Instagram, to her coordinated way of accidentally running into him when he doesn't return her phone calls, the majority of Rebecca's interactions with her "true love" Josh are anxiety inducing. But, the high-energy performances of the cast make it work.
The musical numbers are fantastic.
There's a really nice mix between drama, comedy, and the musical interludes, the show features roughly two original, catchy songs per episode. What stands out is that the songs and the videos parody certain artists and genres. For example: The "Sexy Getting Ready Song" is an adorkable ode to the '90s R&B diva's, but the lyrics sum up the tedious preparation that women undergo for a date. "Sex with a Stranger " resembles Ciara's "Love, Sex, Magic" with a dash of Beyoncé's "Partition," whilst Bloom sings "Hey sexy stranger / Let's go to my place / And please don't harvest my kidney / Don't give me that incredulous face / I saw a movie like that on Lifetime."
https://www.youtube.com/watch?v=hkfSDSfxE4o
The accurate portrayal of mental health issues.
The show is refreshingly open when it comes to Rebecca's mental health issues. In the pilot, Rebecca dumps her meds into the sink and slowly her compulsive tendencies are revealed — depression, anxiety, ADHD. What makes it work is that it never feels heavy-handed. There are various winks that show the show's self-awareness, but her mental illness is not trivialized. Not only will you personally root for Rebecca, so does Dr. Phil. In Episode 7, the Josh drama reaches new heights and causes Rebecca to hyperventilate and chug vodka. Dr. Phil suddenly appears on her computer screen, asking "Do you know the signs and the symptoms of the dreaded panic attack?" Now you know.
Crazy Ex-Girlfriend contains witty dialogue, slapstick comedy, and hilarious songs. The crux of the show is that we all deal differently with the mess that is life; even when things don't pan out as expected, there are still ways to find happiness. You just have to move to West Covina.
Rejoice: Rachel Bloom just won a Golden Globe
Before Rachel Bloom was winning Golden Globes, she played a singing uterus
(Image courtesy of The CW)