Crayola has revealed the color of their new crayon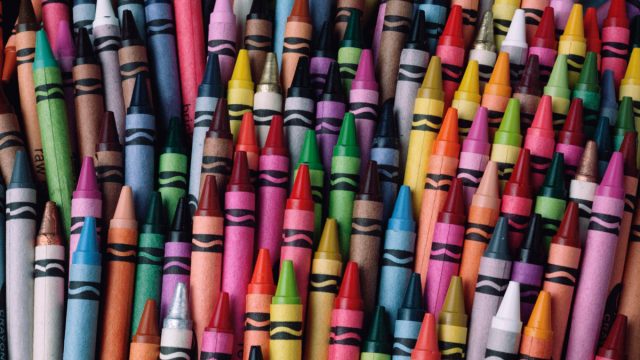 Cracking open a box of new crayons was the pinnacle of childhood delight. The colors are so bright. That new crayon smell is indescribable. Luckily, Crayola just revealed a new crayon, so now we have every excuse to relive our childhood craft time.
The new shade of blue was revealed at Oregon State University — the birthplace of the YInMn Blue pigment that inspired Crayola's latest creation. Chemist Mas Subramanian discovered the YInMn Blue pigment in 2009, making it the first new blue pigment to be discovered in 200 years.
And even though this is a super awesome discovery, some are left wondering if we needed another blue in our Crayola crayon packs.
According to Mashable, in the Crayola 24-pack of crayons, we already have blue, cerulean, and indigo — three shades of blue that look shockingly similar to the newest member of the Crayola family. But the introduction of yet another blue crayon was no mistake.
Senior Vice President of U.S. and Global Marketing at Crayola, Melanie Boulden, stated that through polls and surveys, Crayola found that America's favorite color is blue. So, with that data behind them, Crayola felt that their new blue crayon would score more fans than enemies.
Because the new blue has yet to be named, Crayola is holding a contest through their website for Crayola-lovers to come up with a worthy title. If you think you have the creative juices worthy to come up with a Crayola-approved color, you could win a $100 Crayola prize!
The contest will close on June 2nd, so start brainstorming!
Mashable reports that on July 1st, Crayola will announce the Top 5 crayon names on their website, and Americans will be called upon once more to vote for their favorite. The winner will be announced in early September.
It's a bit drawn out, but if you win, then your name will go down in Crayola history!