17 cozy yet stylish clothes to wear when it's as cold as a polar bear's toenail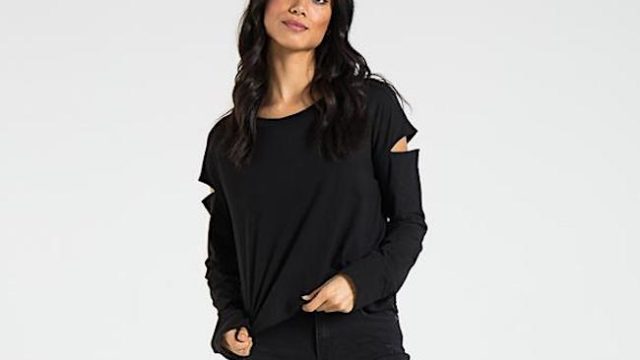 Come mid-January, every single year, without fail, we're struck with the winter blues. Between the cold weather, the lack of sunshine and the post-holiday exhaustion, this month can often drag on and on…and on.
Even the one thing that can usually cheer us up and get us out of a funk, a good ol' shopping spree, can feel out of the question thanks to the deep chill that comes with stepping outside unless absolutely necessary. No thank you.
So, all things considered, the only logical thing to do is to indulge in some online shopping. And while when it's this dreary outside, the only thing you want to do is curl up in sweatpants and a ratty old sweater, we propose something even better.
Below, we've rounded up 17 pieces that are just as comfortable and cozy as your favorite pair of sweats, but are much more stylish.
1 Orbit Midi Dress
A chic dress that feels just like wearing a cozy sweater? Sign us up.
2Topshop Off Shoulder Cropped Jumper with Cashmere
This bright pink sweater will bring you right out of a winter funk.
3ASOS Premium Lounge Knitted Ribbed Wide Leg
They feel like pajamas but are infinitely cuter.
4Express Ribbed Fitted Mini Dress
For when (okay, if) you actually want to leave the house.
5Vincent Long Sleeve Top
We're obsessed with the trendy cut-outs on this sweater.
6 Nasty Gal It Fluff Be Love Off-the-Shoulder Top
You won't be able to stop stroking this fuzzy top.
7 Nasty Gal No Sweat Sweatshirt Dress
This oversized sweater dress in crisp white is the definition of cozy-chic.
8 PrettyLittleThing Plus Nude Off The Shoulder Sweater Dress
Athleisure at its finest.
9 PrettyLittleThing Khaki Camo Loop Back Sweater Dress
Pair this with tights, leggings or jeans for a look that's instantly put-together.
10 Fashion Nova No Need To Think Top
This bright, sunny top is impossible to resist.
11 H&M Fitted Dress
For when you want to look like you put some effort in…without putting any effort in whatsoever.
12 H&M Long Turtleneck Top
How cute and cozy is this entire look?
13 UO Wilma Hooded Zip-Front Teddy Jacket
We feel warmer just looking at this jacket.
14 UO Jill Turtleneck Sweater Mini Dress
A bright red sweater will snap you out of a dreary mood.
15 Forever 21 Plus Size Crushed Velvet Leggings
Update your usual black leggings uniform with this velvet version.
16 Forever 21 Velvet Hoodie
Craving more velvet? Reach for this cool velvet hoodie.
17 Shein Contrast Faux Fur Ribbed Sweater
We'll take one of these in every color, thanks.