11 Cozy Outfits Perfect for Ringing in the New Year from Your Couch
Staying home on NYE doesn't mean you can't get festive.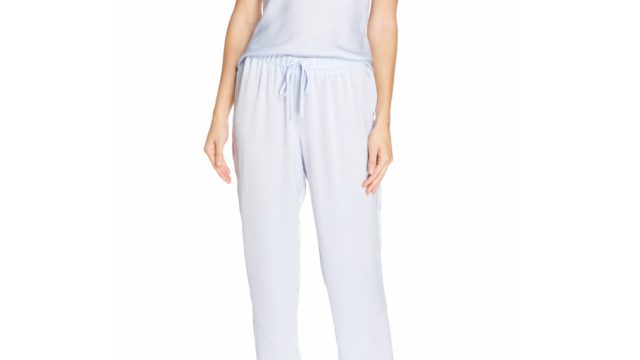 We have mixed feelings about New Year's Eve. On one hand, getting all dressed up in sequins, splashing sparkles across our eyelids, and hitting the town with friends is a blast. Getting caught in traffic, overpaying for food and drinks, and letting our bare legs freeze in the winter air? Not so much. So, staying home when the ball drops on New Year's Eve doesn't sound too bad this year, especially considering COVID-19.
Aside from being the safe and right thing to do in 2020, spending New Year's Eve at home is less expensive, less effort, and lower-stakes—which often means more fun. This year, our New Year's Eve party guest list includes our pets, chocolate bars, and several bottles of champagne—and we're totally fine with it. But just because we're staying in doesn't mean we can't dress up for the occasion. And by dress up, we mean trade our leggings and T-shirts for super-stylish pajamas and loungewear.
This way, we'll be toasting champagne flutes to our TVs as the ball drops, and be tucked into bed by 12:05 a.m.
In order to have this gloriously low-key New Year's Eve, we need to wear the coziest outfits possible while finally saying goodbye to 2020. To help you sleep like a baby after the clock strikes midnight, we rounded up the coziest outfits to spend all night in (and possibly all of New Year's Day, too—no judgment.) Some sets are on the pricey end, but they make for perfect Christmas presents that you'll get tons of wear out of. Check out our top picks below.
1. Sweet dreams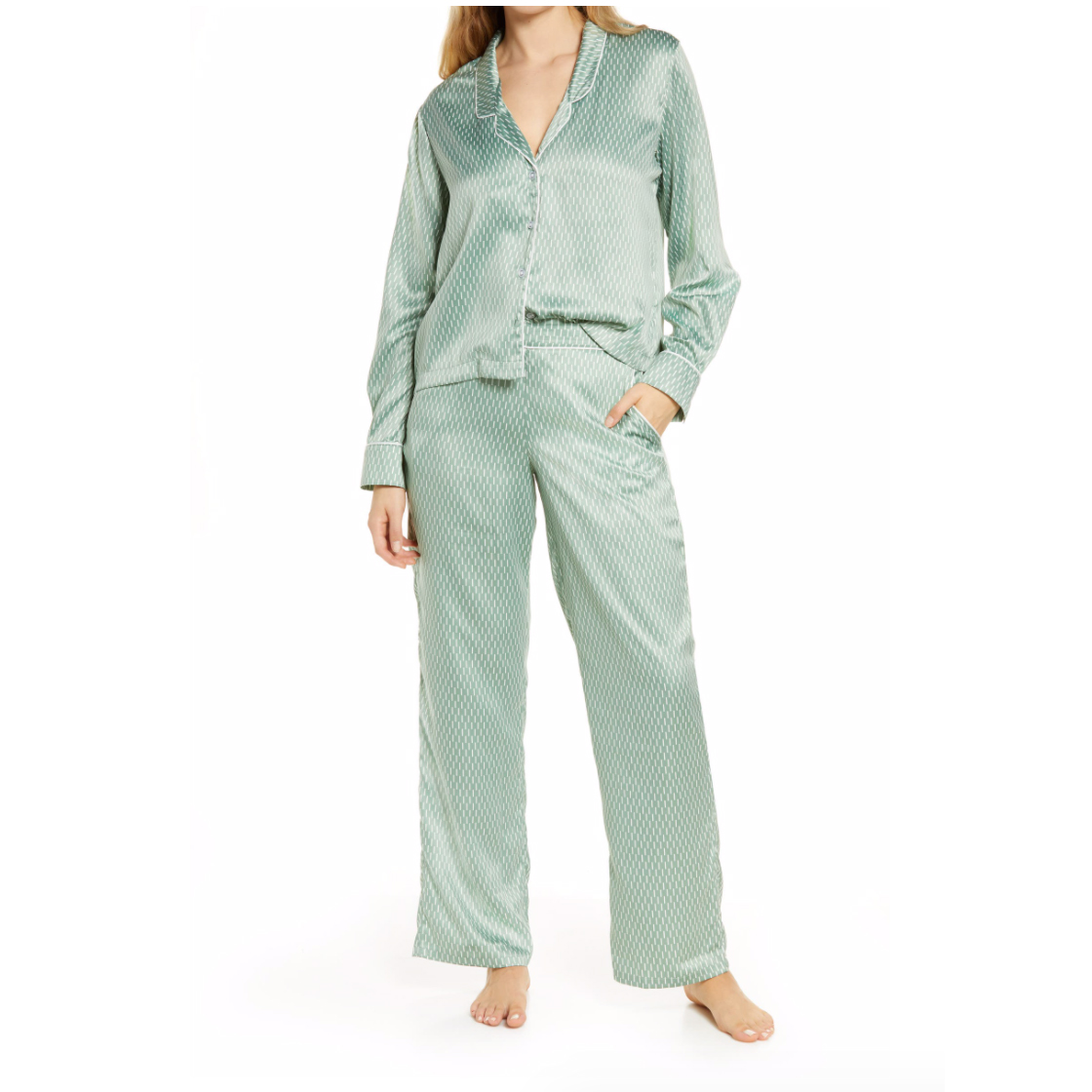 Splendid Satin Pajamas
$$88
Shop it
Nordstrom
Indulge in satin pajamas this New Year's Eve—we deserve it after everything 2020 has put us through. Luckily, this set from Splendid is currently half off, so snag it at a discounted price before holiday shoppers sweep the sale clean.
2. Simple and sophisticated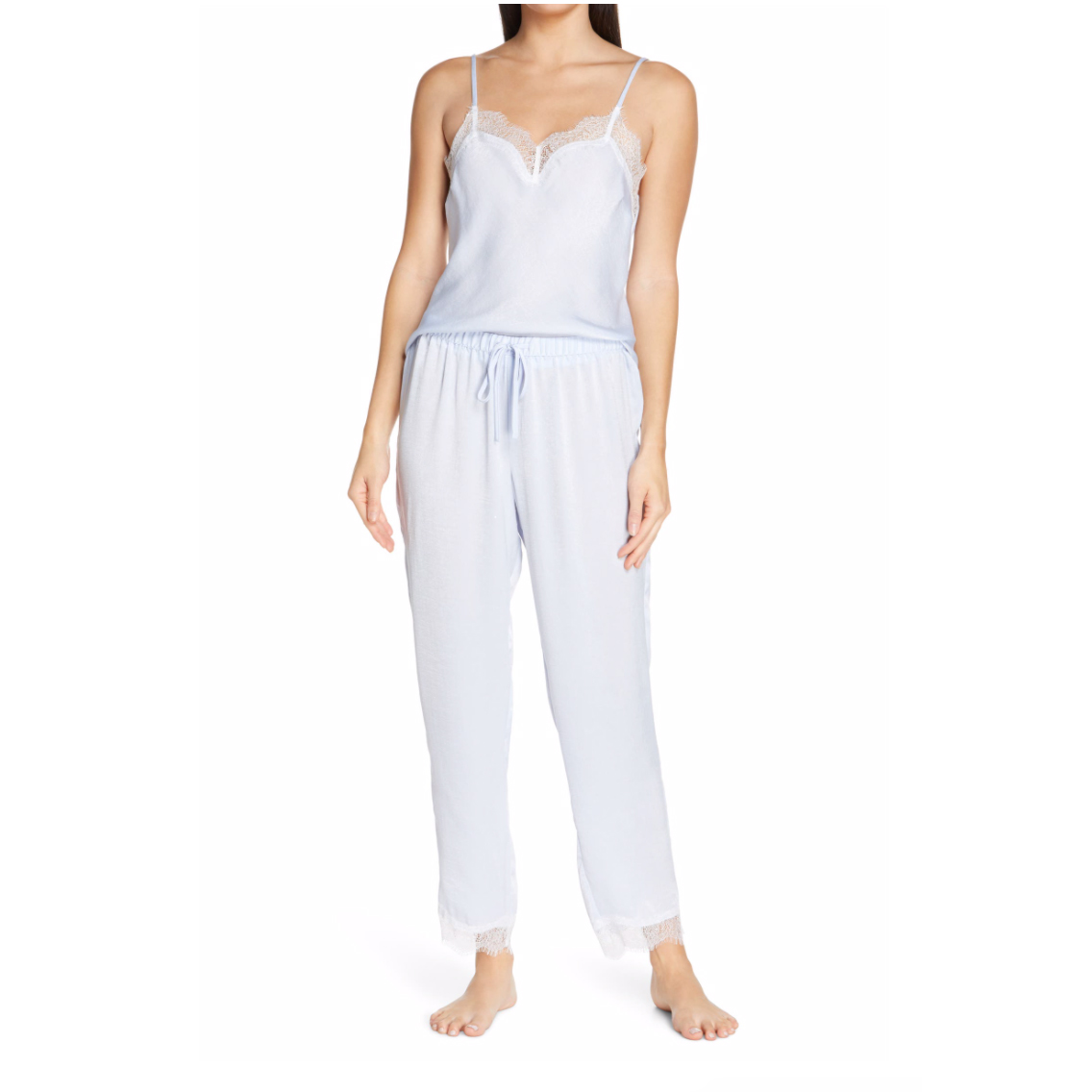 BP. Washed Satin Pajamas
$$49
Shop it
Nordstrom
These reasonably-priced satin pajamas by BP. are the perfect mix of comfortable and elegant. The touches of lace and bow on the back of the tank top add feminine details while the pants are roomy and can be worn from the couch to your bed.
3. Glammed up Beetlejuice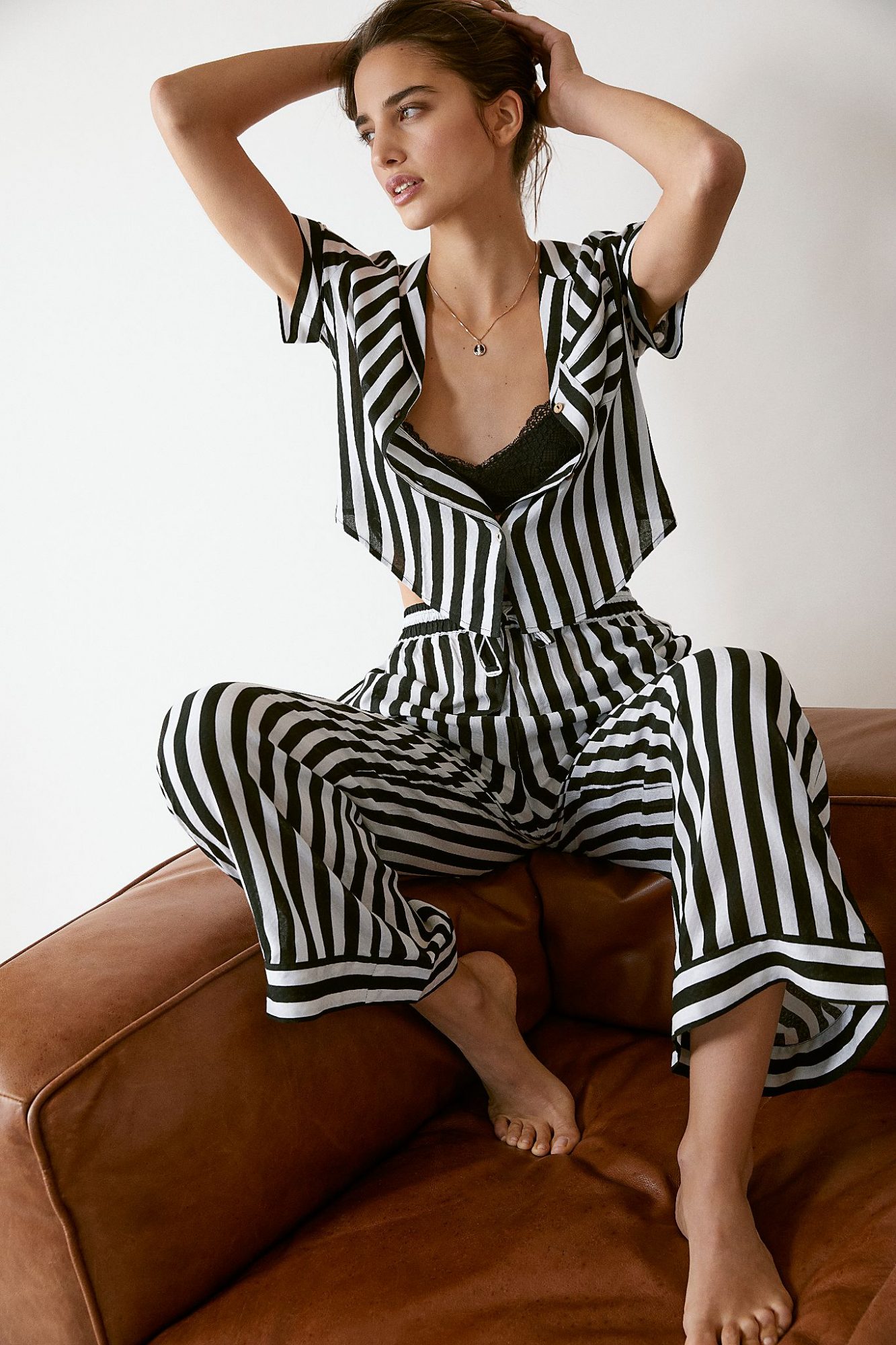 Shiny Nights Pajama Set
$$78
Shop it
Free People
The name of these PJs, Shiny Nights Pajama Set, is fitting for New Year's Eve, a night where everything sparkles—even if it's just on your TV this year. Pair them with a lacy bralette like in the picture above for a sexy touch.
4. Comfy is the game
Weekend Chiller Beige Chenille Knit Oversized Sweater
$$52
Shop it
Lulus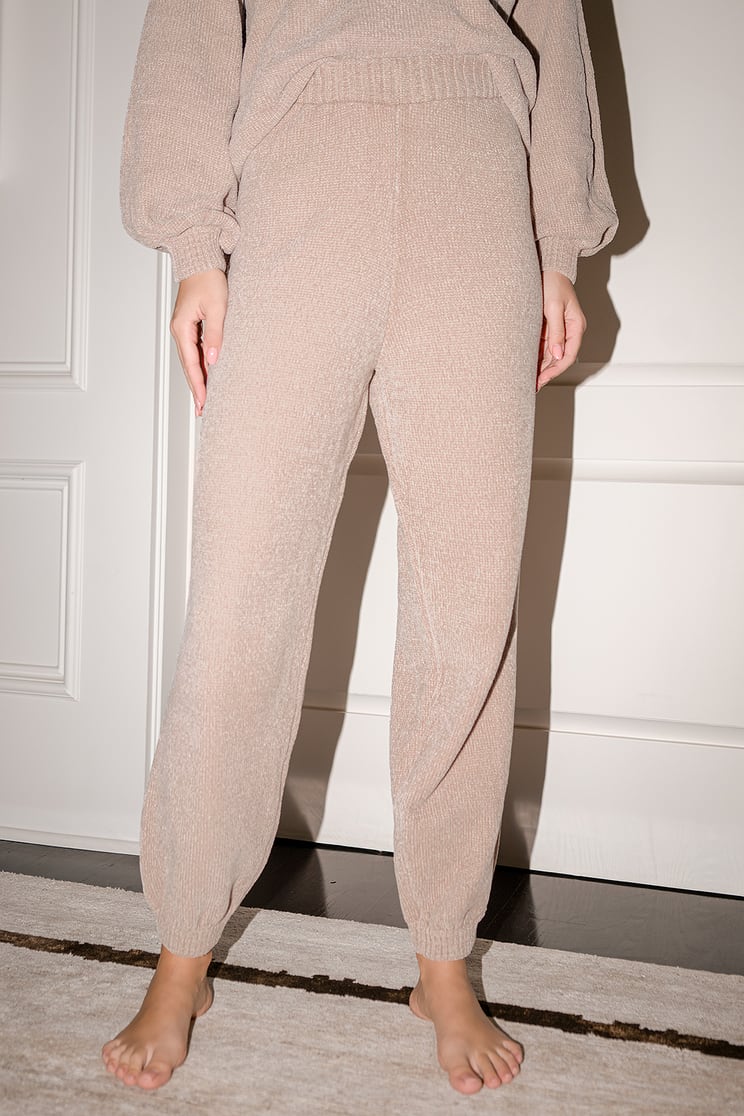 Weekend Chiller Beige Chenille Knit Lounge Joggers
$$50
Shop it
Lulus
What color is more fitting for a New Year's Eve outfit than champagne? This matching V-neck sweater and jogger set looks oh-so-cozy, and we'd wear the pieces separately on errands, TBH.
5. Hamptons chic
Papinelle Silk Pajamas
$$199
Shop it
Nordstrom
Stay on the champagne train with this luxurious silk set that'll keep you cool and feeling sophisticated while you pop some bubbly. It also comes in gorgeous plum and blush colors if that's more your taste.
6. Matchy-matchy
Annika Three-Piece Lounge Set
$$158
Shop it
Anthropologie
Although this New Year's Eve outfit is on the pricey side, for three high-quality and stylish pieces from Anthropologie, this is a steal. The high-rise, wide-legged pants are ideal for sitting on the couch eating chocolate, and you can shed the cardigan if you work up a sweat during late-night living room dancing.
7. Gowns, gowns, gowns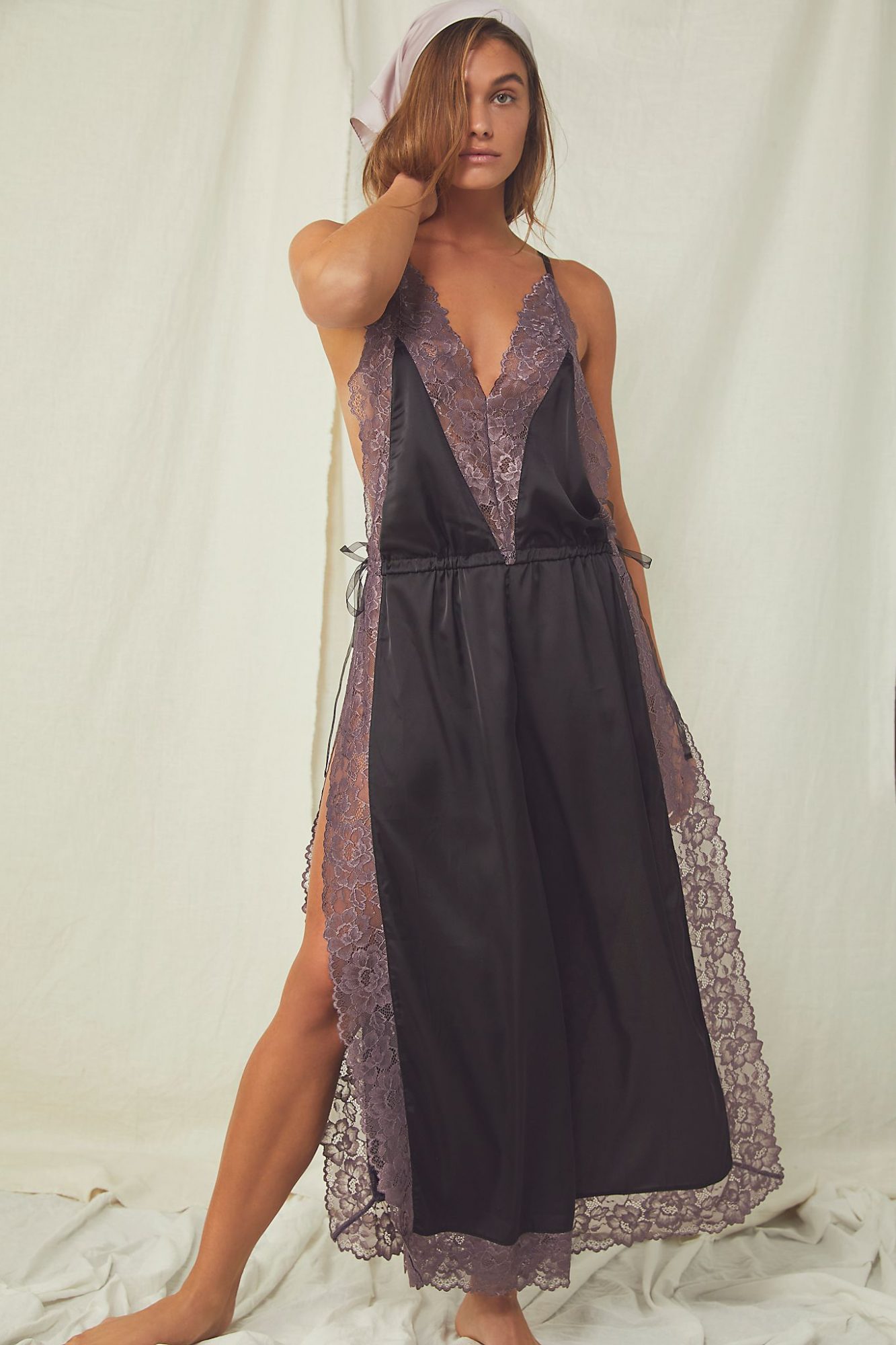 Beauty Sleep Romper
$$118
Shop it
Free People
If you're spending the holiday with your S.O., this sexy sleeper will get you both in the mood to ring in the New Year with some romance. Plus, it looks light-as-air and comes in six patterns.
8. Wine down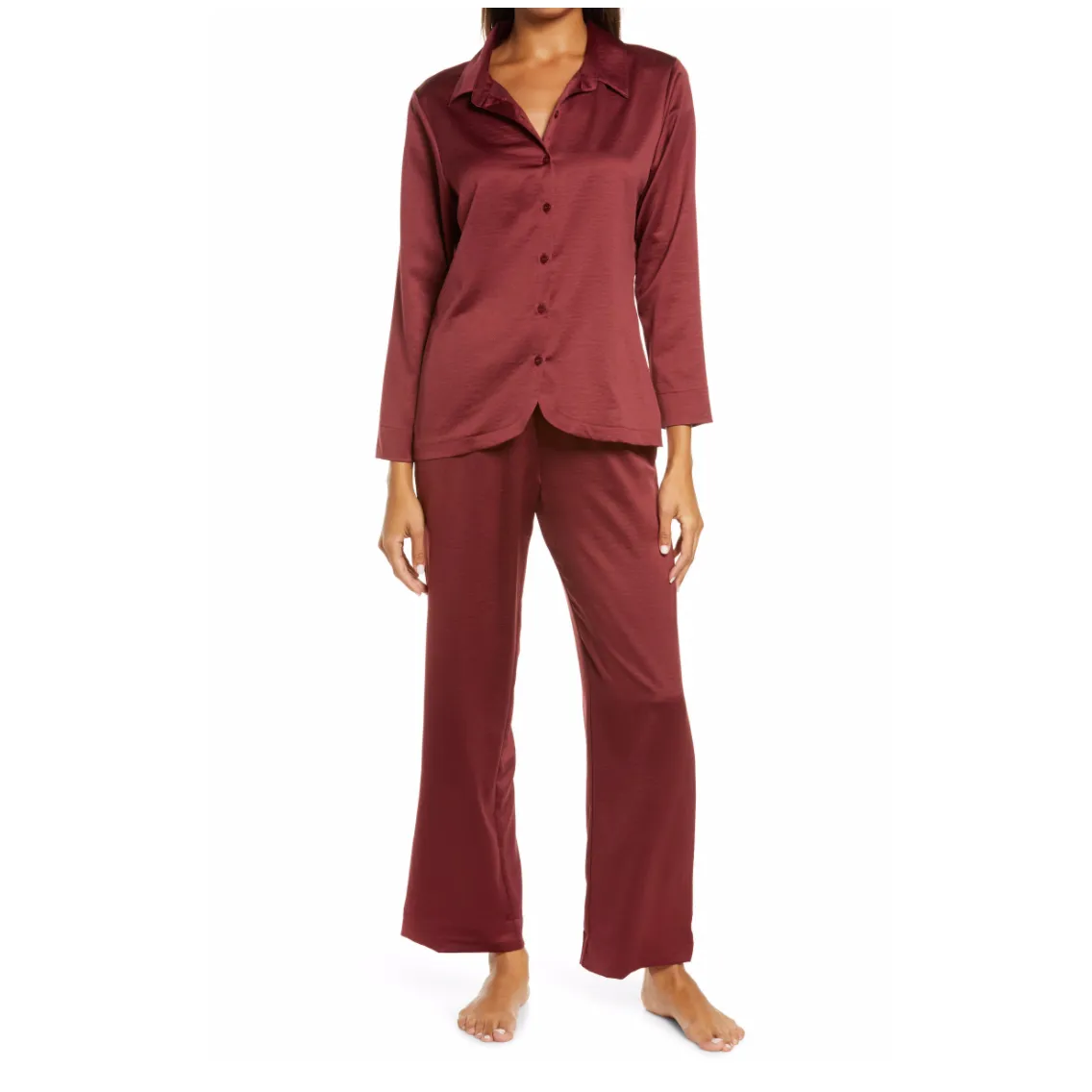 Nordstrom Satin Pajamas
$$65
Shop it
Nordstrom
Sometimes simple is best, and this satin pajama set from Nordstrom proves that theory. Choose between burgundy, navy, and animal print.
9. For the cool cats and kittens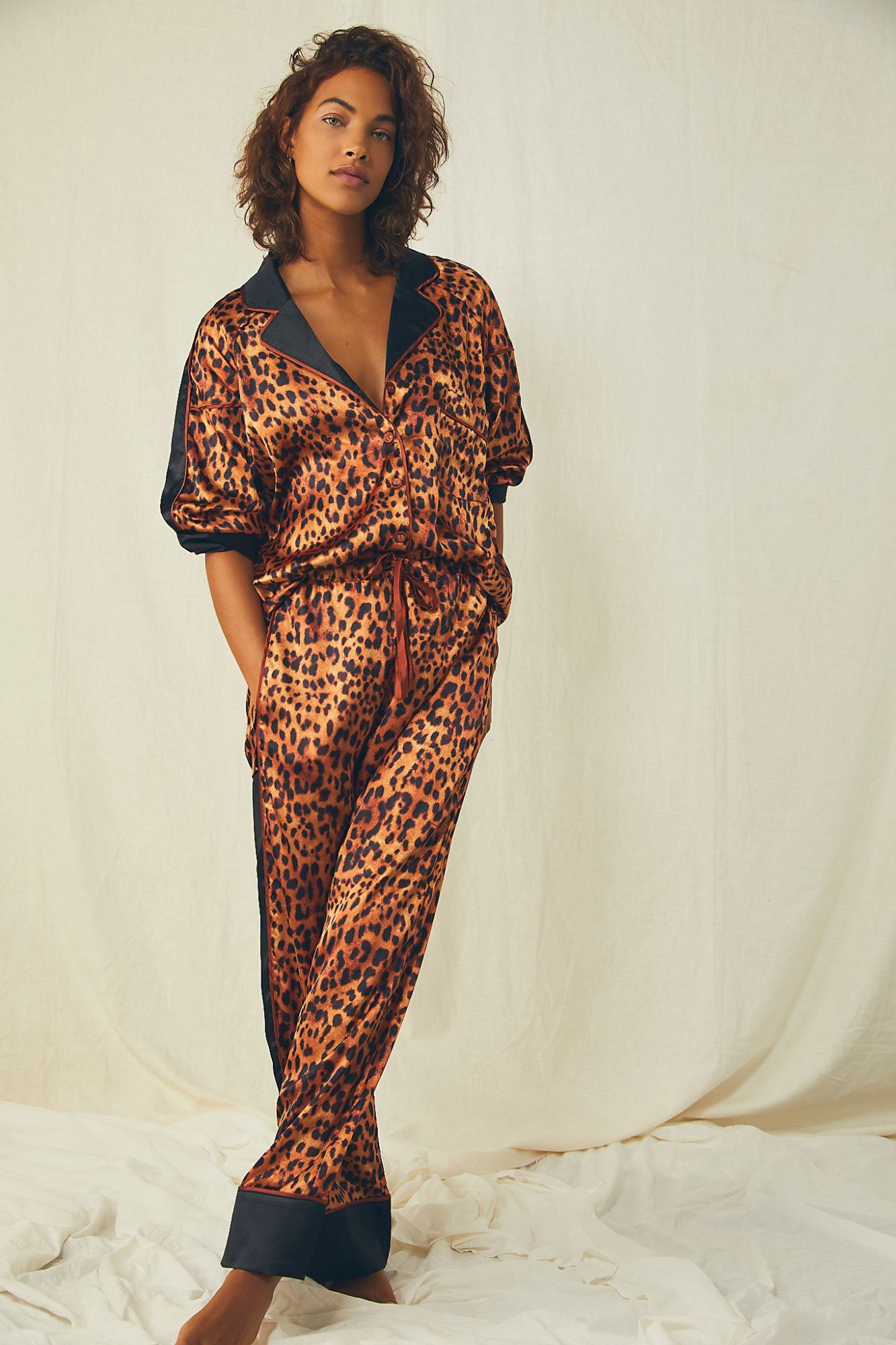 HAHt Eco PJ Set
$$248
Shop it
Free People
Okay, we can't ignore the price tag on this pajama set, but we also can't ignore how luscious that silk looks or how stylish the notched collar and front pocket are. Ask for this New Year's Eve outfit for Christmas, and find yourself living in it for months to come. It's also available in stripes, black-and-white, and a fun pink print.
10. Cropped cutie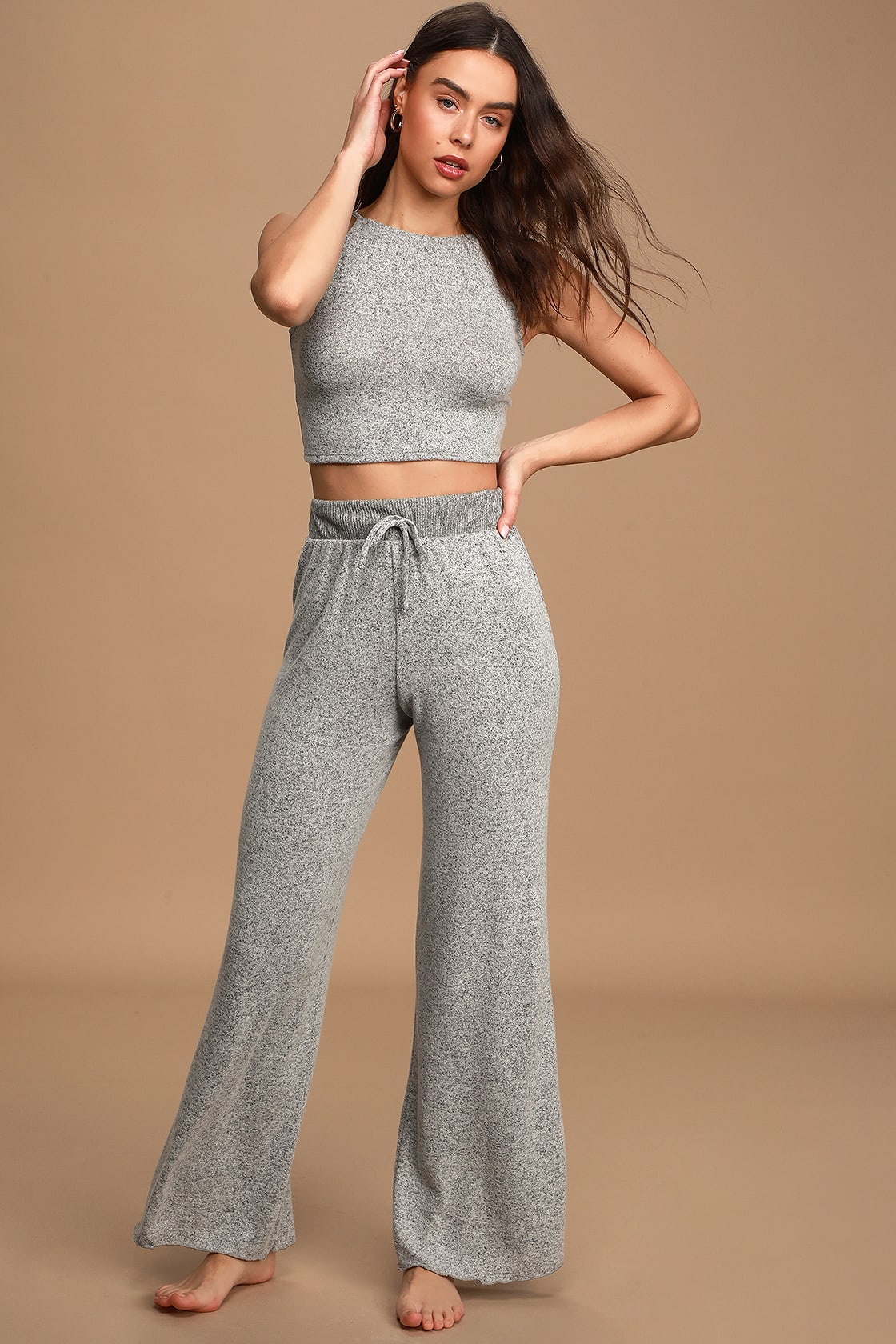 Be Cozy Heather Grey Drawstring Lounge Pants
$36
Shop it
Lulus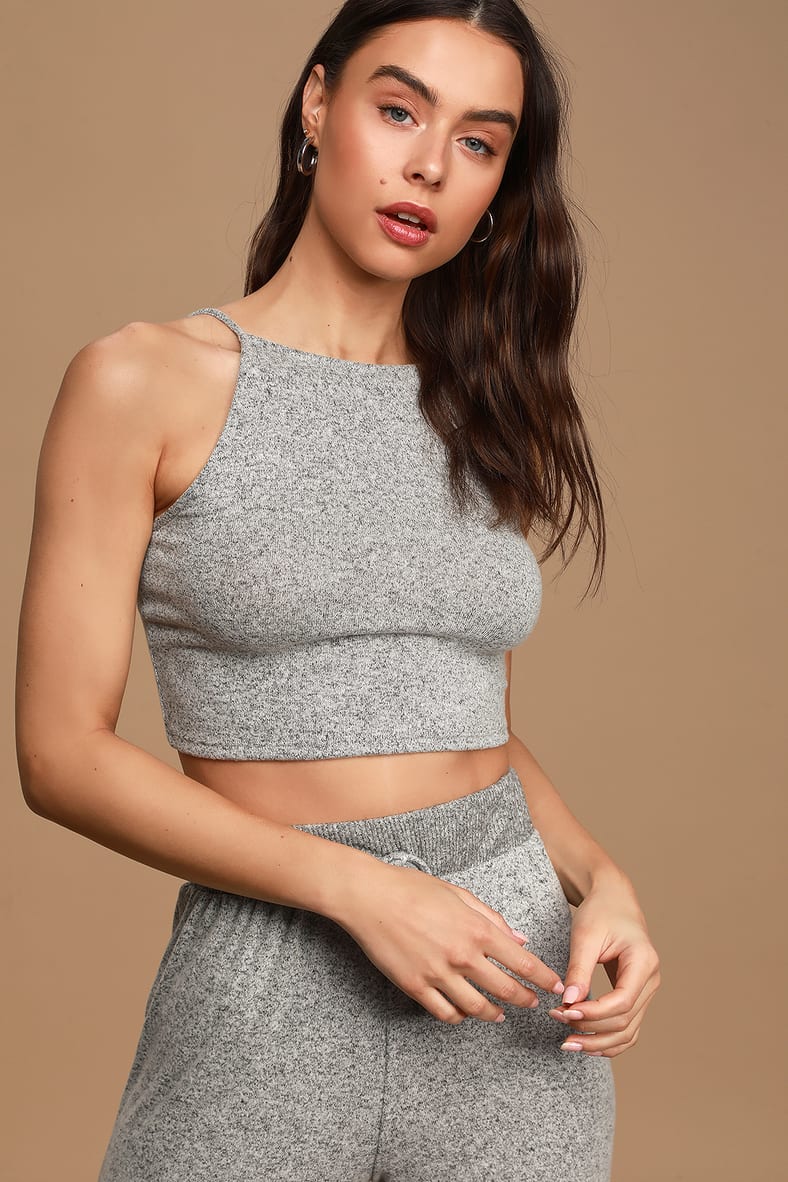 Be Cozy Heather Grey Cropped Tank Top
$$24
Shop it
Lulus
Now this is an outfit we can get behind. The fabric looks soft as a baby's bottom, and the cut is super flattering. Pair it with your favorite cardigan and we have a feeling you won't leave the couch all night long.
11. Classic print
Faux Silk Long-Sleeve PJ Set
$$138
Shop it
Free People
More striped pajamas coming your way, because they're classic. You can't go wrong with this timeless cut in black and white.
12. Feeling extra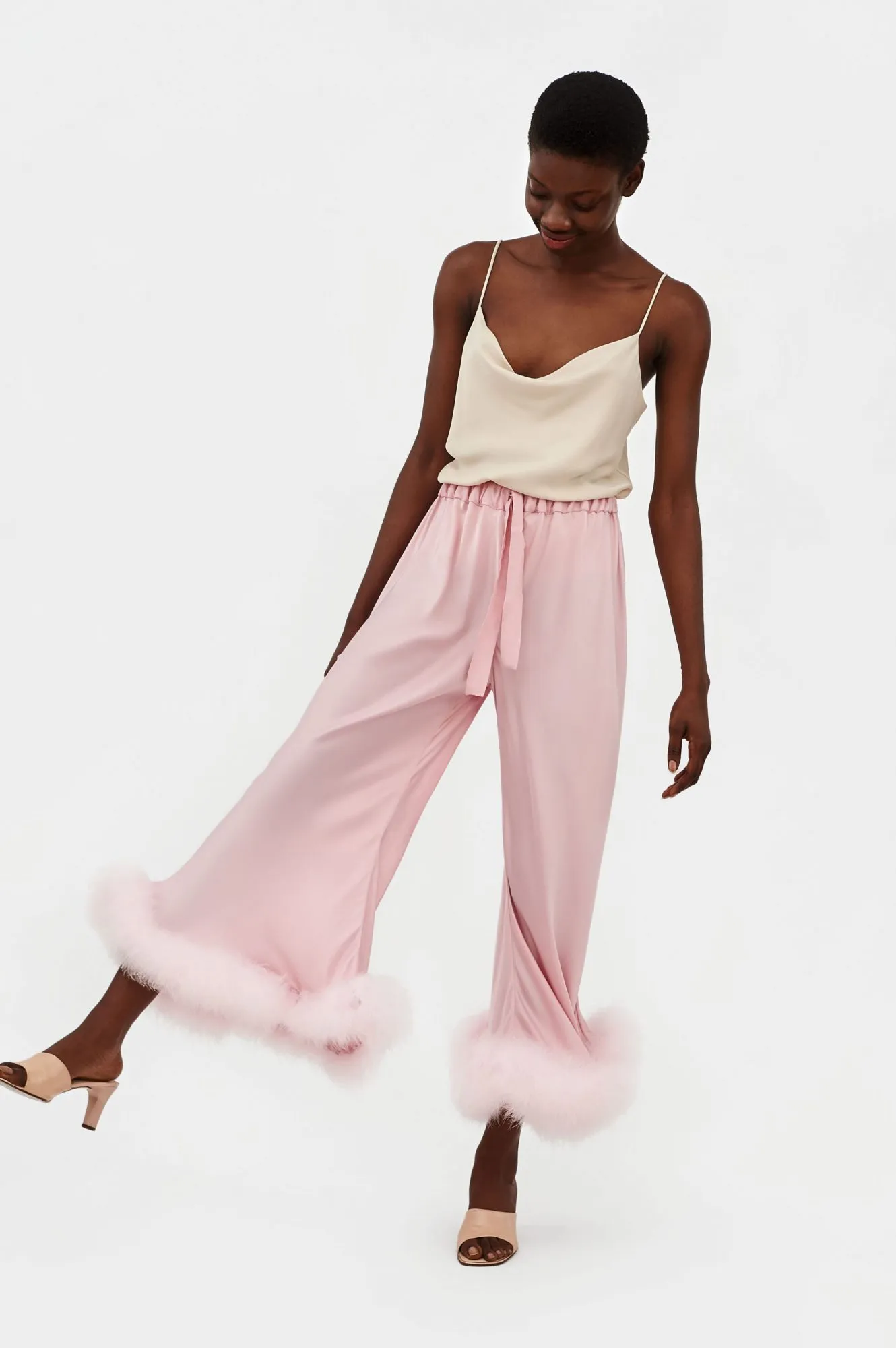 Sleeper Boudoir Pants with Feathers in Pink
$$250
Shop it
Sleeper
If you're looking for some party pants with capital P's, Sleeper has got you covered. The brand offers tons of playful sets like the above pink feather pants in a wide variety of colors and fits. You'll simply have to dance the night away in these showstoppers.