Tyra Banks Revealed She's in Talks for a 'Coyote Ugly' Sequel
Another OG cast member is already involved, too.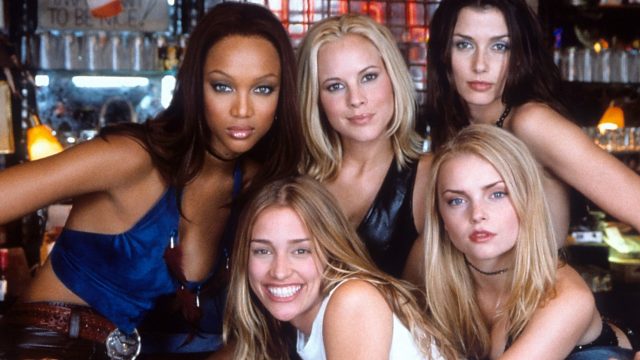 Calling all Coyote Ugly fans: It's officially time to break out your bedazzled low-rise jeans, tiny tank tops, and cowboy boots because it seems we're going back to the bar. On the heels of the cult-favorite film's 20th anniversary, Tyra Banks just teased that there are plans to "bring Coyote Ugly back," and we're freaking the heck out over this news.
Banks appeared as a guest on the October 7th episode of The Kelly Clarkson Show, and Clarkson asked if she had to use her dance moves from Coyote Ugly to audition for her Dancing with the Stars hosting gig. The supermodel then spilled the beans, revealing that she was "supposed to be on a conference call" that very same day to discuss a reboot of the 2000 romantic comedy, but had to postpone for her interview with Clarkson instead.
"I literally was supposed to be on a conference call today about bringing Coyote Ugly back," she dished, revealing that she was supposed to be joining her co-star, Maria Bello, but couldn't because she was double booked to speak to Clarkson (relatable, TBH!). Banks played bartender Zoe, who left to go to law school and returned for the iconic finale scene. Bello played Lil, the bar owner.
"We were supposed to be on a call today, and I'm talking to you and I can't talk to them," Banks said.
Yes, we are talking about trying to do Coyote Ugly 2 or a series.
Okay, so it seems like things are very early stages right now, but we are thrilled nonetheless. Banks has been open about her desire to bring the film back—in 2018, she even told People her dream casting for a sequel, citing Lady Gaga as her pick to play the "badass owner of the bar," and Meryl Streep as a Coyote.
"[I want] Meryl Streep dancing on the bar with us," she said. And yes, we're screaming. Can you even imagine?
We'll have to stay tuned to see what they've got in the works for a Coyote Ugly sequel, but for now, Banks shared this hilarious tidbit about her audition for the film.
"For my audition for Coyote Ugly, they asked me what song I wanted to play," she said, revealing that she chose "Kiss" by Prince. "They push play. I'm in this huge hotel room, all these casting people lined up looking at me. And I'm dancing. I'm head whipping. The whole song I ended up dancing. Then after I'm out of breath, and then they all just started laughing. They're like, 'We are so sorry, but we were enjoying that so much, we kept the music going.'"
Honestly, no one is more aware than Tyra herself that you simply can't fight the moonlight, even if the moonlight is in a huge hotel room in front of a bunch of casting people. We are so beyond ready for this to happen—low-rise jeans and all.