CoverGirl's Ukonwa Ojo is the beauty industry exec we want to be our BFF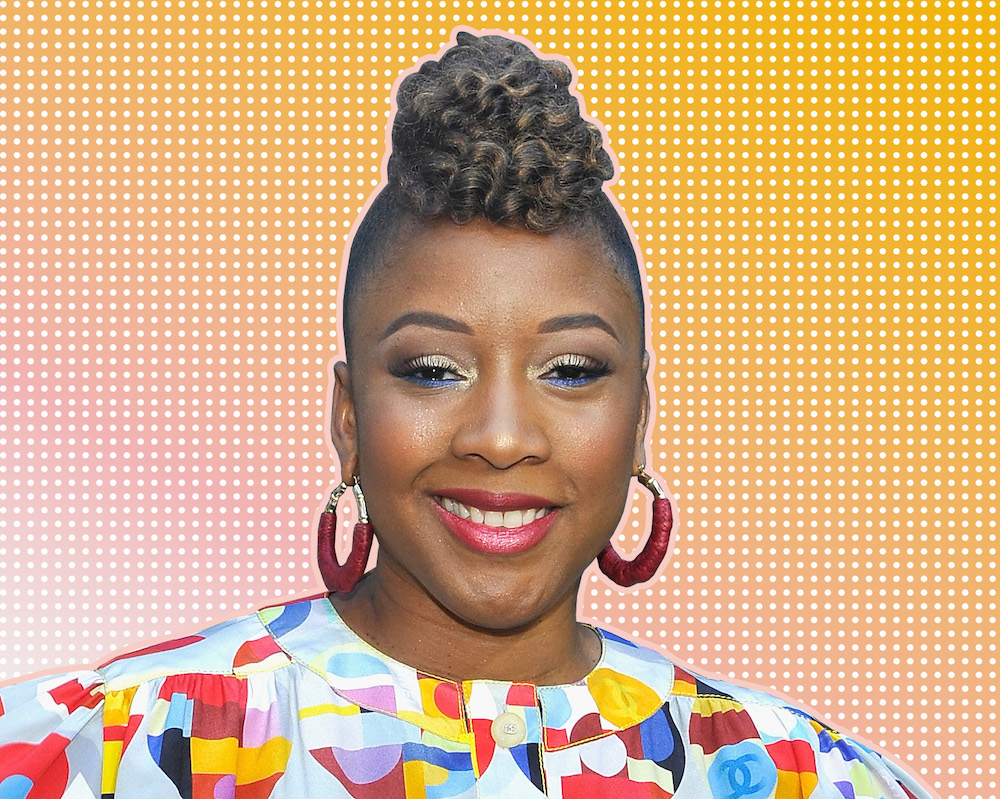 In the past few years, more beauty brands have been answering the long-overdue call for inclusivity. While we are seeing a surge in more diverse product launches, it's comforting to know when there is a woman of color at the helm. At CoverGirl, there's Ukonwa Ojo.
In late 2016, Ojo joined CoverGirl as its senior vice president and was recently promoted to Coty's (the parent company of CoverGirl) chief marketing officer. Her challenge with CoverGirl was to relaunch the brand, starting with a new motto. The iconic "Easy, Breezy, Beautiful" slogan had been synonymous with the brand since 1997. Under Ojo's guidance, an empowering new mantra — "I Am What I Make Up" — was born, along with exciting launches such as the new TruBlend Matte Made Foundation. The line boasts a 40-shade range and impressive technology which makes it flexible, transfer-proof, pore blurring, and oil absorbing. Through interviews and social media research, CoverGirl discovered these features were important to its customers.
The brand's new campaign, called The Infinite, is all about the inspiration behind this major launch. Hundreds of women are featured in the video, including CoverGirl spokeswomen Issa Rae, Maye Musk, and Shelina Moreda. In the credits, over 1000 names of some of the women CoverGirl enlisted for help with TruBlend Matte Made are mentioned. With this campaign, the brand is making the point that it does listen to its consumers.
Here, the inspiring Ojo talks about her work with the brand and what goes behind making a massive foundation launch like TruBlend. 
HelloGiggles (HG): How did you come up with the new slogan "I Am What I Make Up?"
Ukonwa Ojo (UO): For a long time, our tagline was "Easy, Breezy, Beautiful," and one of the things we realized was that as she navigated her way through all the different parts of life, her makeup changed. It wasn't easy, it wasn't breezy. Sometimes she used two products, like a BB cream and something else; sometimes it was 25 products for a totally beat face. We didn't have a lot of the products that she needed to get that complete beat. So we said, you know what? We're not gonna judge her. We're gonna celebrate how much she loves makeup and how it helps her create whatever version of herself she wants to be.
HG: What was the process for choosing the shade range of Trublend Matte Made foundation?
UO: We did a three-dimensional shade design which is proprietary for us, and we have never done that before. The traditional way for you to do shade design is you do shade for color. The second dimension is the skin tone. We mapped all the skin tones in North America and made sure that all of them are represented. Then, we realized that some women didn't want the foundation to match their skin tone exactly, so we factored in that third dimension, which is the transformation she's looking for. Sometimes she wants a little bit more brightness, sometimes she wants less.
If you just map to skin tones, you don't need 40. But one of the things we realized is that there's certain situations where you actually want this kind of transformation. We wanted to make sure that, in the spirit of 'I am what I make up,' whatever version of yourself that you want to project, we have the technology and the foundation.
HG: Can you tell us more about the technology of the foundation?
UO: We wanted to go way beyond shade. The reason why she's not completely satisfied with foundations today — shade is part of it, but it's a small part of it — is there's so many things about her skin tone. If she's multicultural, she has a greater propensity for hyperpigmentation. That's why coverage is so important. We wanted something that allowed her to build to full coverage, but is easy to do. So, we built in that it was pore-minimizing so she could have that matte flawless finish. And we knew that she wanted a situation where she could control oil, because multicultural women have a tendency for oilier skin, so we put in mattifying powder.
The last piece, which is my favorite piece, I say with a lot of love. I will try to hug my husband when I have a full face of makeup and he didn't want me anywhere near him because, as a woman of color, my foundation would transfer. Some of the folks on my team never really have to struggle with it. It was really important that if we were gonna do this for all women, then we're gonna add the technology to make this transfer-resistant. So yes, we're gonna cover your shade, but we're gonna go way beyond that.
HG: You joined Covergirl at an exciting time in the beauty industry with the call for brands to be more inclusive and diverse. How has your experience been, in regards to that?
UO: I love that we, as an industry, are being challenged to say it's important for us to celebrate everyone who participates in the category. One of the reasons why I joined Covergirl is that they have always stood for that. I think it's more a matter of us asking ourselves every year as a team, "Who in the category hasn't been celebrated and has never seen themselves in such a major way?"
We ask ourselves that all the time, whether it's with James Charles, who was the first boy, or if it was with Nura Afia who was the first Muslim with a hijab. Or as simple as Issa Rae with natural hair. So many girls are like, "I've never seen a beauty brand with the full fro, and to see that made me feel like, oh my god, I was a part of beauty." Sometimes it's Maye Musk who is 70 years old and for a lot of people, as you get older, the beauty industry kind of forgets about you. We talk about the fact that she's simply ageless, she really embraces herself as a silver fox and her wrinkles. I can celebrate everything that Covergirl has been, but I feel empowered to push it even further because I think that the industry is ready for that and the brand has always been that.
HG: What are some things you're hoping to accomplish with the brand in the coming months?
UO: I'm really excited about continuing to lead the way in terms of an inclusivity standpoint. For decades, the only vocations we ever celebrated was the entertainment industry. You had to be a singer, or an entertainer of some sort. So, we love that we have a motorcycle racer in Shelina [Moreda], a model in Maye [Musk], an entertainer and singer with Katy [Perry], a businesswoman in Ayesha [Curry] and an actor and director with Issa [Rae]. We're showing all the different roles and all the different dimensions that women play in today's society.
With Clean, we're able to talk about Girls Who Code. You have no idea how many female engineers have reached out to me to be like, "It's a really big deal for me because growing up as a girl studying engineering I felt like beauty didn't include me." Because of what the brand means to people, we have such an opportunity to make an impact on culture. I think we need to be very responsible with that and continue to move the dialogue forward.