Jennifer Aniston, Courteney Cox, Lisa Kudrow Reunite for Walk of Fame Moment—But Where Were Their Guy "Friends?"
It's unclear why half of the famously close-knit cast members did not show up for Courteney Cox's big day.
Congratulations to Courteney Cox, who unveiled her official star along Hollywood's Walk of Fame on Feb. 27! The actress was joined by some of her closest "Friends" both literally and professionally; Jennifer Aniston and Lisa Kudrow were both there to show their support. While their mini cast reunion was a sweet nod to their TV days, a few key members of the crew were noticeably absent.
David Schwimmer, Matt LeBlanc, and Matthew Perry were not "there for" Cox on her special day. Their absence certainly didn't tarnish the celebration, but based on how the cast has described themselves being close-knit in the past, the lack of Ross, Joey, and Chandler definitely sent mixed messages.
So far the reason(s) behind why the boys were not present aren't clear; no official comments from their representatives have been given so far.
RELATED: Jennifer Aniston Drops Major Bombshells About IVF and Her Divorce In New Interview
Aniston, who was the first Friends cast member to receive a Hollywood star back in 2021, gave a speech during the event. "We're very honored to be here today to speak on your behalf as your co-workers, your friends, and your family, your sisters…We've known you for a very long time."
"Courteney, we just want to say that we are deeply, deeply proud to know you," Kudrow added. "You are the definition of a truly beautiful, talented, and, what's most important, a truly good and decent human being … Thank you for enriching our lives personally."
Cox returned the sisterly feelings in her own speech. "I love you all so much and it's so nice that you came out and showed up for me in public the way you do so often in private," she elaborated.
Later on, Aniston added a cute now-and-then throwback pic on her Instagram Story, of the three women hugging.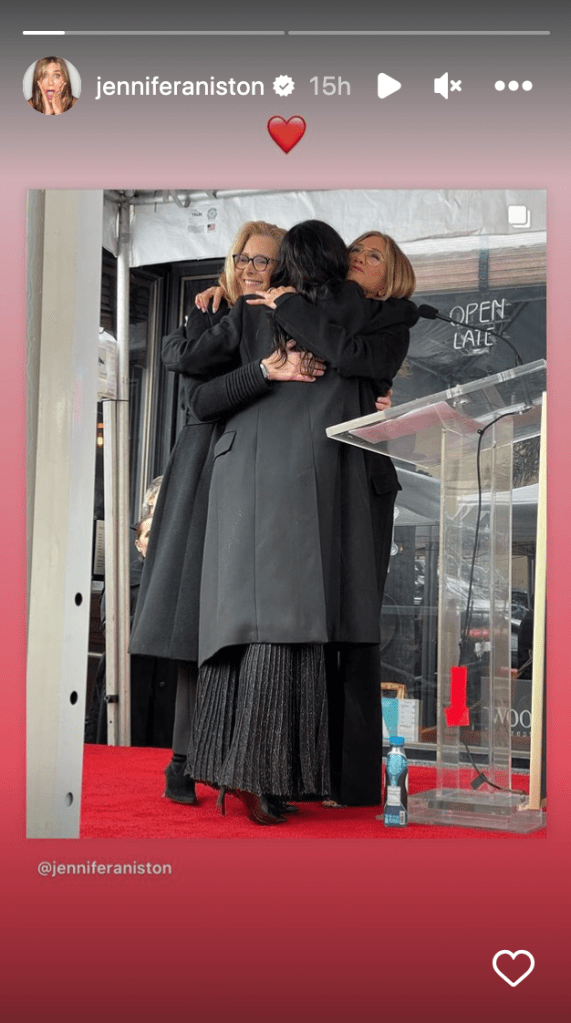 For his part, Perry, who played the love interest of Cox's character on the show, has been in and out of the media these past few months after the publication of his memoir, Friends, Lovers, and the Big Terrible Thing. The book reveals deep personal details about his life and time on the set of the hit TV sitcom — and how the iconic show saved his life in the end.
Perry, who has struggled with addiction, expressed his gratitude for the "Friends" that became his friends in real life. He described his cast members as "understanding" and "patient" as he worked through moments of addiction recovery.
During an interview for the Friends reunion special, he stated that the cast "is a very loving group." Page Six recently reported that the actor has been more reclusive since the release of his memoir however, and that he didn't think his former "Friends" co-stars would be holding a book club reading anytime soon.
Kat is a born and raised New Yorker exploring the world as she writes, eats, and everything in between.
Read more