Courteney Cox shared a pic of the Friends cast hanging out before they were famous, and could we BE any more nostalgic?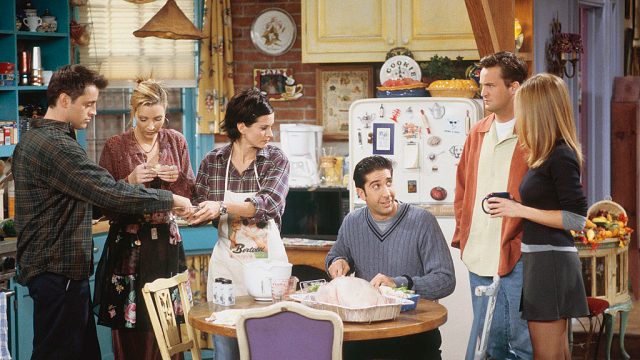 It truly warms our hearts to know that 15 years after the series finale aired, the Friends cast still seems pretty tight IRL. Though we may never get an official Friends reunion on our TV screens, we'll never stop watching reruns and enjoying mini-reunions among our favorite fictional friends—and, of course, freaking out over nostalgic throwback pics from the '90s.
Courteney Cox finally joined Instagram earlier this year. She's already blessed our feeds with Friends cast pics from past and present. When she's not snapping selfies with Jennifer Aniston and Lisa Kudrow, she's posting truly epic throwback shots from her pre-fame days.
Her latest pic of the Friends cast may be her best yet.
Cox shared the throwback photo on Thursday, May 16th. It shows all six friends in their Season One glory, en route to Las Vegas on a private plane. "The one where the six of us went to Vegas and no one knew we were F.R.I.E.N.D.S yet," she captioned the pic.
Since the sitcom debuted on NBC in September 1994, the pic is likely from earlier that year. We have so many nostalgic feels right now.
Of course, Friends has since become a total pop culture juggernaut, continuing to find new audiences thanks to reruns in syndication and its immense popularity on Netflix. But it's wild to think there was once a time when these young actors weren't on our screens every day. We love that Cox has a treasure trove of throwback moments to share on Instagram. Keep 'em coming, Mon.