You could definitely beat Courteney Cox at Friends trivia, based on this hilariously dismal performance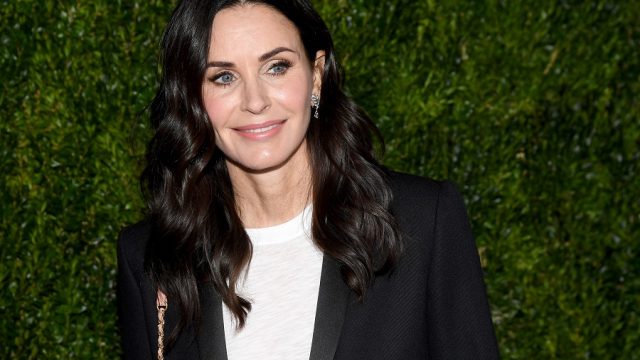 Who pees on Monica Geller's leg when she gets stung by a jellyfish? Friends star Courteney Cox doesn't know the answer, but you might. During Jimmy Kimmel's "Quarantine Minilogue" on March 25th, the talk show host was joined by Cox via video chat. After talking about what Cox is up to during coronavirus (COVID-19) isolation, the pair surprised Kimmel's cousin and Friends fan, Anthony, with a round of Friends trivia. In Cox's own words, "I don't remember even being on the show." You can probably guess who won.
Even though all of the questions were Monica-based, Cox wasn't very confident. "That doesn't help," she told Kimmel.
And while she did end up knowing some of the answers, Anthony—who himself was on video chat from Staten Island—signaled that he had his answer ready before the TV star every time. (As for that jellyfish question, Cox thought it was Joey who had to pee on Monica. It was Chandler. Come on, Courteney. That's your TV husband!)
While Cox lost out 5-0 this time, she might be more well-versed in the show she starred in for 10 years by the time she's done with social distancing: She's re-watching it to pass the time. "People love the show so much, I decided to binge-watch Friends," she said.
"I just started season 1. It's really good."
See Cox's dismal performance in this video below, starting at around the 9:40 mark.
Cox's new Friends knowledge might also come in handy when the Friends reunion is eventually filmed. The reunion, which was announced in February, was supposed to film this week, according to Cox, but obviously had to be postponed due to COVID-19. When the unscripted special does happen, it will be available on HBO Max along with all of the episodes from the series. By then, Cox will certainly remember who Monica's first kiss was. (Ross. It was Ross.)
Lia Beck is a writer living in Richmond, Virginia. In addition to Best Life, she has written for Refinery29, Bustle, Hello Giggles, InStyle, and more.
Read more