This couple's tiny house is smaller than most bedrooms and yet it's so luxxe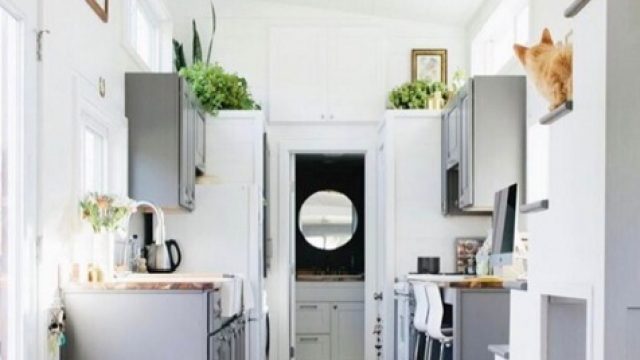 With rising rents in the U.S., many of us have had to get creative lately with our homes. How do we make the most out of small spaces? Well, if you're looking for some inspiration, look no further than this couple's adorable micro-space. They have made their tiny, tiny Texas home look better than we ever could! We love it!
Here's the 312 square foot home from the outside:
https://www.instagram.com/p/BOGAULag-ql
Soooo cute.
https://www.instagram.com/p/BONDe7zgWdc
The Every Girl interviewed one of the homeowners, Kelly Christine, about her and her partner's transition to their pint-sized living situation. Here's what she said:
"The downsizing process was challenging, but fun and exciting. Also, unless you own your own piece of land that doesn't restrict you to certain building requirements, you're going to run into the issue of where to put your house. We sure did. We couldn't find anywhere to put it in the city. Luckily, we have access to family property 80 miles outside of Dallas and we were able to put our home there for now."
https://www.instagram.com/p/BL7VtH6gTWp
https://www.instagram.com/p/BPbtHx6gJeX
We are in LOVE.
https://www.instagram.com/p/BNgG-N7gZQC
https://www.instagram.com/p/BMvNuO2A9A5
Christine talks about how they maximized storage space in their cute little home:
"We knew from the beginning we wanted an awesome living space that was cozy and inviting. We watch a lot of movies and play video games so we needed a lot of storage and a comfy pull-out couch/bed for guests. Storage space was also a priority, but many tiny homes we saw had exposed storage. We have a lot of not-so-pretty things we needed to store, like suitcases and camping gear. So glad we went with the hidden storage above the bathroom."
https://www.instagram.com/p/BMhwhWKgHwb
We're obsessed with this space, and we can't wait to take some of these ideas home with us! More of this!