This couple's viral engagement photo featured the most genius "perfect manicure" hack ever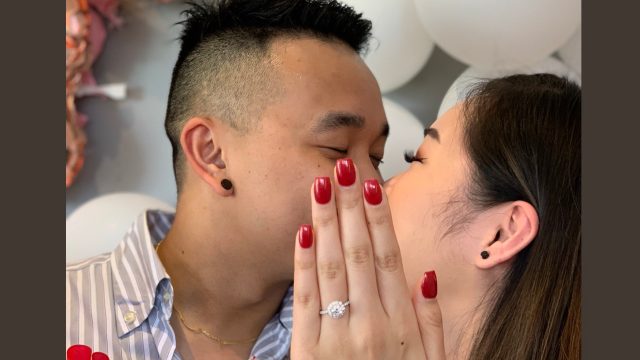 These days, announcing your engagement on social media often means one thing: the ring pic. So when one newly engaged bride-to-be in Australia realized she didn't have an Instagram-ready manicure for the big moment, she improvised. And her solution was genius.
A registered nurse from Melbourne named José planned a super sweet surprise engagement for his lady love, Diana, who's also a nurse. According to GMA, he set the scene perfectly—including balloons, flowers, and a gorgeous diamond ring. However, Diana rarely paints her nails because of her job, so her cousin, Jenna, stepped in to save the day.
"José planned this surprise proposal & couldn't really get her to do her nails without raising suspicion," Jenna tweeted.
Of the sweet moment, Jenna added, "José convinced Diana that the celebration was for his parents' wedding anniversary, before getting on his knees and revealing that it was all really for her!" She joked, "My girl organized HER OWN proposal party," noting that Diana hired the professional photographer for the evening herself.
On his own Instagram account, José shared the moment when he got down on one knee, and we can't help but think the original photo is sweetest of all…mani or no mani.
https://www.instagram.com/p/Bpxv6cLlZZa
It seems neither Jenna nor the newly engaged couple expected the moment to go viral, but we're glad it did—and we're sending all our congrats their way!