Cory Booker said he will "fight to protect" black transgender women, and this is so important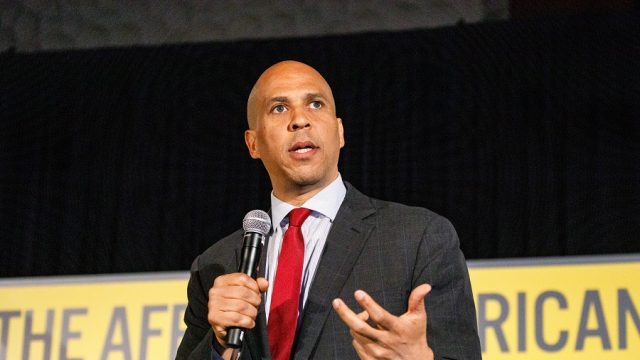 Last night, June 26th, 10 Democratic presidential candidates kicked off the 2020 race for the party's nomination. The gathered politicians answered questions on topics ranging from reproductive rights to immigration reform. And Senator Cory Booker of New Jersey took a stand for LGBTQ Americans, including black transgender women.
According to a transcript of the debate from NBC News, Hawaii Representative Tulsi Gabbard broached the subject of LGBTQ rights by discussing the Equality Act, which would prohibit discrimination based on gender identity or sexual orientation. But Booker argued that supporting this bill wasn't enough. The New Jersey senator pointed out that LGBTQ people—especially black transgender people—are too often the victims of violence.
"We do not talk enough about trans Americans, especially African-American trans Americans...and the incredibly high rates of murder right now," he said. "We don't talk enough about how many children, about 30% of LGBTQ kids, who do not go to school because of fear. It's not enough just to be on the Equality Act. I'm an original co-sponsor. We need to have a president that will fight to protect LGBTQ Americans every single day from violence in America."
Several viewers applauded Booker for shining light on this important issue.
According to the Human Rights Campaign, in 2018, at least 26 trans people died as a result of violence, and as of June 25th, 11 have died of violence in 2019. All 11 of these people were black transgender women. Trans people also face an incredibly high risk of being physically assaulted. In the 2015 U.S. Transgender Survey (USTS), 9% of respondents reported being attacked in the past year. In addition, trans people of color faced violent attacks at a higher rate than white trans people, with Native American trans people reporting the highest instance of violence against them.
Booker has tweeted about violence against trans people before. On May 22nd, he tweeted the names of five trans women who had been killed in 2019—Dana Martin, Ashanti Carmon, Claire Legato, Muhlaysia Booker, and Michelle Washington. In the same tweet, he added that "we have to do all we can to protect" trans women of color.
Booker is absolutely right that we need to protect black trans women, and we're glad to see him bringing up this topic during the debates. The violence against the trans community is something that we can't afford to overlook, and whoever becomes president needs to acknowledge it.