7 editors reveal the first things they're going to do once the pandemic ends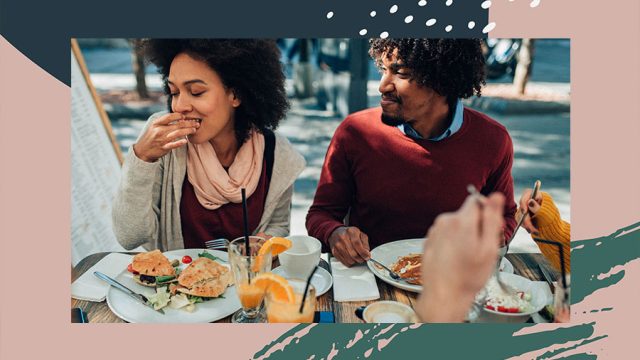 For many of us, abiding by social distancing mandates has meant not being able to do the things we normally love to do. Visiting restaurants, traveling, going to bars with friends, and celebrating special events have become things of the past; now, we're instead staying home, finding new and safe ways to occupy our time. However, as the country slowly re-opens, things like spending time at a park or walking down a beach have become possibilities And after many days spent inside, we know what activities we're going to do the moment we're allowed.
As we continue to ride out the pandemic and plan for better days ahead, these are the first things that seven HelloGiggles editors hope to do post-quarantine.
Have a romantic day exploring a favorite neighborhood
Before any of this happened, my boyfriend and I planned to get engaged. We had picked out a ring and we decided he would plan the proposal as a surprise, even though I had an idea it was coming. I was very set on having an Instagram-worthy moment that I could share with friends and family, but that's probably not going to happen anytime soon. Since then, I've realigned my priorities; instead of a grand proposal, I would be happy with a day walking around Williamsburg with my boyfriend, visiting all the places we went to when we first started dating. I don't care as much about the proposal or how and when it happens; all I care about now is spending time with the person I love in the places we love. Williamsburg is where we met, and I'd give anything to go back to those days when Saturday brunch and taking the ferry didn't require a second thought.
— Kristin Magaldi, Features Editor
Become the "Dancing Queen"
Honestly, I want to go out dancing with my friends. I want to wear sequins, dance to ABBA, get a little tipsy from drinking sugary drinks with umbrellas in them, and laugh so much my belly hurts. Obviously, this won't happen for a long time, and I probably won't feel safe going to a packed bar anytime soon, but this is something I very much want. 
— Pia Velsaco, Senior Fashion and Beauty Editor
Travel the world
I can't wait to travel! This spring, my boyfriend and I were planning on spending a long weekend exploring a city down South and, later, embarking on a wine-filled vacation in Europe with friends. Of course, neither trip happened due to the pandemic, so once traveling becomes safer and more feasible, I'll definitely be going to all the places I couldn't these past few months—and then some. 
— Rachel Simon, Deputy Editor
See family
I'm looking forward to the day when I can see my parents and my great aunt without fear that I'm putting them at risk. "I cannot go see this person because I might inadvertently cause them to die" has been such a heavy, terrifying thought these past few months. I want to go out dancing and partying, but first, I just want to sit in the kitchen of my childhood home and watch my mom putz around. Nothing sounds more soothing right now.
— Danielle Fox, Social Media Manager
Dine outside and people-watch
I'm so eager to spend the day sitting on a restaurant patio with friends. I can't wait to put on sundress and spend a whole afternoon outside—leisurely sharing appetizers, sipping cocktails, and people-watching. I miss the feeling of being surrounded by New Yorkers going about their Saturdays; walking their dogs, carrying shopping bags, or licking ice cream cones as they mosey down the sidewalk, soaking up the beautiful weather without fear. I want to witness all of these carefree moments while eating good food with good company. 
– Claire Harmeyer, Assistant Editor
Share a meal with friends
All I want is to have a big shared meal with friends. This doesn't even have to take place at a restaurant—I'd be perfectly content with ordering in Thai food, crowding on the couch and around the floor, and eating at makeshift tables. I don't really know what socializing, or even dating, looks like if it isn't centered around food and drinks. I also just look forward to a time in the future where the common table talk isn't heavy with the anxiety and grief caused by the pandemic, but is instead more simple with discussions about things like whether or not the curry is sufficiently spiced. 
– Morgan Noll, Editorial Assistant
Get married
I want to get married and celebrate with loved ones. Before the outbreak, my fiancé and I were hoping to have a small wedding ceremony at the end of this year, but once the social distancing mandate was put in place, we knew it wasn't going to be possible. So now we're just planning on how we want our wedding to look in 2021 in the hopes that we can one day celebrate with our friends and family. 
— Raven Ishak, Senior Lifestyle Editor
As information about the coronavirus pandemic rapidly changes, HelloGiggles is committed to providing accurate and helpful coverage to our readers. As such, some of the information in this story may have changed after publication. For the latest on COVID-19, we encourage you to use online resources from CDC, WHO, and local public health departments, and visit our coronavirus hub.