This artist is cheering up her neighbors by drawing characters like Luna Lovegood and Ariel on her driveway
This post is being continually updated.
News of coronavirus (COVID-19) spreading around the world has made us all anxious and nervous—understandably. But in a time of crisis, it's the uplifting moments that bring us out of the darkness and keep us feeling hopeful. The spread of the coronavirus, as frightening as it has been, has truly brought out the best in people, with many generous donations, kind messages, and selfless acts of service offered during the past few months.
To cut through the important but distressing facts that are flooding your news feeds right now, we want to highlight the moments that have sparked joy and hope during a time of sadness and fear. See how others are spreading positivity during the coronavirus pandemic below, and get inspired to do the same in your community.
1Self-taught artist using chalk drawings to cheer up her quarantined neighbors
Now this is creative. Florida-based artist Casey Drake has been using chalk to draw characters and encouraging (or funny) messages on her sidewalk and driveway. Drake began using chalk with her young kids just for fun, but neighbors quickly noticed her impressive sketch of Olaf from Frozen. They asked her if she would continue drawing characters because it brightened their days so much.
"They didn't really give me a choice," Drake told Insider. "They were like, 'You're going to come outside every day and draw. It kind of became a daily tradition."
Now, Drake has been drawing different characters from movies and TV shows every day since April. The messages paired with famous characters have become more creative as time as gone on. Drake writes messages relating to quarantine, bringing humor and joy to people's days.
Check out all of Drake's creative and uplifting drawings here.
2Artwork by Banksy appearing in a hospital corridor overnight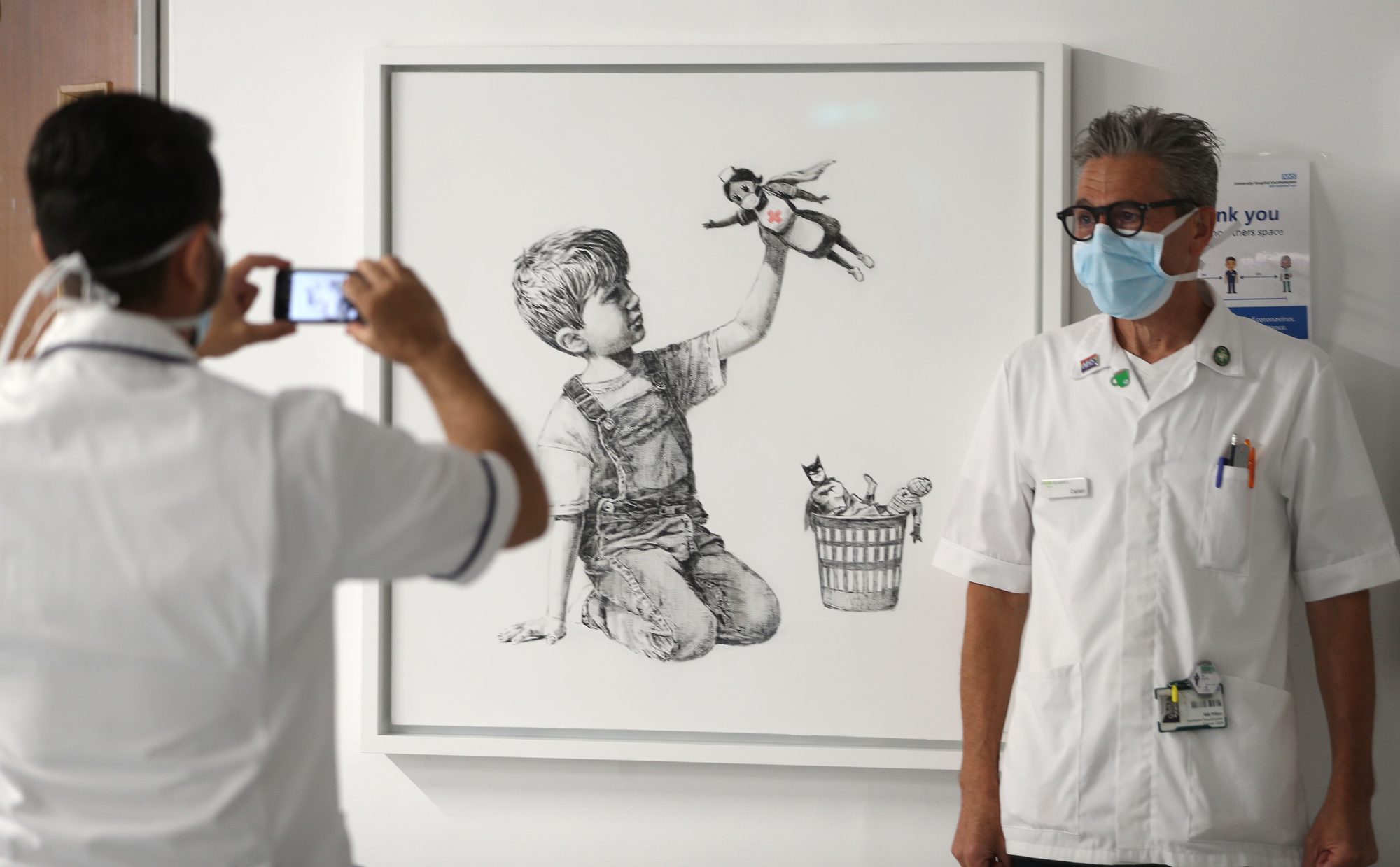 Anonymous artist Banksy's work famously appears on streets out-of-the-blue—but this time, one of his works appeared in a hospital corridor, and it stars a superhero nurse. The artwork was hung in Southhampton General Hospital overnight between May 6th and 7th, along with a note for the healthcare workers in the U.K. hospital. The letter read, "Thanks for all you're doing. I hope this brightens the place up a bit, even if it's only black and white."
In the piece, a young boy plays with a superhero nurse toy, while Batman and Spiderman toys sit in his basket. A spokesperson for the artist said that once social distancing restrictions are lifted, the piece will be put on public display and, later, auctioned off to raise money for the NHS.
3Opera singers hosting concerts in their driveway
Music can be healing during times of hardship, and a South Carolina couple is using their talents to bring their community together. Leah Edwards and her husband Dimitri Pitta, both professional opera singers, have been hosting weekly concerts in their driveway in Mount Pleasant, SC, to perform classical and contemporary pieces for their neighbors. It's not the opera halls they're used to, but their improvisation has been a highlight for their community during this difficult time.
4Community dressing up as Disney characters after 10-year-old's Make-A-Wish trip was postponed
A 10-year-old girl in New Jersey who has been diagnosed with an extremely rare blood disease planned a Make-A-Wish trip to Disney World, but it was postponed due to coronavirus. Instead, her family and other community members decided to bring a parade to her home. They dressed up as Disney characters, including Cinderella, Belle, Pocahontas, Spiderman, Olaf, and Mickey Mouse, and wished her a happy birthday.
5Broadway singer and coronavirus survivor serenading healthcare workers
Tony Award-winning Broadway star Brian Stokes Mitchell, 62, recently recovered from coronavirus. To show his gratitude for all healthcare workers, he has been singing out of his Upper East Side apartment window for the crews of ambulances, fire trucks, and police cars driving by, plus medical workers from the nearby urgent care facility.
"I'd been going to the window to applaud for the healthcare workers like everybody else in New York," Mitchell told Insider. "Then one night I spontaneously thought, 'Oh, I think my lungs feel like I can sing now.'"
People have started showing up to hear Mitchell perform, but when they cheer, he spreads his arms down toward the streets, telling people to applaud the healthcare workers, not him.
6Tavern owner setting up a virtual pub

Jo Bowtell ran a pub called Noel's Arms in Melton Mowbray, Leicestershire for several years. After local bars closed amid the coronavirus pandemic, she decided to create a virtual pub experience just for her English community. But since launching The Virtual Pub on Facebook in mid-March, she's had 14,500 "customers" join the group from all over the world.
The Virtual Pub offers trivia, comedy shows, DJ sets, Disney singalongs, and more. As the volume of customers has increased, Bowtell has had to hire "bar staffers" (who talk to customers) and "bouncers" (who approve who gets "let inside the pub").
"It has completely blown up. We've got 3,000 members just waiting for approval—it's like there's a queue at the door to get in," Bowtell told The Good News Network. "It's the biggest pub I've ever ran and I can't believe how popular it has become."
We might just join the next trivia night—that is, if the bouncers let us in.
7Jonathan Van Ness virtually officiating a couple's wedding
On April 1st, Queer Eye's Jonathan Van Ness received a message from a couple in Indianapolis who had to cancel their wedding due to coronavirus. The couple had their first date at JVN's book tour last summer, and they wanted him to virtually officiate their private wedding while they practice social distancing. Van Ness obliged and officiated the women's wedding over FaceTime, marrying them on the spot. We're feeling all the feeling during this super sweet moment.
8NYC couple getting married on a sidewalk by a friend officiating from a fourth-story window
Although the coronavirus pandemic has caused many engaged couples to cancel their weddings, one NYC couple didn't let the crisis stop them from safely tying the knot. Reilly Jennings, 28, and Amanda Wheeler, 38, planned to get married in October, but they began fearing that the venue would close due to the current situation, so they moved up the date to March 20th. They originally planned on heading to the Marriage Bureau to make things official, but it suddenly closed for safety precautions.
In a surprise ceremony, Jennings and Wheeler stood on a sidewalk in NYC while their friend (certified by a city clerk to perform the ceremony) stuck his head out of his fourth-floor apartment window, marrying them on the spot. Neighbors and friends (keeping a safe distance) cheered the newlyweds on as they celebrated their love, despite the unexpected circumstances.
9WestJet flight attendants putting on an impromptu graduation ceremony for students
Most upcoming graduation ceremonies are being canceled to practice social distancing. But Canadian airline WestJet did its part to make up for a few college students who won't experience walking across a stage to collect their diplomas this spring. Flight attendants held an impromptu graduation ceremony for passengers on board a plane last week. They called their names, mimicked the classic graduation music, and allowed the soon-to-be graduates to walk down the plane aisle while fellow passengers cheered them on in congratulations.
10Customer leaving a $2,500 tip to waiters at his favorite restaurant before it closed
The coronavirus pandemic has caused most restaurants and bars in many states to close their doors in order to keep crowds and human contact to a minimum. Unfortunately, this means many employees are out of work for the time being. One man in Columbus, Ohio left a hefty tip to help the staff at one of his favorite restaurants during this tough time. He added $2,500 to a $29.75 bill, and requested that it be split evenly among the employees at Coaches Bar and Grill. If we, too, are able, this is the kind of support we need to be giving small businesses during this time of financial distress.
11Italians and Spaniards applauding healthcare workers from their balconies
Both Italy and Spain are under nationwide lockdowns, but that didn't stop locals from participating in a collective show of gratitude for healthcare workers who have been battling coronavirus. Residents in both countries stepped onto their balconies or opened their windows to join in a round of applause for healthcare workers on March 15th. The events were organized through social media to take place at the same time in each country. Health workers deserve this round of applause, and we hope they hear our gratitude loud and clear.
12Delta CEO forgoing his salary to avoid laying off employees
Now this is what we call "taking one for the team." On March 14th, Delta Airlines CEO Ed Bastain announced that he will forgo his salary for six months so that employees will not need to be laid off. Southwest Airlines CEO Gary Kelly also reduced his salary by 10% to avoid the same fate for his colleagues. We hope more people in leadership positions follow suit and offer their teams this type of support if possible.
13Neighbors singing "Happy Birthday" from their apartment windows
In Beirut, Lebanon, one community spread the love by singing happy birthday to their neighbor from their balconies and open windows. The woman celebrating her birthday held a cake with candles lit while the neighbors sang to her. This is the support we all need to (safely) give our own neighbors right now!
14Kids putting on a concert for their elderly neighbor
A pair of siblings in Columbus, Ohio performed a mini cello concert on their patio for an elderly neighbor who is self-isolating due to the coronavirus outbreak. They even dressed up as if they were performing in a fancy concert hall. Listen for her cheering at the end of the video—it'll warm your heart.
15One man's commitment to his wife
This photo of a man honoring 67 years of marriage with his wife despite coronavirus precautions keeping them apart really got us in our feels. The balloons, handwritten sign, and message show his true love and commitment to his wife through these trying times.
Amidst the uncertainty and fear of the coronavirus outbreak, continue to share moments like these that spark joy inside us all.
As information about the coronavirus pandemic rapidly changes, HelloGiggles is committed to providing accurate and helpful coverage to our readers. As such, some of the information in this story may have changed after publication. For the latest on COVID-19, we encourage you to use online resources from CDC, WHO, and local public health departments, and visit our coronavirus hub.