These Corona Light gummies are about to become your new favorite beach snack
For those of you who believe there is no other way to enjoy a Corona Light than chilled with a lime, listen up: These Corona Light gummies by Sugarfina are about to change your mind. The two companies collaborated to create two beer-flavored gummy candies, both of which will become your favorite summer beach snack.
Sugarfina may be best known for their adult beverage-infused gummies. They offer Champagne Bears, Bourbon Bears, and even Rosé All Day Bears. But their collaboration with Corona Light is the first beer partnership they've had. Cofounders Rosie O'Neill and Josh Resnick stated in a press release:
"Corona Light topped our loyal fans' list as the 'sexiest beer,' so we couldn't think of a better inspiration than The Light Cerveza combined with a zesty lime essence to create delicious candies perfect for summertime."
Listen, we thought Rosé All Day Bears were brilliant, but this new combo deserves a Pulitzer (or Nobel Peace…whatever award best fits gummy candies).
Let's get down to the brass tacks of these new gummies. We're dying to know what these things taste like. If you're planning on stocking your beach cooler with these babies, note that they're currently only available for pre-order. But the site guarantees you'll have your gummy candies in time for Cinco de Mayo.
First, we have the Sugarfina x Corona Light "But First, Cerveza" gummies. Sugarfina describes the bottle-shaped beauties as "sunshine in a (beer) bottle." These candies are Corona Light-flavored and just as refreshing as taking a sip straight out of your Corona bottle.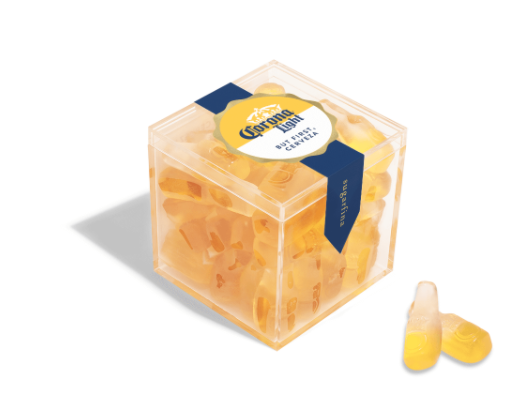 Then there are the "Here for a Good Lime" gummies, also infused with Corona Light. These guys are inspired by Corona Light Lime, and therefore have a zesty citrus flavor. Tart, sweet, and perfectly paired with a cold Corona on the beach.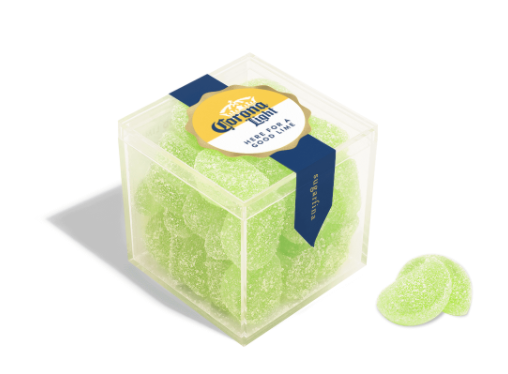 Both of these flavors are available to purchase in Sugarfina's Small Candy Cube size for $7.50, in a 2.5 lb bulk bag for $40, or in a Taster Packet for $2.50. You can also check out the Corona Light 3 pc. Candy Bento Box ($26), in which you'll receive both gummy flavors and a lime wedge bottle opener.
Plus, not only are these gummies delicious, they're also gluten-free, non-GMO, fat-free, and all-natural. We'll cheers to that.
Be the hero of any beach party and bring along Sugarfina x Corona Light gummy candies. But also we won't judge you if you keep them for yourself.