A Cornell fraternity held a sex contest called a "pig roast," reminding us that misogyny is alive and well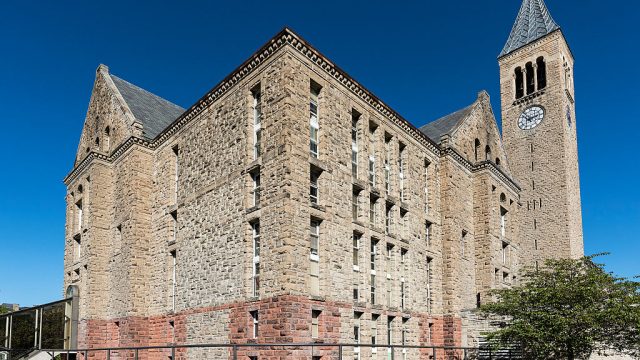 Just when we think we've made two steps forward in the fight for women's equality, we take one step back. (We're looking at you, Lady Doritos.) The latest reminder that misogyny is still  thriving in certain institutions comes from Cornell fraternity Zeta Beta Tau. After receiving multiple reports of misconduct, the Office of Sorority and Fraternity Life opened an investigation. They found that members of the fraternity competed in a disgusting contest about sleeping with women. And they called it a "pig roast."
"An investigation that concluded in January of 2018 determined that the chapter conducted a contest in which new members could accumulate 'points' by engaging in sexual intercourse with women," Cornell's hazing violations report from Spring 2017 states. "The contest was referred to as a 'pig roast.' In the event of a tie, additional points were awarded to the new member who had had sex with a woman who had weighed the most. The new members were told not to inform the women of the contest."
As a result, Cornell's Fraternity and Sorority Review Board placed Zeta Beta Tau on probation for two years. The fraternity must meet other requirements during this time: attending monthly meetings and participating in events during Cornell's Sexual Assault Awareness this coming April.
But honestly, will putting the Cornell fraternity on probation make any difference?
This is not "locker room talk," it's mistreating human beings. Gamifying sex is not okay. And their probation is essentially meaningless. Sure, the Cornell fraternity will supposedly be under close watch now. But this kind of cruel treatment is rampant in fraternities everywhere; this chapter just happened to get caught. Cornell claims that they're going to keep an eye on the members' behavior. Sadly, though, the chance that significant cultural changes will be made seems meager at best.
"The behavior that Zeta Beta Tau (ZBT) fraternity was recently found responsible for is abhorrent to me and antithetical to our values as a community. Behavior that degrades and dehumanizes women contributes to a climate and culture of tolerance for sexual violence," Ryan Lombardi, vice president for student and campus life at Cornell, said in a statement. "While sanctions have been levied against this fraternity by the Fraternity and Sorority Review Board, the campus community will be watching to see whether the members of ZBT – as individuals and as a group – live up to their public pledge to demonstrate 'through our actions that this inexcusable behavior will not be tolerated. It is incumbent that all members of the Greek system and the campus as a whole challenge any form of sexual misconduct and the behaviors that foster it."
We hope the members of the Cornell fraternity are held accountable for their actions.
The fight for women to be treated like human beings is clearly not over.