Coping with suicide in the news when you struggle with mental illness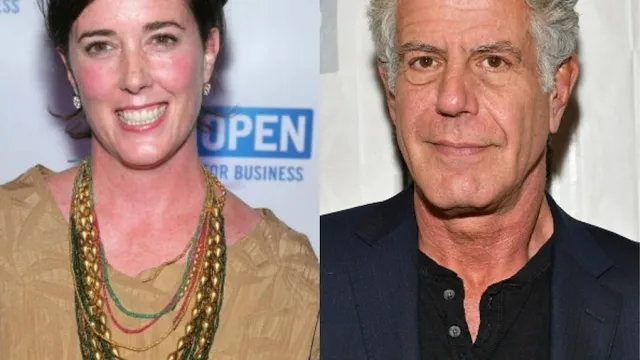 I had been able to manage my high-functioning depression, anxiety, and manic episodes for years. Then something changed. Maybe it was my new baby, maybe life just got harder — but I felt like I could no longer keep up. I wasn't just overwhelmed; I began losing myself. I didn't experience joy; I just survived. I started fantasizing about not existing. When, more than once, I felt an urge to steer my car into oncoming traffic or take an elevated dose of pain meds, I knew that suicide could be a real possibility.
I made a deal with myself: I would get help, and if it didn't work, I would stop trying to fight these impulses. I came clean with my husband; he got me an appointment with a therapist the very next day. I was surprised by his urgency but later understood that he was responding to my own raw desperation. I'd terrified him.
Speaking with my therapist felt exhausting. I went every other day and talked about things I already obsessed over when I was alone. The medication I'd been prescribed caused frustrating physical side effects — everything from constipation to difficulty achieving orgasm. Even more draining, I was still maintaining my position as the go-to person at work. I kept grinding and tried to incorporate a new mental health regimen into my already packed schedule.
I hit my breaking point in June 2014. I could no longer hide my paranoia and anxiety, both the worst they had ever been. I went on medical leave to receive more thorough treatment, but I feared that I was throwing away my career for mental soundness that I'd never even find.
Then Robin Williams passed away after taking his own life following a very long, private battle with mental illness.
When he died, I had been on medical leave for two months, but my mental health hadn't yet improved. Publicly, I had been applying the "fake it 'til you make it" approach to life, but in the privacy of my own home, I was lost. This revelation that Robin Williams — one of the brightest, most brilliant people in the world — could also have these demons was too much. Knowing that his wealth and fame did nothing to save him felt like a death sentence to me. If Robin Williams couldn't survive mental illness, how was I going to make it out alive?
The weeks of confusion, misery, and defeat I felt after Williams death in 2014 came rushing back to me when I read the news about legendary fashion designer Kate Spade.
On the morning of June 5th, the iconic entrepreneur was found dead from a confirmed suicide in her Park Avenue home. Spade founded her namesake company with her husband Andy in 1993 and built it into a multimillion dollar enterprise — making her one of the most prominent business women in fashion.
As much as Robin Williams was well known for his liveliness and energy, both Spade and her collection had a reputation for being fun, colorful, and happy-go-lucky. And — like Williams — Spade had suffered privately with anxiety and depression.
Only days later, on the morning of June 8th, it was reported that Anthony Bourdain, beloved chef, author, television host, and #MeToo ally, had taken his own life.
He was found unresponsive in his hotel room in France, where he'd been filming an episode of his revered CNN travel program, Parts Unknown. On the celebrated show, Bourdain brought viewers on international journeys that allowed them to experience food and cultures not typically spotlighted in American media
Robin, Kate, and Anthony were successful, famous, wealthy, and, from an outsider's perspective, possessed every conceivable reason to be happy with their lives. Still, they experienced a deep hopelessness, one that I am all too familiar with.
Seeing yet another person lose their life because of depression, I'm reminded that mental illness doesn't discriminate.
For someone like me — a person who has a history of mental illness and suicidal thoughts — the self-inflicted death of a public figure is especially triggering. The loss is painful on a human level and as a fan, but that's not all. Seeing intensely public coverage of such a personal event and knowing that it could have been my own fate — that it could still be — is a painful reminder of just how fragile recovery and remission can be.
After the death of Robin Williams in 2014, my treatment became even more important. I no longer answered questions the way I thought I should. I was raw, unfiltered, and finally honest with myself and my therapist. There are many ways to approach mental illness treatment, and for me, nothing proved as effective as the combination of medication and therapy. I could stop faking that I was okay.
If putting on a smiling face was enough, Williams, Spade, and Bourdain would have survived. Mental health struggles are much bigger than that, so the solution must be as well. There is a mental health epidemic in this country: People aren't afforded the care they need, and there's a widely recognized stigma concerning mental health. Kate Spade and Anthony Bourdain's suicides will not be the last public death but they won't get any easier to witness.
I know I'll have a lot to talk about at my next appointment. Hell, I'll probably cry, too. But it won't be for my own worries. It will be for Kate, Robin, and all the others who never let the world see their tears.
If you or someone you care about is struggling and experiencing suicidal thoughts, you can call the National Suicide Prevention Lifeline at 1-800-273-8255 to speak with someone who can help. You can also chat with a counselor online here. All services are free and available 24/7. Additionally, here are ways you can help loved ones struggling with depression.