Cop admonishing a koala is the cutest thing you'll see today
Today in ridiculously cute Internet videos, we have a koala taking a nice afternoon walk up and down the busy Brisbane Valley Highway in Australia on March 26. A friendly police officer tried to direct him off the road, but the koala was in no hurry to take any direction from him.
The video was captured by Mike Phipps and posted on his Facebook for everyone to see (thank goodness.) Phipps also shared some pictures of the officer encouraging the koala off the roadway.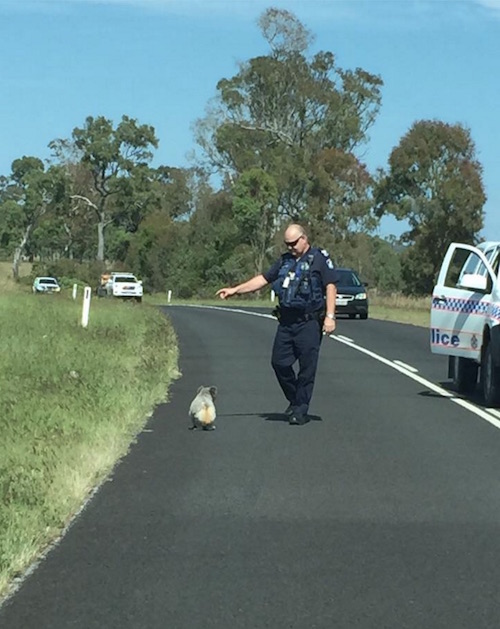 The officer is eventually able to guide the little guy into the grass on the side of the road, and then finally back up into a tree, where koalas belong. "Serious road incident on Brisbane Valley Highway this morning," says Phipps of the furry offender. "Road closures in both directions. Police officer showed great restraint in not arresting offender. Only in Australia! Made our day."
I could watch this adorable koala stroll up and down the road all day long. I don't know what's cuter, the fact that, instead of being annoyed, most of the people stopped in the traffic jam are just thrilled to see the koala and enjoying the show, or the police officer's pleasantly resigned stroll that makes him look just like a guy out with his rambunctious puppy (or toddler.)
// < ![CDATA[
// < ![CDATA[
// < ![CDATA[
// < ![CDATA[
// < ![CDATA[
// < ![CDATA[
// < ![CDATA[
// < ![CDATA[
//