Crazy Rich Asians star Constance Wu penned a moving post about the importance of Asian representation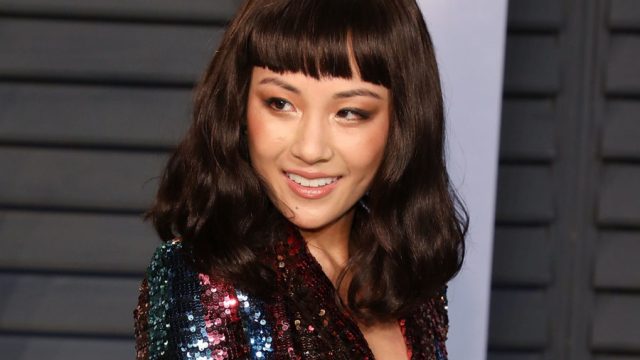 There's been tons of buzz already this summer about the film Crazy Rich Asians, directed by Jon Chu and starring Fresh Off the Boat actress Constance Wu. It's the first big feature film to center an Asian American family in more than two decades, and Wu recently penned a touching post about its historical importance. 
On July 31st, Wu took to Twitter to highlight the significance of Asian representation in a lengthy post. She wrote that the success of her ABC network show Fresh Off the Boat paved the way for Asian American storytelling, and noted that Crazy Rich Asians is changing racial dynamics in Hollywood, just like Fresh Off the Boat did before it.
"CRA is the first Hollywood studio film in over 25 years to center an Asian American's story. Before CRA, I hadn't even done a tiny part in a studio film...I never dreamed I would get to star in one...because I had never seen that happen to someone who looked like me.
She added, "CRA is changing that, just like FOTB did. CRA not only centers an Asian American story, it is also filled with a talented, dynamic, unique, all-Asian cast."
https://twitter.com/udfredirect/status/1024449682766852096
Wu also questioned why it took so long for Asians to be represented on screen in this way, and praised Crazy Rich Asians director Jon Chu for bringing the film to life: "Our amazing director Jon M. Chu says…this is more than a movie, it's a movement. He is my hero, and he is leading the way."
Based on Kevin Kwan's best-selling novel of the same name, Crazy Rich Asians follows Rachel Chu (played by Wu) as she accompanies her longtime boyfriend, Nick Young, to his best friend's wedding in Singapore. When Rachel learns of Nick's family's massive wealth, madness ensues. 
In a recent interview with The Hollywood Reporter, director Chu and book author Kwan revealed that they had turned down a hefty deal with Netflix to produce the film, citing the cultural significance of a theatrical, big-screen release. Chu told the Hollywood Reporter, 
"We were gifted this position to make a decision no one else can make, which is turning down the big payday for rolling the dice [on the box office]—but being invited to the big party, which is people paying money to go see us."
Chu also stressed the importance of depicting Asian people in "a way we haven't ever seen Asians before," while Kwan said he'd endured requests to turn the story's heroine into a white woman.
https://www.instagram.com/p/Bl0z6aQnCBL
Luckily, that didn't pan out. As Wu pointed out in her Twitter post, Asian American storytelling and representation matter. "I hope Asian American kids watch CRA and realize that they can be the heroes of their own stories. I know CRA won't represent every Asian American. So for those who don't feel seen, I hope there is a story you find soon that does represent you. I am rooting for you."
Wu is currently working on Season 5 of Fresh Off the Boat. Crazy Rich Asians hits theaters August 15th.