Conservatives in Texas are taking aim at same-sex marriage, and here's what that means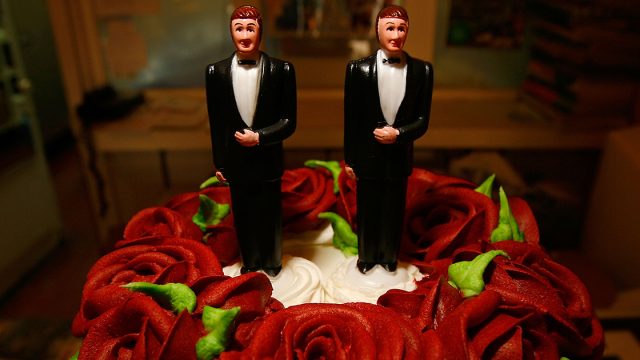 Republicans in the state of Texas are attempting to strip away the rights of married same-sex couples it has been reported.
In 2015, a Supreme Court ruling, Obergefell v. Hodges, dictated that same-sex marriage be made legal in all 50 states. The news came after years of battling for marriage equality, and following polls that found that over half of all Americans supported same-sex marriage.
Yet now some conservatives in Texas are attempting to dismantle the rights of same-sex partners by challenging the city of Houston's benefits policy for married same-sex couples. Indeed, some have suggested that a current case lodged in the state could allow for the relitigation of the 2015 Supreme Court decision.
The case is being brought against the city of Houston by two tax payers, and heralded by prominent conservative campaigner and lawyer Jared Woodfill.
"This particular opinion will go to the U.S. Supreme Court and is a potential vehicle for overturning Obergefell given the changing composition of the court," Woodfill said. "Ultimately, I would like to see Obergefell overturned."
So what does this mean?
Well, at the heart of the case is the fact that with the legalization of same-sex marriage came the requirement that city and government agencies must offer the same taxpayer-subsidized benefits to same-sex spouses of government employees.
For Woodfill and others this went to far.
"Obergefell may require states to license and recognize same-sex marriages, but that does not require states to give taxpayer subsidies to same-sex couples — any more than Roe v. Wade requires states to subsidize abortions or abortion providers," lawyers wrote in a filing with the Texas Supreme Court.
The city of Houston, however, has countered, suggesting that U.S. Supreme Court ruling of 2015 clearly mentions "marriage-related benefits" in their ruling.
"The issue here is not whether employee benefits are a fundamental right," lawyers for Houston wrote in December. "It is simply whether same-sex spouses must be allowed the same employee benefits as opposite-sex spouses." false
The case was previously brought against the state's Supreme Court, where it agreed upon the ruling of a lower court's decision that the benefits should be upheld.
However, following letters sent by conservatives and pressure from Texas GOP leadership, the Supreme Court in Texas decided to reverse their decision and hear the case, something that Brandon Rottinghaus, a political science professor and Texas Constitution expert at the University of Houston, told the Texas Tribune was indicative of the politics of the state.
"There has been an emerging litmus test for state judges that wasn't necessarily so apparent 20 years ago," he said. "Republicans have party control of the court but not necessarily ideological control, and I think these kinds of cases are those that can be used in the future to be a bulwark for conservative activists looking to change even a Republican court to a more conservative direction."
Today (March 1st), the Supreme Court in Texas is set to hear oral arguments as to whether the benefits for same-sex couples should be mandatory.
The moves comes just weeks after a recent study of high school students found that there had been a decline of 7% in suicide attempts among teenagers since the legalization of same-sex marriage in 2015. What's more, the rate of suicide attempts among LGB students had fallen by 14%.
If successful, the move would be a huge blow to the LGBTQ community, which has already seen protective guidelines for transgender students stripped away under President Trump's administration.
If this news has affected you, please contact the Trevor Project here. For more information about the American Civil Liberties Union visit here.