Connie Britton and James Corden pitched their idea for "Shark Tank"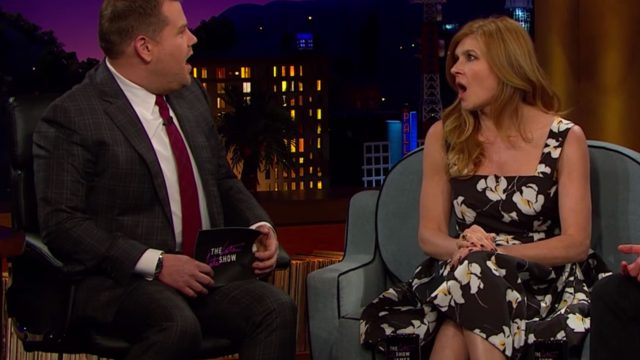 When Connie Britton found out she'd be sharing a couch with Shark Tank's Mark Cuban on The Late Late Show Thursday night, she had her pitch ready. When James Corden heard Connie's pitch, he decided to get on board. What ensued was a stressful battle for money, fame, and ambition, all in three seconds.
First, Connie Britton explains that as a kid, she was a talented cake decorator. In fact, she ended up selling a few of her cakes, which kicked off her dreams of starting her own cake decorating business.
"There was a really strong period of time between the age of 12 and 14 when I was very into my entrepreneurial skills," she explained.
"You could call them Great Britton Cakes," James suggested, and all at once, they realized that this business could really take off. However, their lust for power went to their heads. They stole Mark Cuban's wallet, rifling through it for money, and ended up each finding $100.
That alone proves they might not make the best business partners, but we're certain they'd still make the best cakes. Yum.