Congratulations! Jim Parsons and his partner Todd Spiewak just got married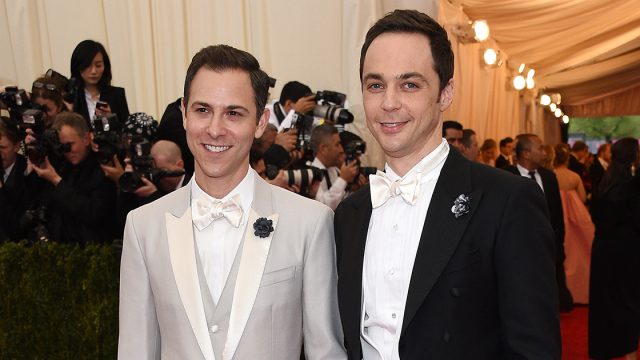 Congratulatins are in order, as The Big Bang Theory's Jim Parsons has married his partner Todd Spiewak, and we couldn't be happier for them!
Breaking the happy news was Page Six, who revealed that the couple had wed at the Rainbow Room in New York. A rep for the couple confirmed that the pair had exchanged vows on Saturday.
The move comes after the couple recently celebrated their 14th (!) anniversary together. In an emotional and moving Instagram post, Parsons shared his love for Spiewak.
"I met this guy (the one with the mic) 14 years ago today and it was the best thing that ever happened to me, no contest," he wrote at the time back in November. "One of his greatest gifts to me is that he no longer takes me to sing karaoke. Also, I believe this was a selfie with an actual camera, as our phones couldn't do that back then hahaha! #todd #anniversary ❤️"
https://www.instagram.com/p/BM2KdQ4A0z9
After publicly coming out in 2012 in a profile with The New York Times, Parsons revealed that he had been in a long-term relationship, but in 2014, he told Ellen DeGeneres that the couple had no immediate plans to wed.
https://www.instagram.com/p/BSr1jJ0hYQW
Now, however, it seems that the pair have gotten married. The news comes after Parsons' show, The Big Bang Theory, was renewed by CBS for two more seasons. The show's actors are said to be some of the highest earners in TV, making nearly $1 million per episode. Yowzer!
Meanwhile, Parsons' character, Sheldon, is also getting his own spinoff. The show will focus on a young Sheldon as he navigates high school, with Parsons narrating and also serving as executive producer.
Outside of work things, however, we're sending Jim Parsons and Todd Spiewak all our love and congratulations! We hope their day was super special, and we wish them all the best for the future.
Save
Save