It's Labor Day weekend: Time to binge-watch everything that's coming to (and leaving!) Netflix in September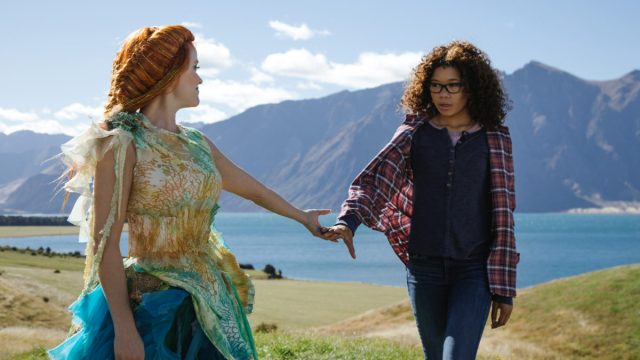 We can all agree that summer 2018 has been cray cray, right? Right. That's why we're so glad it's finally Labor Day weekend. We can relax, binge-watch our favorite shows, and forget all about this summer of planetary retrogrades and surprise celebrity engagements.
Thankfully, there is some truly great stuff coming to Netflix in September, and this weekend is the perfect time to take advantage of all the new goodies the streaming site has to offer. On September 1st, The Breakfast Club and Groundhog Day hit Netflix. And on September 2nd, we'll be blessed with the arrival of Lilo and Stitch, as well as Quantico Season 3 (because we all need more Priyanka Chopra in our lives).
Plus, since LDW starts on August 31st, you can sneak in a final binge-watching session of all the stuff that's leaving Netflix this month, too, like 13 Going on 30 and Forgetting Sarah Marshall.
Ready? Cue up your queues, kids.
Here's the full list of titles coming to Netflix in September 2018:
September 1st
10,000 B.C.
Another Cinderella Story
Assassins
August Rush
Bruce Almighty
Delirium
Fair Game
Groundhog Day
King Kong
La Catedral del Mar (Netflix original)
Martian Child
Monkey Twins (Netflix original)
Mr. Sunshine (Netflix original)
Nacho Libre
Pearl Harbor
Scarface
Sisters (Netflix original)
Spider-Man 3
Stephanie
Summer Catch
Sydney White
The Ant Bully
The Breakfast Club
The Cider House Rules
The Hitchhiker's Guide to the Galaxy
The Keeping Hours
The River Wild
The Texas Chainsaw Massacre: The Beginning
Two Weeks Notice
Unforgiven
September 2nd
Disney's Lilo & Stitch
Disney's The Emperor's New Groove
Maynard
Quantico: Season 3
September 3rd
A Taiwanese Tale of Two Cities (Netflix original)
September 4th
Marvel Studios' Black Panther
September 5th
Van Helsing: Season 2
Wentworth: Season 6
September 6th
Once Upon a Time: Season 7
September 7th
Atypical: Season 2 (Netflix original)
Cable Girls: Season 3 (Netflix original)
City of Joy (Netflix original)
Click
First and Last (Netflix original)
Marvel's Iron Fist: Season 2 (Netflix original)
Next Gen (Netflix original)
Sierra Burgess Is A Loser (Netflix original)
Stretch Armstrong & the Flex Fighters: Season 2 (Netflix original)
The Most Assassinated Woman in the World (Netflix original)
September 10th
Call the Midwife: Series 7
September 11th
Daniel Sloss: Live Shows (Netflix original)
The Resistance Banker (Netflix original)
September 12th
Blacklist: Season 5
Life (Netflix original)
On My Skin (Netflix original)
September 14th
American Vandal: Season 2 (Netflix original)
Bleach (Netflix original)
Boca Juniors Confidential (Netflix original)
BoJack Horseman: Season 5 (Netflix original)
Car Masters: Rust to Riches (Netflix original)
Ingobernable: Season 2 (Netflix original)
LAST HOPE (Netflix original)
Norm Macdonald has a Show (Netflix original)
Super Monsters Monster Party: Songs (Netflix original)
The Angel (Netflix original)
The Dragon Prince (Netflix original)
The Land of Steady Habits (Netflix original)
The World's Most Extraordinary Homes: Season 2 Part A (Netflix original)
September 15th
Inside The Freemasons: Season 1
September 16th
Role Models
Scott Pilgrim vs. the World
September 17th
The Witch
September 18th
American Horror Story: Cult
D.L. Hughley: Contrarian (Netflix original)
September 21st
Battlefish (Netflix original)
DRAGON PILOT: Hisone & Masotan (Netflix original)
Hilda (Netflix original)
Maniac: Limited Series (Netflix original)
Nappily Ever After (Netflix original)
Quincy (Netflix original)
The Good Cop (Netflix original)
September 23rd
The Walking Dead: Season 8
September 25th
Disney's A Wrinkle in Time
Disney's Pirates of the Caribbean: The Curse of the Black Pearl
September 26th
Norsemen: Season 2 (Netflix original)
The Hurricane Heist
September 28th
Chef's Table: Volume 5 (Netflix original)
El Marginal: Season 2 (Netflix original)
Forest of Piano (Netflix original)
Hold the Dark (Netflix original)
Jack Whitehall: Travels with My Father: Season 2 (Netflix original)
Lessons From A School Shooting: Notes from Dunblane (Netflix original)
Lost Song (Netflix original)
Made in Mexico (Netflix original)
Reboot: The Guardian Code: Season 2 (Netflix original)
Skylanders Academy: Season 3 (Netflix original)
The 3rd Eye (Netflix original)
Two Catalonias (Netflix original)
And here's everything that's leaving Netflix in September 2018:
September 1st
13 Going on 30
A Royal Night Out
Batman Begins
Casino
Dead Poets Society
Disney's Pirates of the Caribbean: Dead Man's Chest
Exporting Raymond
Forgetting Sarah Marshall
Ghostbusters
Hachi: A Dog's Tale
Hotel for Dogs
I Now Pronounce You Chuck and Larry
It Might Get Loud
Joyful Noise
Just Friends
Lockup: County Jails: Collection 1
Man on Wire
Stuart Little 3: Call of the Wild
The Assets
The Bucket List
The Dark Knight
The Descent
The Descent: Part 2
September 2nd
Outsourced
Waffle Street
September 11th
Rules of Engagement: Seasons 1 – 7
September 14th
Disney's Pete's Dragon
September 15th
A Star Is Born
Before the Devil Knows You're Dead
Bordertown
September 16th
Are You Here
Jackass 3.5: The Unrated Movie
Moonrise Kingdom
September 24th
Iris
September 28th
The Imitation Game