10 comforting movies to watch in quarantine, as picked by HG editors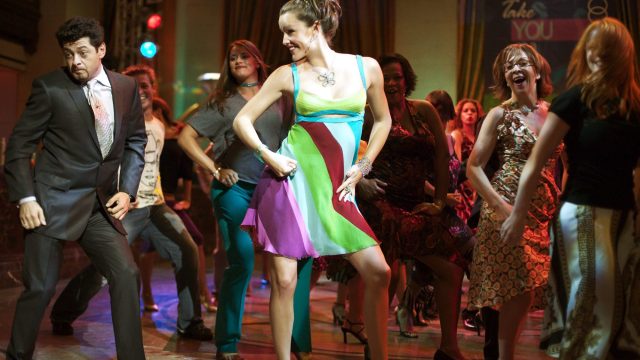 Due to the coronavirus (COVID-19) pandemic, people across the world have been trying to find ways to feel comforted. And with the inability to get relief from old coping mechanisms, like hanging out with friends and going to favorite restaurants, many of us have turned to streaming services to find comforting movies that will help us forget reality, even if just for a few hours.
But if you've already watched your favorite film way too many times to count and are looking for something new to enjoy while self-isolating, then you've come to the right place. The HelloGiggles team has provided a list of the comforting movies we always gravitate toward whenever we need a pick-me-up. Scroll below to see which films we selected and why you need to add them to your watch list ASAP.
A Little Princess
"Whenever I need to be transported out of reality by a feel-good story, I put on the 1995 drama A Little Princess. It's technically a kids' movie, but since it's directed by Alfonso Cuaron—the guy who made Roma and Children of Men, among others—it's visually stunning and thematically mature. Watching Sara get revenge on the evil headmaster, enjoy a massive feast with her friend, and (25-year-old spoiler alert!) reunite with her dad is always a perfect distraction and a great pick-me-up when I need a boost." – Rachel Simon, Deputy Editor
Available to watch on Netflix and Amazon.
Sabrina
"When I'm sad, I want an IV drip of melancholy, yearning, and beauty, which means the only solution is to watch Audrey Hepburn's 1954 Sabrina. In it, a young Audrey wears so, so much Givenchy; attempts suicide; goes to Paris; comes back from Paris with a toy poodle; and makes a lot of pithy deductions about the rich and carelessness of Long Island. You have to ignore a few things—like the dramatic age difference between Hepburn and Humphrey Bogart, oof—but her performance is compelling enough to cover any wrongs. I shouldn't even like the romantic comedy given that I'm a feminist lesbian, but I love it, and I know that if you watch it, you'll be humming 'Isn't it romantic' for days, too." – Danielle Fox, Social Media Manager
Available to watch on Amazon.
The Empire Strikes Back
"Most of my comfort movies lately have been Disney classics (hey, Disney+), but I think the one thing I can consistently watch that helps me get out of my head is the Star Wars franchise. I notice a lot of channels have been playing basically every Star Wars movie lately, and I always find myself watching them. I settle in with my R2-D2 mug, brew my favorite coffee, and snuggle under a blanket. The Empire Strikes Back is my favorite because you get to see Luke Skywalker and Darth Vader duel, and then you get the big reveal that (spoiler alert!) Vader is Luke's father.
But I will literally watch any Star Wars movie if it's on. It's the perfect way to take my mind off things because the series is so extensive. And I find myself getting very into it if a channel is playing the films from the '70s and '80s. (The originals are truly, and always will be, the best.)" – Kristin Magaldi, Features Editor
Available to watch on Disney+ and Amazon.
13 Going on 30
"Whenever I need to escape reality and watch a movie that will lift my spirits, I pull up 13 Going on 30. Jennifer Garner always makes me laugh as the carefree and youthful Jenna Rink, while Mark Ruffalo melts my heart as the oh-so-sweet Matt Flamhaff. The early aughts rom-com reminds me of the free-spirited energy we all have inside of us, and the ending always makes me choke up. A good cry is comforting in its own right, but the happy ending leaves me in a lighter mood. This one never gets old." – Claire Harmeyer, Assistant Editor
Available to watch on Hulu/Starz and Amazon.
The Emperor's New Groove
"The first few times I saw this film, I enjoyed it for its comedic aspect. Eventually, I learned several of Yzma's (the villain) dialogues and would recite them to my family. It became a thing, and when I moved to New York, my sister asked me to send her voice recordings of me reciting those dialogues. ('Wrong lever!') I think that's when the movie became something more to me since it held memories of being with my family, laughing.
It's also just funny, like really f***ing funny. An emperor gets turned into a llama, I mean, come on! I love it so much that my boyfriend now knows to put it on whenever I'm feeling down. There's no way not to laugh and smile while watching it. Plus, it has underlying messages about friendship, family, loyalty, and empathy that I think are really important and heart-warming. Would 10/10 recommend." – Pia Velasco, Senior Beauty and Fashion Editor
Available to watch on Disney+ and Amazon.
Les Miserables 
"It might sound counterintuitive (mostly just based on the title alone) but watching Les Miserables always makes me feel comforted. It's a favorite of mine, and aside from singing along with the songs—which I know every word to—I think what I like most about it is that the characters find ways to persevere despite the odds being stacked against them. It's a true tale of love and redemption, and since I've seen it a million times, I find comfort in knowing how the story ends. Especially in tough times like right now, watching something like this gives me the perspective that honestly, it could always be worse." – Mackenzie Dunn, SEO Content Writer
Available to watch on Amazon Prime and HBO/Hulu.
Harry Potter and the Sorcerer's Stone
"As far as true Potterheads go, I'm definitely in the 'fake fan' category. I haven't read the books and I would probably fail most online quizzes about the franchise, but I've always loved the Harry Potter movies. There are very few movies that I'd willingly watch over and over again, but each time I re-watch any of the Harry Potter movies. I feel like I'm watching them for the first time. It feels like going to Disney World again, which reminds me of how exciting it felt to wholeheartedly believe in magic as a kid." – Morgan Noll, Editorial Assistant
Available to watch on Amazon Prime.
Pride and Prejudice
"As a long-time Jane Austen fan, my middle-school self was not prepared for the near-perfection of the 2005 film adaptation of Pride and Prejudice. This movie has everything: deception; verbal jousting; 17th-century homes; dancing; hot militiamen; Judy Dench; and most importantly, a novel romance that has inspired many other comforting films such as Bridget Jones's Diary and You've Got Mail. I'm immediately put at ease the minute the first note of the score begins to play, and I find myself incredibly sad to have to return to reality when the end credits begin to roll.
Since you have a lot of time on your hands, you can also treat yourself to the six-hour BBC adaptation featuring Colin Firth as the iconic, wet-shirted Mr. Darcy before watching him reprise his role in Bridget Jones's Diary 1, 2 and 3. You're welcome." – Jenna Brillhart, Senior Digital Art Director
Available to watch on Amazon Prime.
 Jaws
"This probably says a lot of strange things about me, but my comfort watch is Jaws. It's the ultimate rewatchable movie. I've seen it so many times that I know every tiny beat by memory: the sea shanty singalongs, Quint's 'y'all know me' speech, everything. So the blood and gore—you know, the sharky stuff—takes second place to the overall feel, which is very comforting, I swear. It reminds me of spending my favorite summer beach days at Cape Cod—so much so that I can practically smell sunscreen and saltwater. (I am aware this sounds bananas, but I can't lie!)" – Caitlin White, News Editor
Available to watch on Amazon Prime and Hulu.
Singin' in the Rain
"There are a lot of reasons why Singing in the Rain is my go-to comfort film. One, I'm an old woman in a semi-young person's body. Two, my mother and grandmother showed me this film—along with countless other classics. And three, it has Gene Kelly and Debbie Reynolds as the leads. The music and dancing sequences provide a dream-like escapism that always puts me in a good mood." – Raven Ishak, Senior Lifestyle Editor
Available to watch on Amazon Prime.