Colton Haynes has the cutest story about being out and going to prom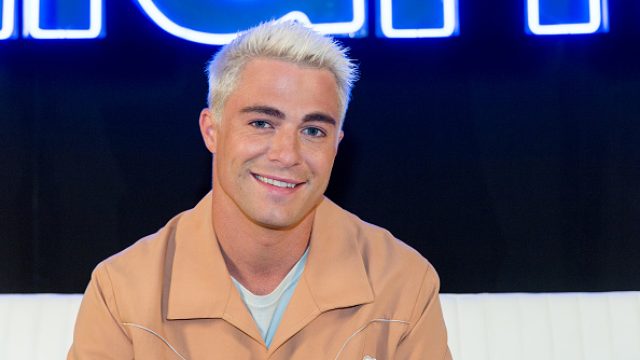 If you don't think celebrities read and respond to questions on the internet, guess again. Colton Haynes recently revealed a fun gem about his prom when a teen asked him about his high school experience on the Entertainment Weekly Tumblr. It turns out the curious teen is going to the same high school the Arrow star had once attended, Samuel Clemens High School in Schertz, Texas. And well, Colton's response is both sweet and charming.
He wrote, "NO WAYYY!!!!! I FREAKIN LOVED CLEMENS!!! I was nominated for prom king and lost, and I brought my boyfriend at the time, and we wore matching tuxes haha."
Matching tuxes? The thought of that has got us snap, snap, snapping.
According to EOnline, Colton has been out most of his life. But it wasn't until recently that that fact became public knowledge. As with most of these situations (and understandably so), the intensity of such a revelation and the media's "need to know" overwhelmed the young star. He checked himself into rehab for anxiety and reentered the hospital on several occasions during the following three months. Oh man, that's rough!
Despite the many roadblocks along the way, Colton found himself the fairy tale ending that he deserves. Colton's boyfriend, florist Jeff Leatham recently proposed. The two are happily engaged. We don't want to admit that we're green with envy. But how could we not be? The proposal looks like a scene straight out of the musical, La La Land.
https://www.instagram.com/p/BRlKz6qDPp4
The stars overhead. The dreamy night sky. The beautiful slow waves. The soft beachy sand. Sigh.
As for Colton, he still opens up about coming out publicly and taking control of his life. 
"I can honestly say that it takes time to be comfortable enough to come out, he shared with Teen Vogue. "When I did…it changed my life for the better!...There's so much support I never knew was available for me, and I am so proud to say that I am gay and it hasn't done anything to hurt what I love to do in life..."
We're so happy for you, Colton! Congrats on your engagement and best wishes for a lifetime of joy.