ColourPop is coming out with a peachy new collection tomorrow and it's super cute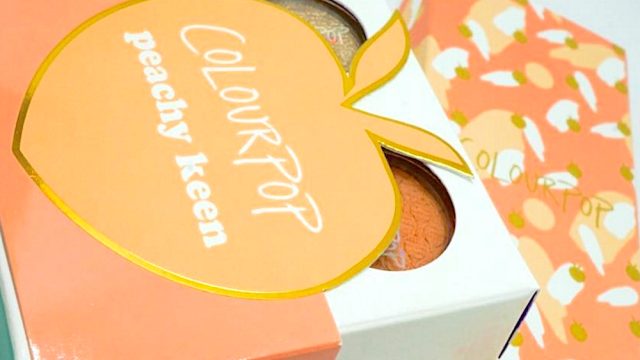 As the weather gets even colder and the trees dry up and shrivel into skeletons of what they once were, infusing bits of bright color into our lives can make all of the difference. To that exact end, the makeup brand ColourPop has a peachy new collection that will be released tomorrow. After glancing at the teaser photos of the new ColourPop eyeshadow quad, we're already fantasizing about how it will transform us into the beautiful yet benevolent princess peach we've always wanted to be.
Just a few weeks ago they graced us with the new ColourPop holiday collection, which features lip glosses styled like vinyl records, and now they've topped their own game by announcing the new peach-themed collection that's dropping tomorrow.
The new eyeshadow collection is called Peachy Keen, but that's not all, they're also releasing a set of three liquid lipsticks called Just Peachy as well!
They are truly doing the most.
Check out the gorgeous swatches for the four shades of the Peachy Keeneyeshadow collection. The colors include: Crimper, a bright metallic gold, Kennedy, a soft matte peach shade, Cornelius, a smoky matte mauve, and Bandit, a matte deep plum.
The Just Peachy lippie sticks are beyond gorgeous. The shades include: Instigator, a bronzy orange hue, Screenshot, a soft pink-coral shade, and Speed Dial, a deep orange that is perfect for winter! The lippies will be sold individually and as a set.
The Peachy Keen eyeshadow set and the Just Peachy liquid lipsticks will be available on the ColourPop website tomorrow, Nov. 26! While there isn't a confirmed price just yet, we can always count on ColourPop to have affordable prices.
https://www.instagram.com/p/BNPg1YwBnbQ
We can already feel ourselves being transported to a sunny grove of fresh scented orange trees.
https://www.instagram.com/p/BNPe6YzBr22
While the beauty brand hasn't officially shared the news just yet, be sure to check out the ColourPop website first thing tomorrow if you're as excited as we are.