These 10 College Students Transformed Their Styles From Freshman to Senior Year
Students across the country share how time made them grow more confident in their beauty and fashion choices.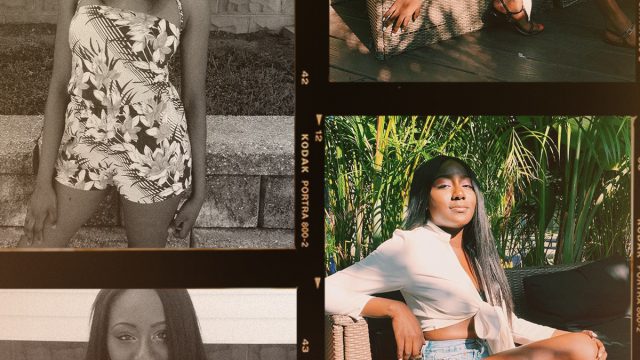 For students everywhere, "back to school" probably looks a little different this year. HelloGiggles' Going Off Book is about showcasing the changing face of higher ed and reminding us all that there's no one "right" way to spend a semester, whether you're heading off to a college campus, taking classes at home, or taking the time to figure out your next steps.
From your major to your friend circle, a lot can change between the first day you set foot on your college campus to the moment you walk across the stage on graduation day. For many, that includes their sense of style. Your time in college may have led you to discover new go-to stores, inspiring you to trade your old threads for whole new wardrobes. You may have begun to accessorize more, adding everything from purses to new piercings to your looks. And others may have started to experiment more with beauty during college—whether through DIY hair-dye jobs in the dorms or by flexing their makeup skills (thanks, YouTube!) to create cool looks before class.
Needless to say, the ways in which beauty and fashion preferences can change during college are endless. So we spoke to 10 stylish students (some who have graduated and some who are still in school) to find out just how their style changed between freshmen and senior years. Keep scrolling to see their transformations.
Avery Coffey, junior at Florida International University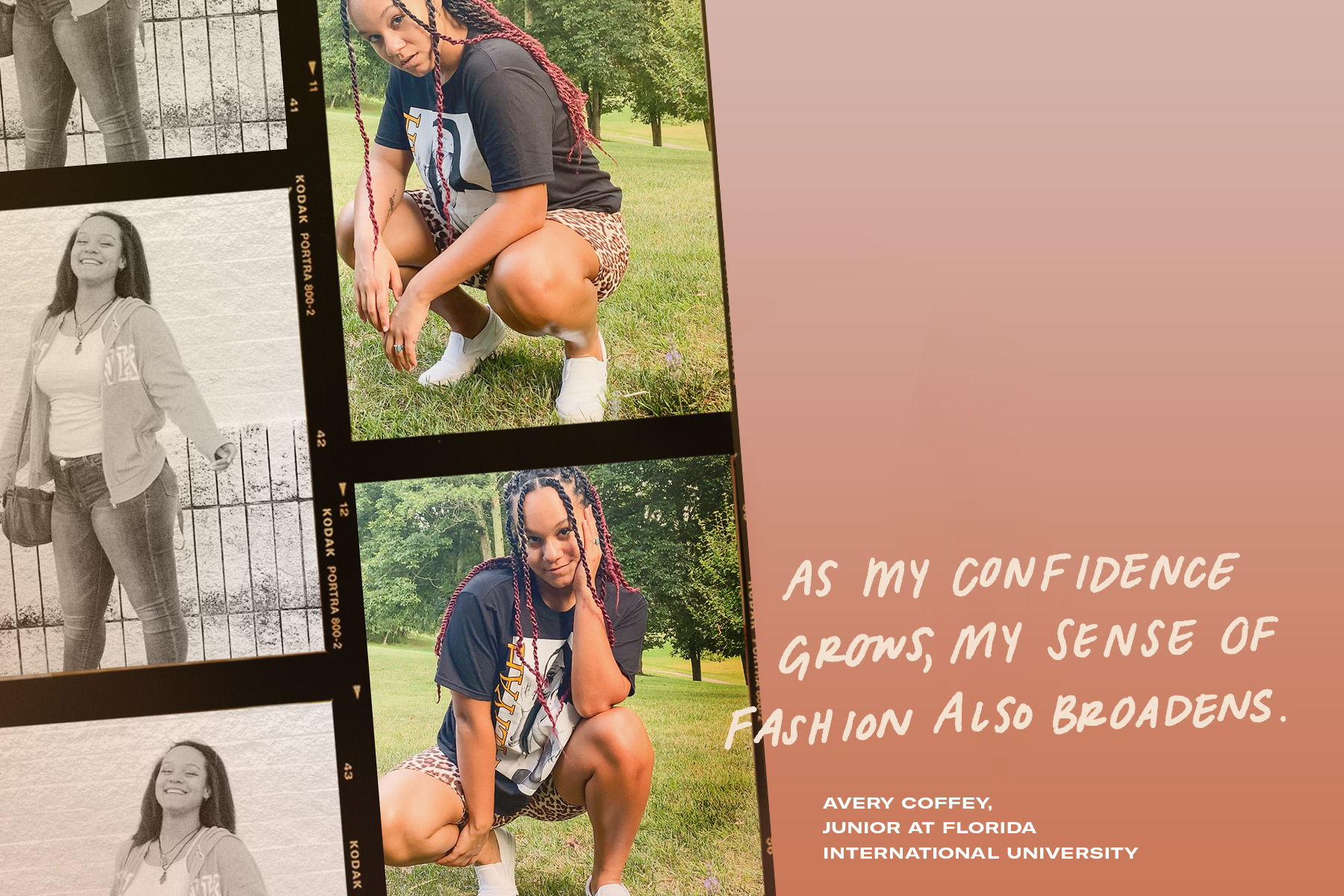 The style evolution: 
Avery Coffey: Freshman year, my style typically consisted of a plain pair of bottoms (either jeans or leggings) and a top I felt comfortable in. I didn't often accessorize or explore color coordination; my style was very safe. Going into my junior year, I'm branching into colorful streetwear with a focus on accessories and shoes. 
Why my look changed:
AC: I always saw clothes as something you had to wear, not as a way of self-expression. However, as my self-confidence grows, my sense of fashion also broadens. I turn to clothing that accentuates my body and feels comfortable, and through my streetwear my confidence feels a lot stronger than before.
Esther Tae, junior at University of California Irvine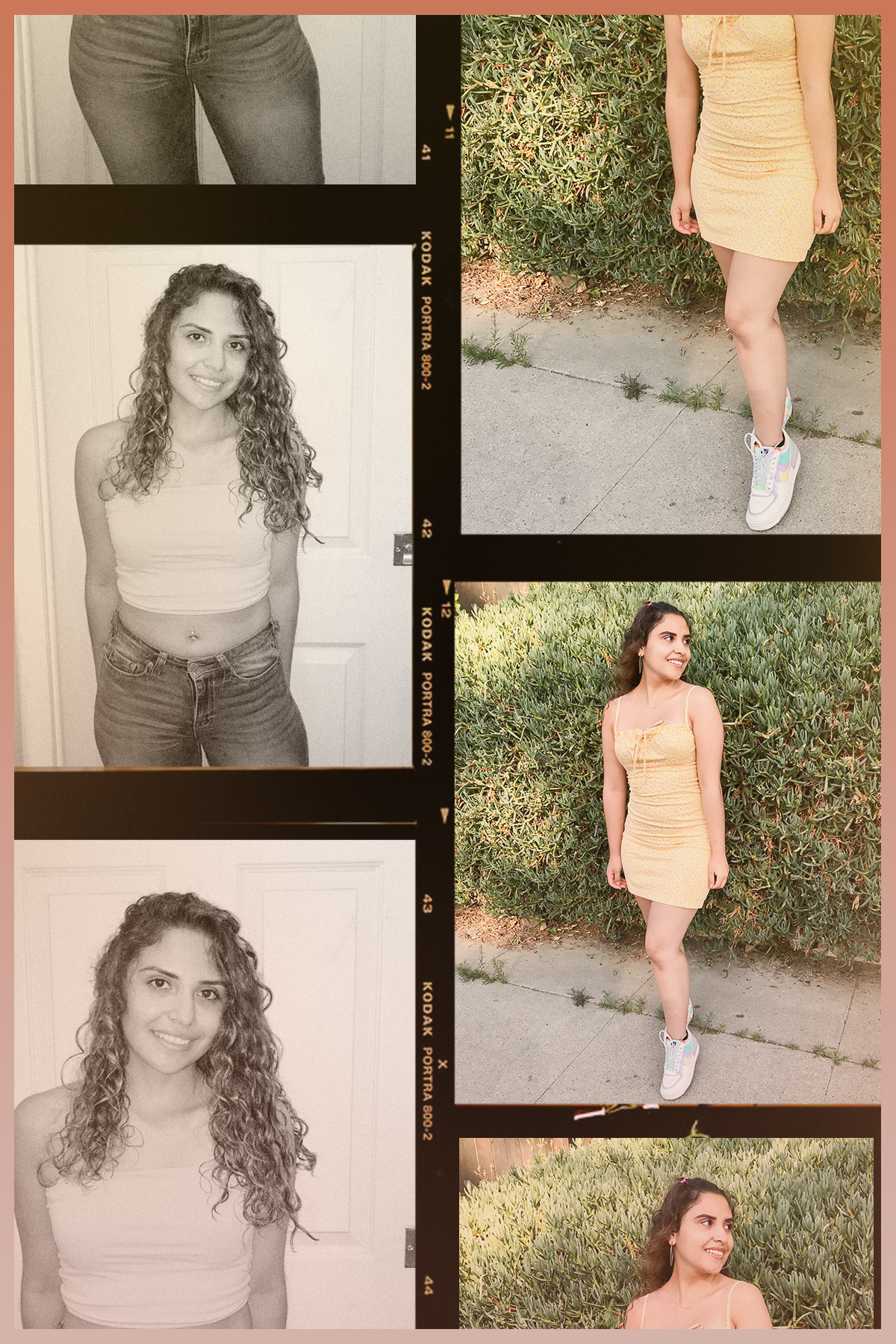 The style evolution: 
Esther Tae: During my freshman year, I didn't know what products to use for curly hair or how to style it. I didn't use any makeup because I did not know how to. Eventually, I began to venture out into different styles and learned how to properly apply makeup, and I began to grow confident with myself. This transformed how I look. Now I wear more colors, and I'm not afraid to try a bold look.
Why my look changed:
ET: My looks began to change when I made friends in college; they introduced me to new products and showed me how to apply makeup. When we went to the mall, they encouraged me to try new clothing items, too. I also began to change my sense of fashion when I started working at PacSun. Seeing all the new, cute clothes and how my coworkers styled items made me want to change my fashion. I became really confident in clothes when I began trying different looks. When I became a [Victoria's Secret] Pink Rep for UCI, it boosted my confidence, and I found myself growing to be more interested in fashion. Fashion is important to me, and I plan on expressing myself through it.
Megan Roshak, senior at University of Wisconsin-Green Bay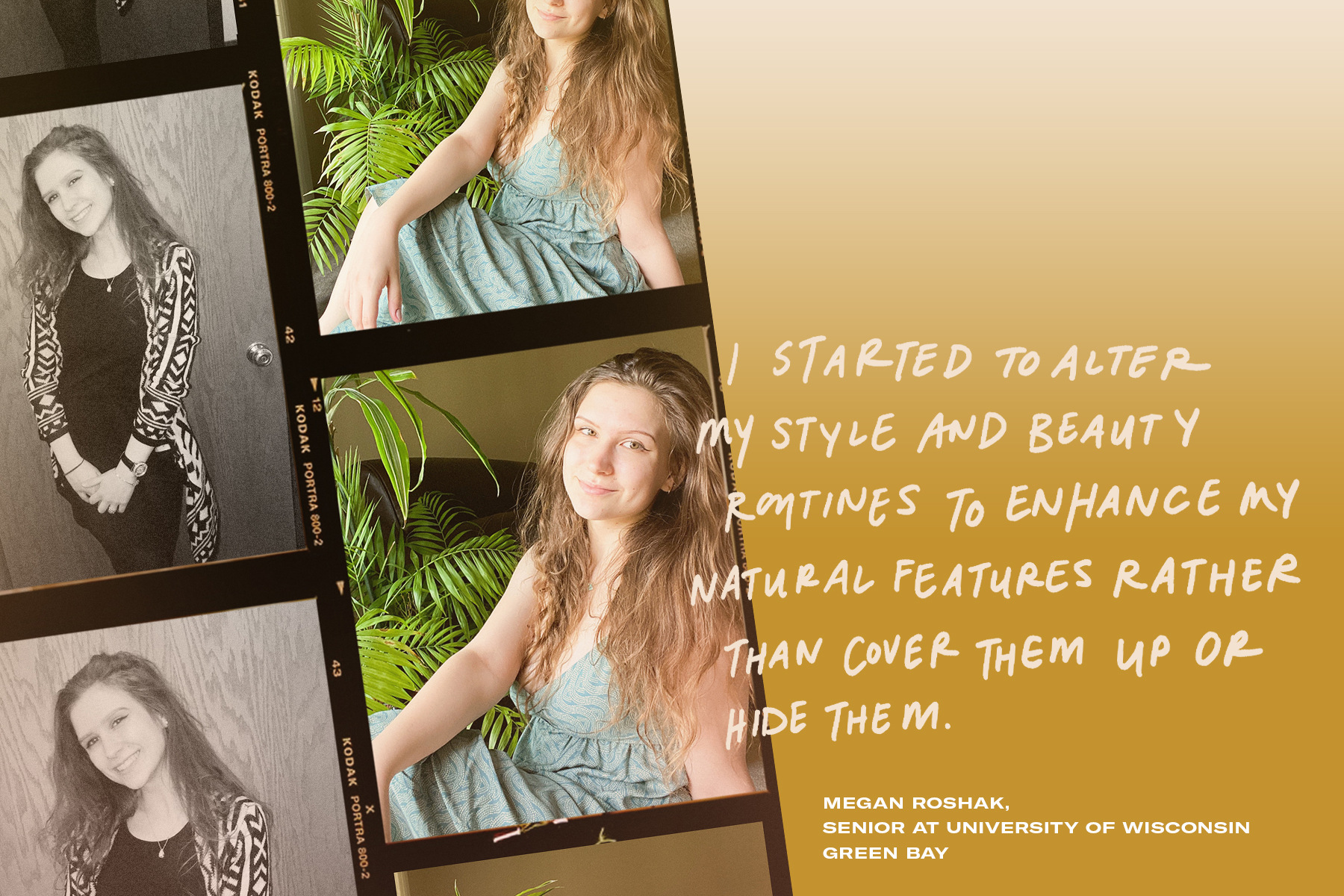 The style evolution: 
Megan Roshak: My style as a freshman is so different from my current one. Back then, I didn't do anything with my hair since it's naturally wavy, and for makeup I just did brows and eyes—this was when dipbrow was big, and I admittedly have some cringey photos to look back on. My style really depended on what job I was working, since I had more than a couple, and I always accessorized with gold.
Going into senior year, I have a way more defined style. It's very feminine, and I love to experiment with unique prints. Lately, I have been gravitating towards pastel colors, and I typically accessorize with silver. I still leave my hair natural, but now I use beach wave sprays to complement my hair. As far as makeup goes, I still stick to brows and cat-eye liner, but I do my brows more naturally now.
Why my look changed:
MR: First, I gained confidence throughout the years. I started to alter my style and beauty routines to enhance my natural features rather than cover them up or hide them. I have become more comfortable in my skin and body, so I am more comfortable trying different clothing styles. Second, I have extra cash to invest in style. In my freshman year I was okay financially, but my main focus was to save. Now that I feel more comfortable with my budget, I can treat myself to some little luxuries that spark joy. Third, social media has inspired me to try out new looks. I follow several bloggers that are so confident and create gorgeous looks; they influence me to get creative in expressing myself. 
Monica Mutale, senior at Georgia State University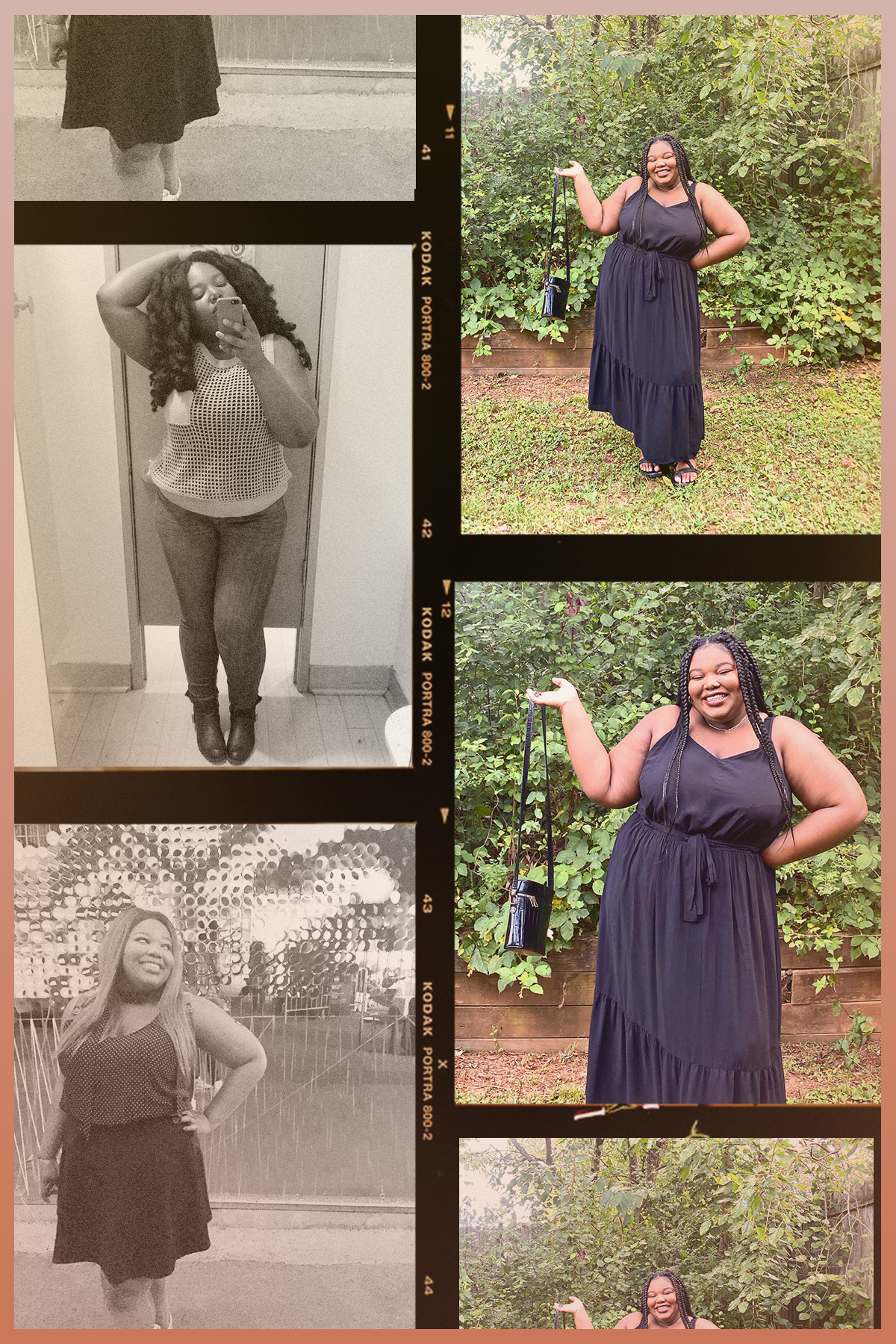 The style evolution: 
Monica Mutale: I took a gap semester before my first year of college. I spent a lot of time reapplying to other colleges, taking care of my newborn brother, and being engrossed in beauty YouTube 24/7. All I wanted to do when I arrived at college was show off my blending skills and endless lipsticks. My fashion sense was minimal, cheeky, and very Tumblr-inspired—I wore a lot of mesh and see-through clothing.
In my first year of college, I wanted to be the effortless cool girl with a fat twist, but now my looks are very flowy and soft, and the most important thing to me is comfort. I love wearing long dresses, gold jewelry, and Chacos—you can never go wrong with comfy shoes like those. I still wear a beat face, but I lean heavily toward the soft glam look.
Why my look changed:
MM: My look changed dramatically because I became more preoccupied with balancing school and work. Suddenly, the idea of spending three to fours hours a day on makeup wasn't as fun as it used to be. During my senior year of college, I started defining what beauty means to me. Right now, this is what it looks like: I'm in a neutral space in terms of style, and I'm excited to figure out more of what that means. Compared to my freshman year of college, I'm more practical and comfortable in my own skin.
Amanda Roberts, senior at Rutgers University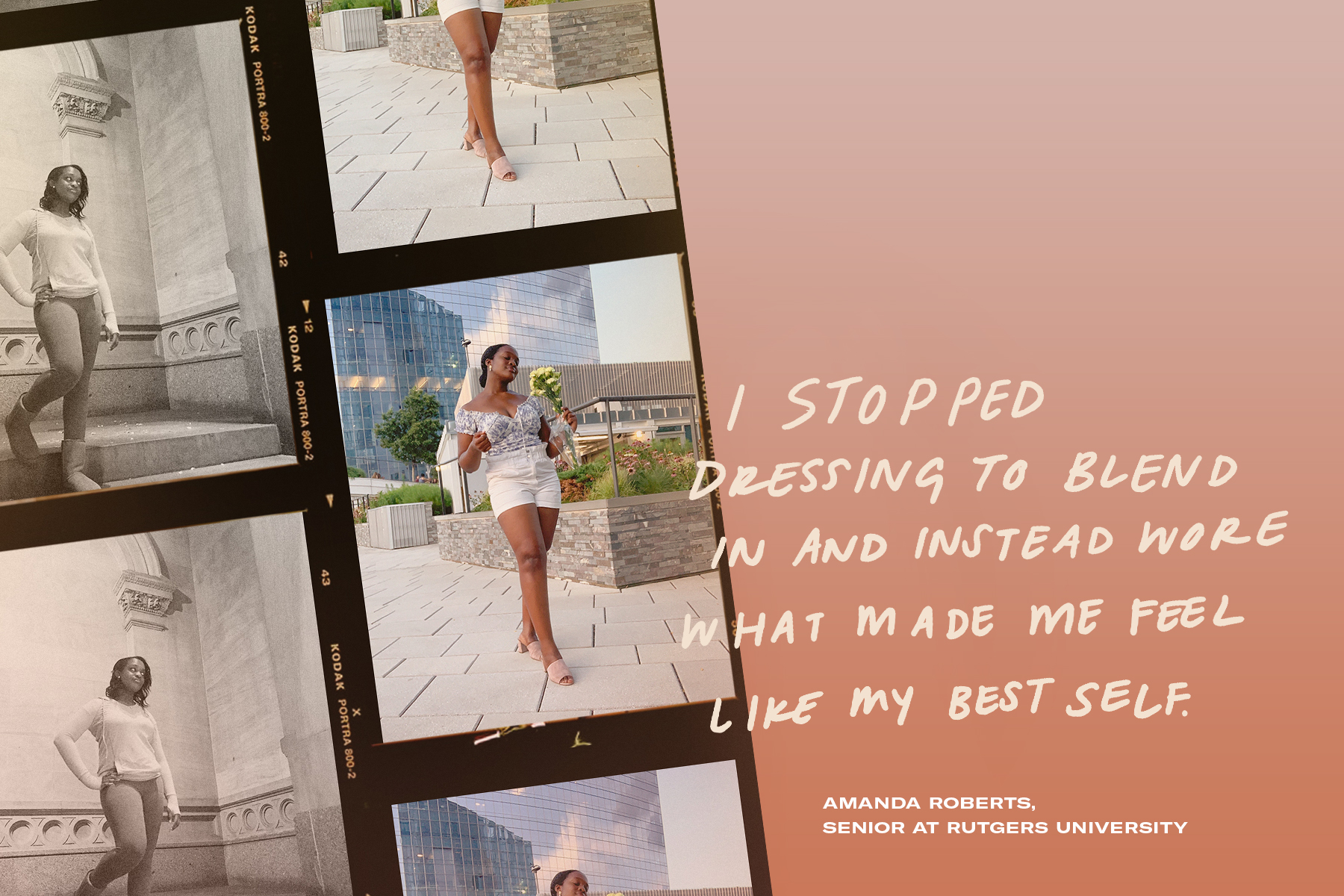 The style evolution: 
Amanda Roberts: During freshman year, my hair was fried, damaged, and frequently straightened. The furthest I would go with makeup was a simple winged eyeliner look and some mascara. I'd say my look during my senior year is much more stylized: It's heavily influenced by "cottage-core" styles and the "soft girl" aesthetic. My makeup look has more steps but also looks much more effortless. I go for the "no-makeup" makeup look and use specialized skincare products to have a natural glow. I fully transitioned to natural hair and choose to rock my natural curls in different styles.  
Why my look changed:
AR: Before I couldn't be bothered to do a full face of makeup, because I was constantly late for class. My main focus was dressing for comfort, and I wanted to blend in with everyone else on campus because it made me feel like I belonged. As I began to feel more comfortable and confident in who I was, my true style began to emerge. I drew inspiration mainly from Pinterest and Instagram. As I started to love my natural hair and my natural features more, I wanted to accentuate the beauty of them. Overall, I started to put more effort into how I presented myself on campus. I stopped dressing to blend in and instead wore what made me feel like my best self. 
Sarah Guarino, sophomore at Adelphi University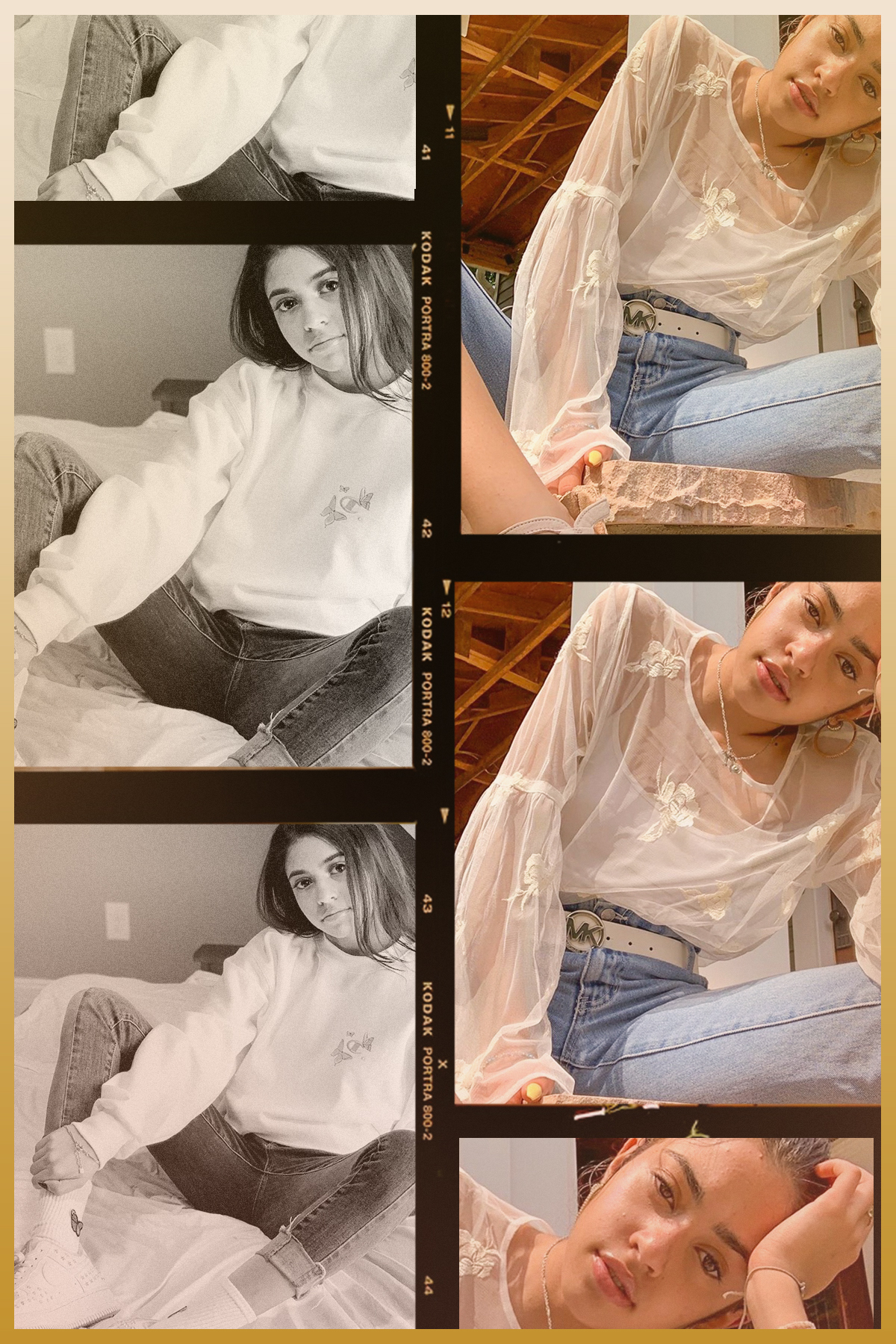 The style evolution:  
Sarah Guarino: It's crazy how much your style can evolve in just one year. In high school, everyone knew me for dressing nice, but that was never really "style," it was me throwing on a cute top and pair of jeans. Now I'm all about focusing on every single detail, whether it's how I want my hair to look or which pair of earrings to wear. I take pieces and "style" them together, often taking clothes from my mom's closet or even swiping something from my dad's to mix with clothes of my own. While my vibe is all over the place, you'll probably see me sporting a casual but very well put together street look or a very delicate and soft style.
Why my look changed:
SG: A big part of my style changing actually had to do with my fitness journey. I halted my weight training routine of three years due to excessive weight loss caused by my epilepsy medication, and I was only wearing oversized crewnecks and leggings. I had so many nice clothes sitting in the closet that were either too big or that I was too scared to wear, since I didn't want people to see my body. However, today I enjoy planning trendy outfits and am healthier than ever.
Selma Rafiq, senior at University of Southern California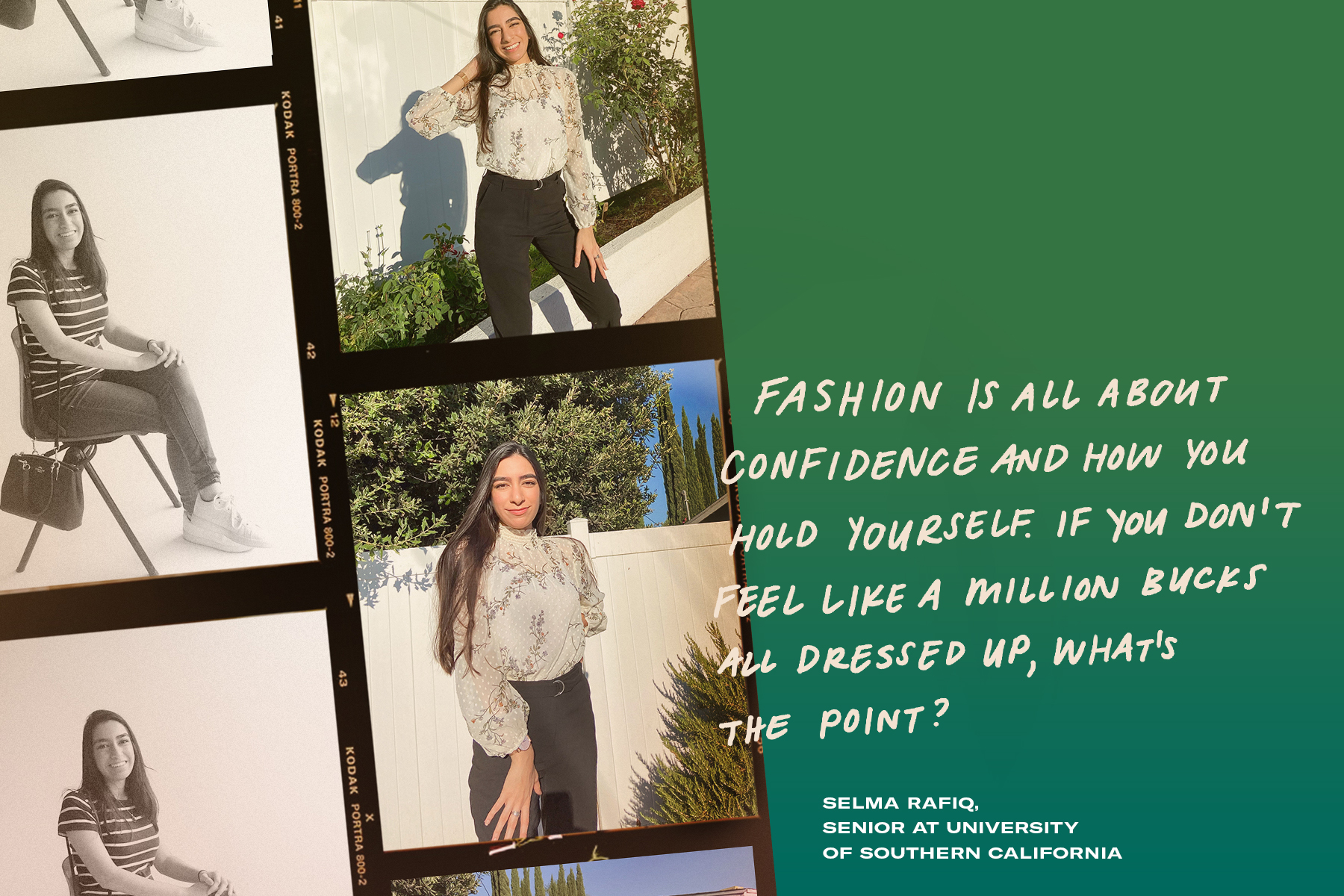 The style evolution: 
Selma Rafiq: In my freshman year of college, I didn't know much about makeup or fashion. I dressed pretty simply and didn't know how to do my makeup well. Now, I feel like I actually know how to put on makeup to accentuate my features and what kinds of clothes and colors I feel comfortable and confident in. Also, I wear more jewelry now than when I was a freshman, and small details like that can change a lot in an outfit.
Why my look changed:
SR: I used to be scared of stepping outside of my comfort zone, and so I stuck with safe choices. I feel like my style matured right along with me throughout the years, and I started experimenting more to figure out what I liked. Today, I feel more confident in myself as a person, which is reflected in what I wear. Fashion is all about confidence and how you hold yourself. If you don't feel like a million bucks all dressed up, what's the point?
Fanta Dicko, 2016 graduate of Syracuse University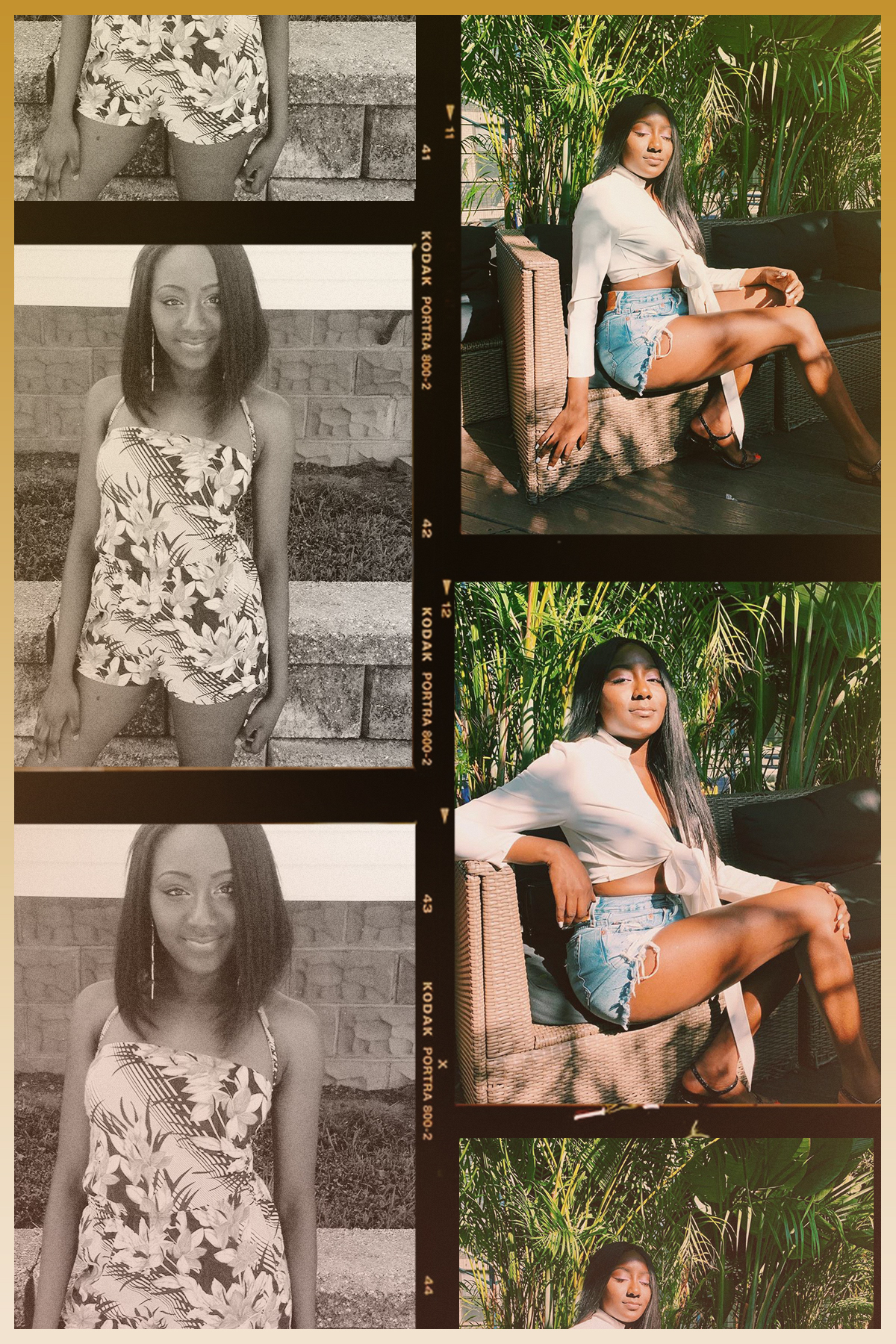 The style evolution: 
Fanta Dicko: My looks during my first year of college were a lot. A lot of colors and a lot of shimmer! I would always wear eyeshadow that matched what I was wearing. Now my look is the complete opposite. I am all about soft glam and monochrome looks with a splash of color. Also, comfort in clothing is a huge plus for me now.
Why my look changed:
FD: Over time, I started to purchase articles of clothing that I could use more, so solid-colored clothing has been very helpful since I can mix and match [it] with almost anything. When you purchase clothing that you can wear over and over again, it allows you to splurge on quality pieces that can last.
Scotlyn Ogle, senior at University of North Texas 
The style evolution: 
Scotlyn Ogle: When I was a freshman, I was really into both layering and plaid. I also would straighten my hair and wore minimal makeup. Now, I wear my hair naturally wavy more days than not, and I experiment with makeup daily. My style is a lot more laid-back, and I tend to stick with basics. 
Why my look changed:
SO: I think the thing that has changed the most over the past three years is my self-confidence. I wore uniforms in middle school and high school, which stunted my personal style for a long time. I think now, after many failed attempts at styling myself, I can always tell what I will and won't like.
Samara Marshall, senior at University of West Georgia 
The style evolution: 
Samara Marshall: When I was a freshman, I geared more towards floral print, dresses, and anything that twirls. I guess you can say I was a bit more girly in my freshman year. Now, I give more thought to my outfits and wear things that make me feel more comfortable, like mom jeans and oversized T-shirts with statement shoes.
Why my look changed:
SM: In college we walk everywhere, so I still wanted to dress up but be comfortable. I found that pieces like graphic tees and mom jeans can be dressed up and down depending on your day. I also think social media has helped; apps like TikTok allow users to make videos about their style, which has really inspired me.
As information about the coronavirus pandemic rapidly changes, HelloGiggles is committed to providing accurate and helpful coverage to our readers. As such, some of the information in this story may have changed after publication. For the latest on COVID-19, we encourage you to use online resources from CDC,WHO, and local public health departments, and visit our coronavirus hub.