6 college seniors on what they lost: "I have no idea what I'm supposed to do for the next six months"
One year ago, I was one week away from my college graduation. My friends and I were celebrating the past four years at the University of Iowa by spending every waking minute together. As my Instagram memories recently reminded me, we marked the milestone by throwing a wig party in our apartment building. Afterward, we bounced from bar to bar downtown—a sea of 21- and 22-year-olds wearing neon wigs, embracing our final days as students before we set out into the "real world." Several days later, we walked across a stage to collect our diplomas and joined our classmates in throwing our caps into the air, applauding ourselves and each other.
2020 looks different for college seniors. No parties are being thrown, no students are walking across stages, and seniors who are graduating aren't able to say goodbye to the friends they've made over the past four years—friends who have likely become their family away from home.
The coronavirus (COVID-19) pandemic has caused college campuses to shut down, meaning students must finish their degrees online and collect their diplomas in the same manner: virtually. Gowns will hang in closets unworn, and caps will sit on shelves, gathering dust.
"Graduation is something all of us have been working toward for 16 years. And now I don't get to walk across a stage, wear a robe and cords, or take a picture with my parents outside of the school I will now be an alumnus from," Ellis Bittner, a senior at Texas Tech University, tells HelloGiggles. "I had no idea that the last class I attended before spring break would be my last [in-person] class ever. This anticlimactic end to four years of hard work is a more painful loss than anything else."
The abrupt end to students' days in classrooms, nights with friends, and lives rooted on college campuses has left this monumental chapter of their lives feeling unfinished.
"As freshmen, you enter college and look forward to one day being able to celebrate the things you earned throughout the past four years," Natalie Goodman, a senior at the University of Iowa, tells HG. "I feel like I skipped a few chapters in a book and went straight to the end."
While this lack of closure is undoubtedly upsetting for students, the current state of the job market into which they're entering is even more distressing. The transition from student to working adult is always challenging, but now, with countless companies on hiring freezes, many young adults will be stuck in a state of limbo post-graduation. Plus, others who had landed full-time positions months ago have had their offers revoked, forcing them to start at square one.
"Back in August, I accepted a full-time job offer with a middle-market captive insurance firm which was slated to begin on June 1st," Grace Maloney, a senior at the University of Iowa, says. "Fast forward to the current economic climate, and my offer was rescinded. I was left feeling devastated. Now, I'm restarting my job hunt during a pandemic that has left a record number of people unemployed."
Just like Maloney, many students are unsure how to approach their post-grad lives now that diving into the careers they've prepared for for four years is no longer a possibility.
While they're finishing their final exams and being forced to rethink their futures, the uncertain job market is even causing students with secured positions to question their career paths.
"I was planning on moving to Dallas and working for American Airlines in July," Ananya Djedi, a senior at the University of Texas, says. "My start date was recently postponed until January 2021. While I'm so thankful I still have the position, I have no idea what I'm supposed to do for the next six months. I'm even more nervous that the airline industry is going to decline past predictions and that I might lose my position altogether. During that six-month waiting period, I might find [another job] that'll change my whole direction."
With the looming pressure of paying off student loans and the responsibility of financially supporting themselves rapidly becoming reality, students are being forced to forgo their passions and seek any employment opportunities they can find.
"Although I would love to pursue my dreams within the fashion industry, I am well aware of the fact that I have to make a living somehow," Ryan Columbia, a senior at Saint Francis College, says. "If it's impossible to get a job in my desired field, I'll be flexible and look for something temporary."
Unfortunately, finding a temporary job might not be an option right now for most American college graduates, as the majority of traditional hospitality jobs are no longer on the market. "Even jobs like waitressing, bartending, or nannying, which was my primary source of income during college, are removed from my options because of COVID-19," Djedi says.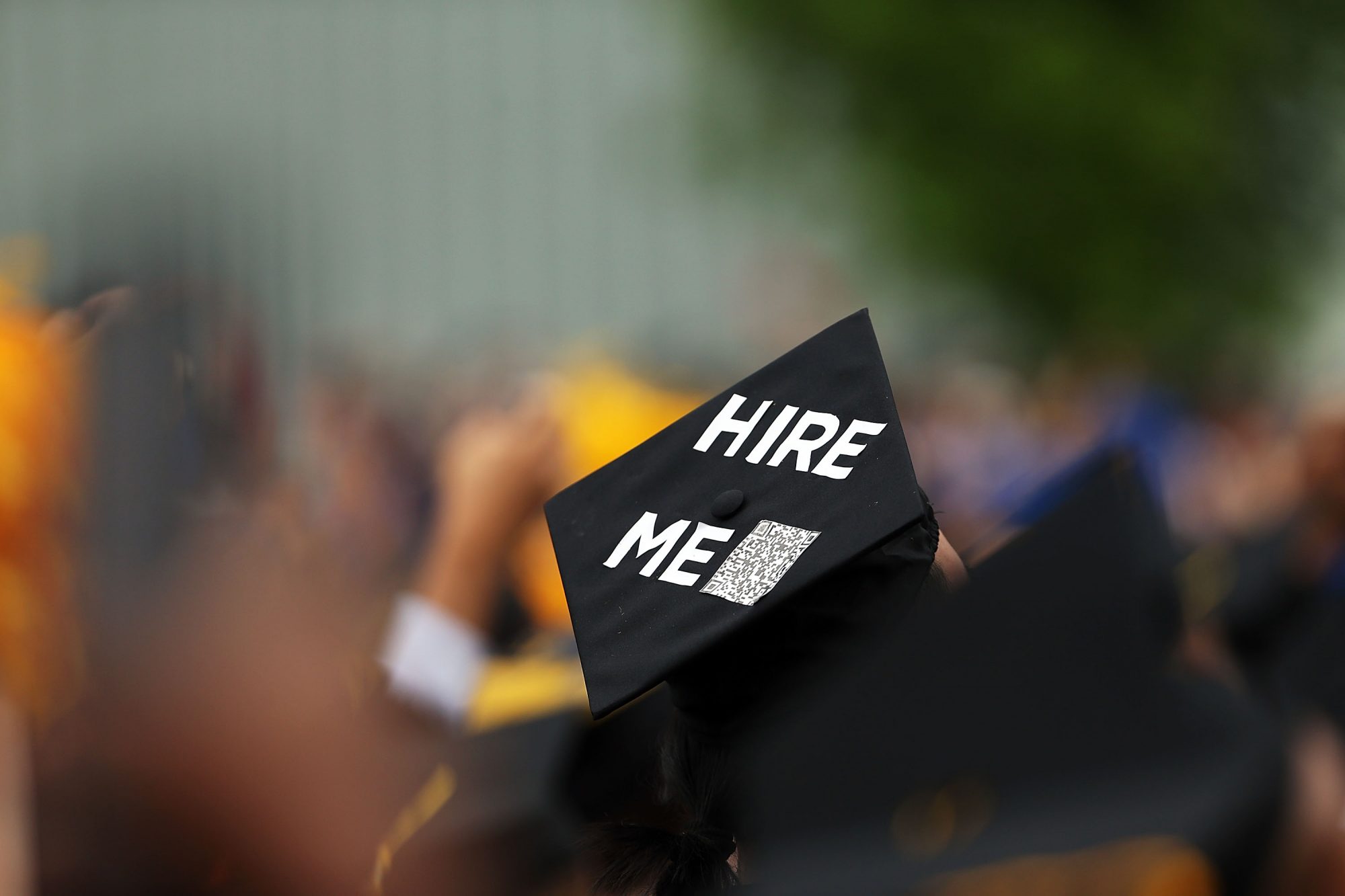 To avoid entering such an uncertain job market at the bottom of the totem pole, some students are scratching their original plans to join the workforce post-grad and are deciding to enroll in graduate school instead. But the impact the coronavirus is having on the education system is turning other students away.
"My plan was to go back to school, but if classes remain online, I will definitely be rethinking that," John Woodruff, a senior at the University of Iowa, says. "As much as I don't want to enter the job market when the economy is like this, I don't want to spend my time or money on online classes when I drastically prefer in-class learning."
No matter their current situation—employed, unemployed, or grad-school bound—the coronavirus is throwing a wrench into every graduating senior's plans. Despite the uncertainty of the future, many students are remaining hopeful and are taking this time to focus on what matters the most: their mental health.
"I'm trying to dedicate the upcoming weeks and months to focusing on myself and what I need to do to regain lost mental and emotional strength," Maloney says. "Right now, that looks like reading more books, starting new creative projects in my free time, and looking for a new full-time position. I still wake up with a pit in my stomach most mornings, but I'm starting to sense that things are turning around."
This time of year is typically celebratory, bittersweet, and buzzing with excitement for college graduates. And although spring 2020 looks far different than years past, students entering the job market are still holding out hope that their futures are bright—it just might take longer than expected for them to get there. Above all, soon-to-be college graduates are being gentle with themselves and celebrating small victories, day by day.
As information about the coronavirus pandemic rapidly changes, HelloGiggles is committed to providing accurate and helpful coverage to our readers. As such, some of the information in this story may have changed after publication. For the latest on COVID-19, we encourage you to use online resources from CDC, WHO, and local public health departments, and visit our coronavirus hub.