You need to see Colin Jost and Scarlett Johansson holding hands while ice-skating during the "SNL" sign-off
If you tuned in to watch the Christmas episode of Saturday Night Live, you might have noticed something a little peculiar. Not only did she have a brief appearance in the show itself, but Scarlett Johansson and Colin Jost held hands outside while ice skating around Rockefeller Center during host Kevin Hart's goodbyes. It's a big deal,  since it's rare to see them together.
While the two have been rumored to be dating since May, they only made their official debut together at the end of November, during the American Museum of Natural History Gala. So, seeing them together on-screen during such a big moment for the show was extra special.
Johansson, who is no stranger to the show, reprised her Ivanka Trump impression for this past Saturday's opening sketch. Back in March, the actress played the role in a mock commercial for a perfume called called "Complicit," which was one of the most memorable sketches from her episode.
Since the Christmas episode is typically one of the show's biggest, it makes sense as to why she'd want to help out. And since Jost was just re-promoted to the position of co-head writer, along with his Weekend Update companion Michael Che, it makes it seem like Johansson wanted to show a little bit of support.
The two look pretty comfortable together, and we can't get enough.
https://www.youtube.com/watch?v=O01svcIpcf8?feature=oembed
We also love the fact that Hart seemed a little terrified of ice skating, but participated in the act — which is somewhat of a ritual in closing the Christmas episode — despite his fear.
In fact, you might have been focusing on Hart's petrified face, thus missing Jost and Johansson's very cute hand-holding right behind him.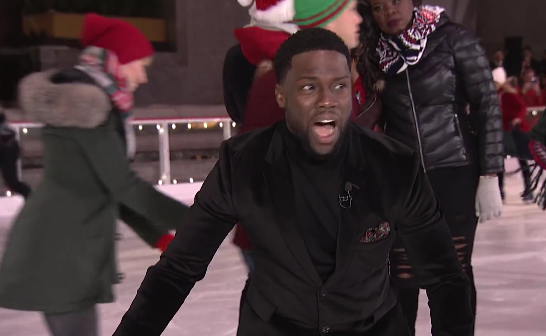 We're rooting for these two, and think they're an incredible match. Hopefully we'll be seeing Johansson in more SNL sketches next year!