Cole Sprouse has teased that Jughead could go dark in "Riverdale" Season 2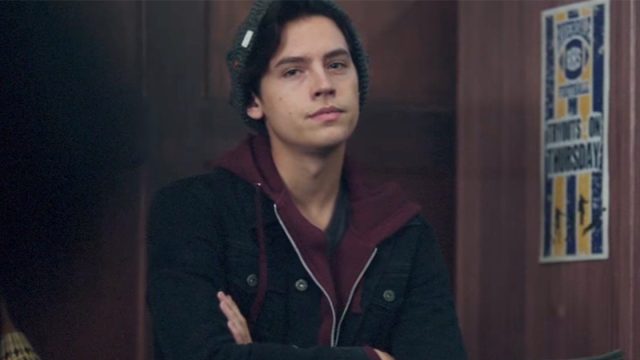 Like he says in that now iconic Riverdale scene, Jughead is a weirdo, and he totally doesn't fit in. And now Cole Sprouse has teased that for Season 2 we could be getting to see a darker side to his character that could push him further to the fringes of society.
[WARNING – Season 1 spoilers below]
While Season 1 of Riverdale nicely wrapped up the question of who killed Jason Blossom (we're still reeling, tbh), the show's final scenes were some of the most intense and dramatic that we saw all year. Not only did we see Archie's father shot (!), but we saw Jughead return to his father's trailer only to be welcomed into the ominous Southside Serpents.
Well, in a new interview, Cole Sprouse told TVLine that things were about to get eve more complicated for Jug.
"I think [a darker Jughead] is the avenue that they're going to be pursuing," he said. "I think the whole show is going to be getting darker and stranger."
According to Sprouse, this won't just be in the plots, either.
"We're going to be leaning into a lot of those qualities that a lot of people ended up loving in the first couple of episodes — this heavy cinematography, this overbearing coloration, this really dark content that's kind of over-the-top and campy, but it's taken very seriously," he said.
Of course, we didn't just get to see Jughead share how weird he was for never taking off that hat. We also got to see a more emotional and tender side to the character, especially when it came to his relationship with Betty (played by Lili Reinhart) and his family.
In fact, the actor said that one scene in particular — the one where Jughead calls his mom and she tells him not to come and see her — was pretty darn hard to film.
"It's an emotionally tasking scene," he said. "When you're talking into a phone with no one on the other line…that's a technically challenging and emotionally challenging scene, but I think it got the point across, so I'm proud of it."
Tbh, we're so thankful that we're getting a second season of Riverdale. While the show is campy and soapy, we love the teen drama, the mysteries, and the angst. We can't wait to see how things unfold as the show continues.