Cold brew ice cream is officially a thing, and here's where you can get it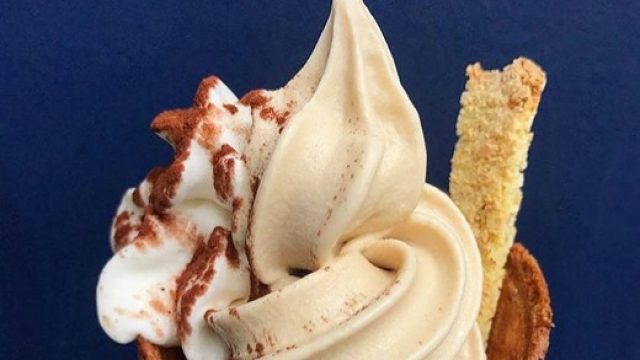 Cold brew fans, get thyselves to New York City ASAP this summer, because we have the best news of the day for you. Cold brew ice cream now exists, and it's everything we never knew we needed in life.
The newest genius idea by the inventor of the unforgettable Cronut involves two of our favorite things on the planet: cold brew coffee and ice cream, and our mouths are watering at the mere thought. But you can only get it at NYC hotspot Dominique Ansel Kitchen's soft-serve ice cream window (as of right now!), so start packing those bags, ice cream lovers.
This caffeine-infused dream is truly special. According to Grub Street, the new cold-brew flavor is made with real cold brew coffee, "topped with crunchy anise biscotti and milk foam that's dusted with cocoa powder."
The creator himself revealed the intense process behind the soft-serve, and we've never wanted anything more. "We take our house-made milk base and infuse the coffee flavor into the milk overnight. It takes another night to strain it, and then we mix it with our base and let it rest for 12 hours," he explained.
His team uses their custom cold brew blend…there's no instant coffee mix to be found here. "It has a deep coffee flavor — it's like drinking a nice glass of cold brew. It's completely different from coffee ice cream: richer when it comes to flavor, without being bitter or sour. It's a good, clean coffee taste, that's how I'd describe it."
If you're looking to try this incredible spin on coffee ice cream, act fast — it's only available through June. But Ansel says he's willing to bring it back in September if it's a hit. We have a feeling it might be.