Coffee lovers might never oversleep again, thanks to this coffee-brewing alarm clock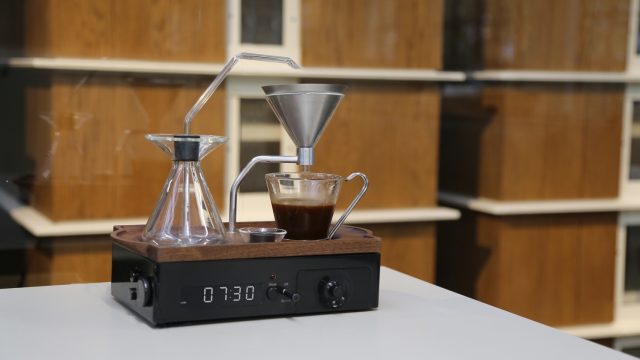 It takes about three different alarms to get me out of bed. I hate mornings. But with news of this amazing new coffee-brewing alarm clock, I'm starting to think waking up might not be such a pain.
U.K.-based designer Josh Renouf has invented a nifty little alarm clock that works as a coffee maker, waking you up to the smell of freshly brewed coffee. Now that's how I'd like my mornings to start! The alarm clock, aptly named Barisieur, looks downright snazzy, too. Photos on Renouf's website show a retro stainless steel percolator on a stained-wood base above the digital clock. According to Renouf, the machine uses "stainless steel ball bearings that boil the water through induction heating," which then percolates through the coffee and into the waiting cup. An alarm clock that involves science and delicious coffee? Count me in!
Unfortunately, the clock isn't available for purchase just yet. Way to tease us, Renouf! Can I get a prototype? It's so pretty I might not even care if it doesn't work all the time. At least the site invites you to sign up to be notified when development is complete. And oof, the alarm clock is pricy, with a projected retail price is between 200 and 250 British pounds, which is about $290-$362 U.S. dollars. That's a lot more money than the alarm that comes with our iPhones. Nonetheless, for those of us who really loathe mornings (and love coffee) the Barisieur might just be worth the investment. I wonder if I can put this on my wedding registry?