This foodie creates gorgeous coconut milk bowls, and they're just as yummy as they look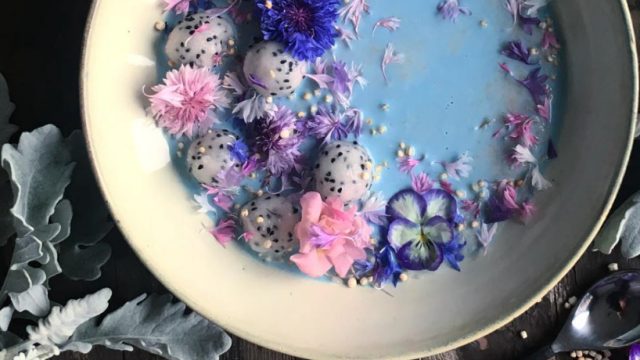 By now, you probably know about ~the healing wonders of coconut oil~ but do you know about the nutritional benefits of eating coconut milk? If you love the taste of coconut (we know, it's a polarizing flavor!) you'll be happy to know that there are many health benefits to coconut milk, from healthier skin and hair to helping boost your immune system to making sure you're getting enough healthy fats. But if you don't want to just start chugging the stuff, try coconut milk bowls!
Think of coconut milk bowls like making a bowl of cereal in the morning, except *way* more nutritious. You can load 'em with your favorite fruits and experiment with new combinations to keep things new and exciting every day. Plus, they make a great dessert!
Here's a few of our faves for some recipe inspiration!
1This pretty pink combination of almond milk and coconut yogurt
2This blend of coconut yogurt, water, and blue majik powder is GORGEOUS
3These pink smoothies with coconut water and dragonfruit are so beautiful
4This combo of frozen bananas, dragonfruit, and coconut water creates such a pretty picture
5This thicker coconut blend with bluemajik powder is a health-filled smoothie bowl
6This mixture of mangos, blueberries, banana and mulberries is yummy AF
We can't wait to give these dreamy bowls a shot!