This behind-the-scenes clip from "Coco" reveals why Abuelita uses a chancla to enforce her rules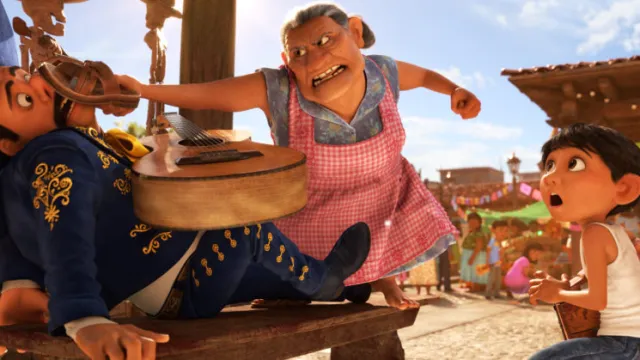 There was arguably no bigger animated film last year than Disney and Pixar's Coco, a heartwarming story about family — and remembering those who came before you. In the film, 12-year-old Miguel, an aspiring musician, finds himself transported to the Land of the Dead on the eve of Día de los Muertos, and must find a way to return to the land of the living before he's stuck forever.
While the majority of the film follows young Miguel, his deceased relatives, and new friend Hector in the Land of the Dead, Miguel's Abuelita in the land of the living steals nearly every scene she's in. While Miguel is perusing a career in music, it's Abuelita Elena who upholds the family's generations-long ban of music — enforcing her rules with her chancla.
In an exclusive behind the scenes featurette from the film, co-directors Lee Unkrich and Adrian Molina revealed that Abuelita didn't always enforce rules with her beloved, worn chancla. Initially, Abuelita kept a wooden spoon in her apron to use whenever someone spoke out of turn, but it made a lot more sense for Abuelita's rule enforcement item of choice to be a sandal.
Not only did it make sense culturally, but it was an experience co-director Adrian Molina could relate to on a personal level.
"I come from a Mexican family myself, and every so often, when I was being a bit of a brat, my mother would come in with a flip-flop and she'd threaten me, saying, 'Do you want a spanking?'" Molina explains in the clip. "And then me and my brother, 'cause usually he was the one who put me up to it, would run to our room and we'd stick children's books in the back of our pants to protect us."
https://www.youtube.com/watch?v=bRC0nEM-OjU?feature=oembed
As much as we love the wooden spoon, we think Abuelita's use of her chancla is so fitting.
Since its release in November, Coco has been met with near universal acclaim, and recently won the Golden Globe for Best Animated Feature. The film has also been nominated for Academy Awards: Best Animated Feature and Best Original Song, the latter for "Remember Me." If you're ready to relieve the magic of the Land of the Dead (and CRY), Coco lands on Digital HD on February 13th, and on DVD and Blu-Ray on February 27th.