Here's how you can recreate Twiggy's iconic flower power makeup for Coachella
Coachella is right around the corner, so it's time to stock up on hair accessories and makeup products that will give your look some oomph. With so many Coachella-inspired beauty looks to choose from — ones that have already been done and some that shouldn't have been done in the first place (re: cultural appropriation isn't cool) — I wanted to do something a little avant-garde, a little hippie.
Looking back at '60s and '70s beauty looks for Coachella makeup inspiration, I came across a gorgeous picture of Julianne Moore copying one of Twiggy's makeup looks.
Stunning, right? Sure, this beauty look is dramatic and "eye" catching (lol) but when you're going to a music festival, why not do something vibrant and creative with your makeup? Celebrity makeup artist Kevyn Aucoin recreated one of Twiggy's most famous looks in his "Face Forward" book — and this makeup is just too damn iconic to not do for a Coachella makeup tutorial.
This screams flower power! When you're dancing to Lady Gaga (who is the headliner this year as Beyoncé is too busy blessing the world with twins), just know that she would so approve.
So let's dive right in, shall we?
Here are the products I used for my eye makeup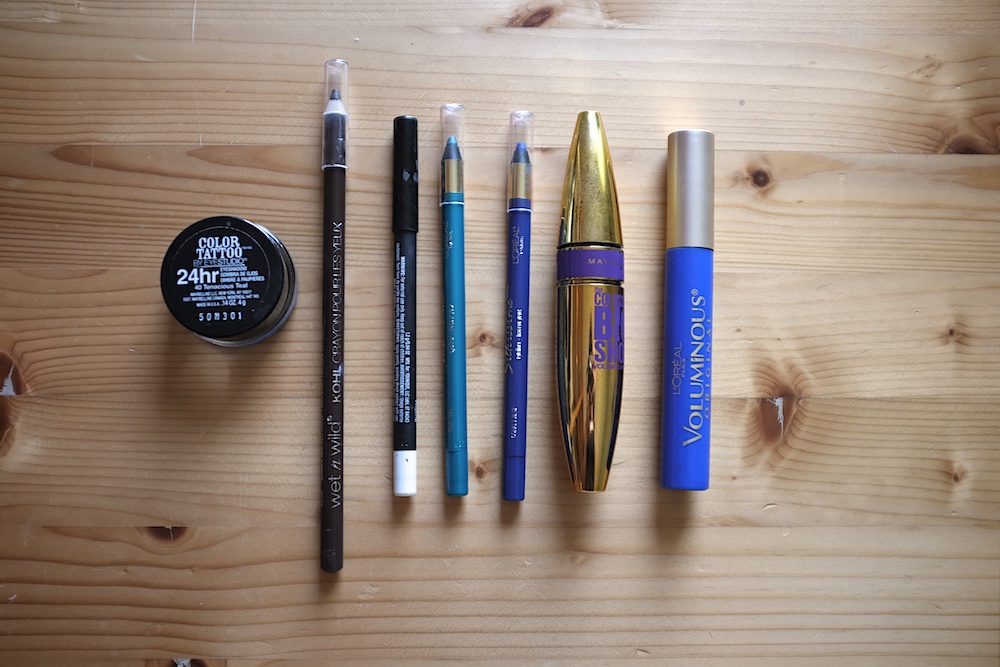 From left to right: Maybelline Color Tattoo Cream Gel Eyeshadow in Tenacious Teal ($6.99), Wet 'n' Wild Kohl Eyeliner in Simma Brown Now ($1.09), Younique Moodstruck Precision Eyeliner ($15), L'Oréal Silkissime in True Teal and Cobalt Blue ($8.99), Maybelline Big Shot Mascara ($8.49), and L'Oréal Voluminous Mascara in Cobalt Blue ($7.99)
Step 1: Apply your regular primer, foundation, powder, and blush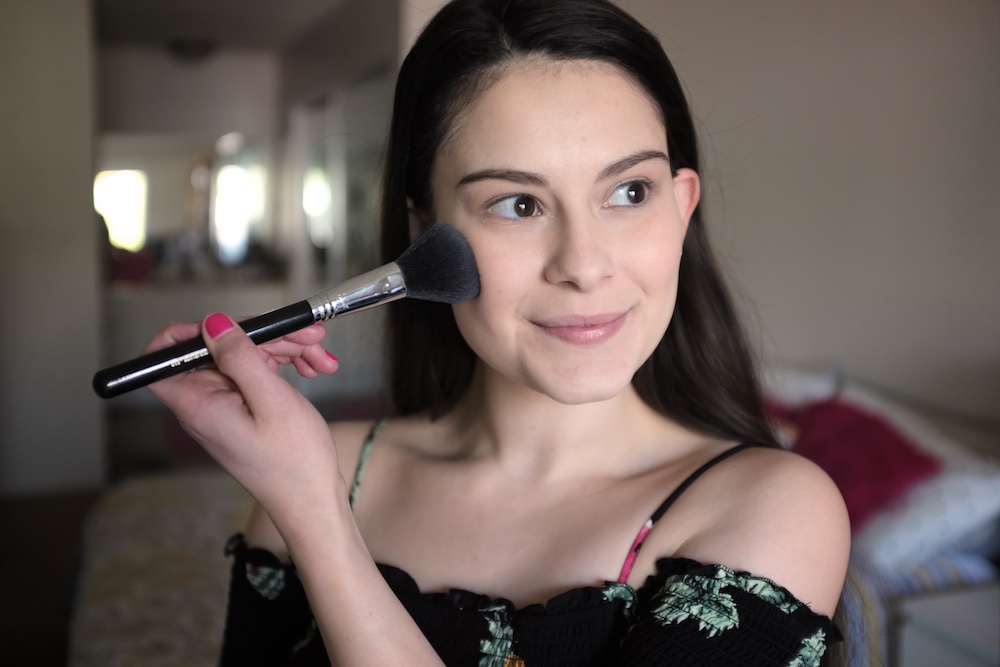 You'll want to keep your makeup minimal since our eye makeup is going to be the center of attention. Apply your normal products for primer, foundation, powder, bronzer, and blush.
Step 2: Apply white eyeliner on your lower lash line and on your lids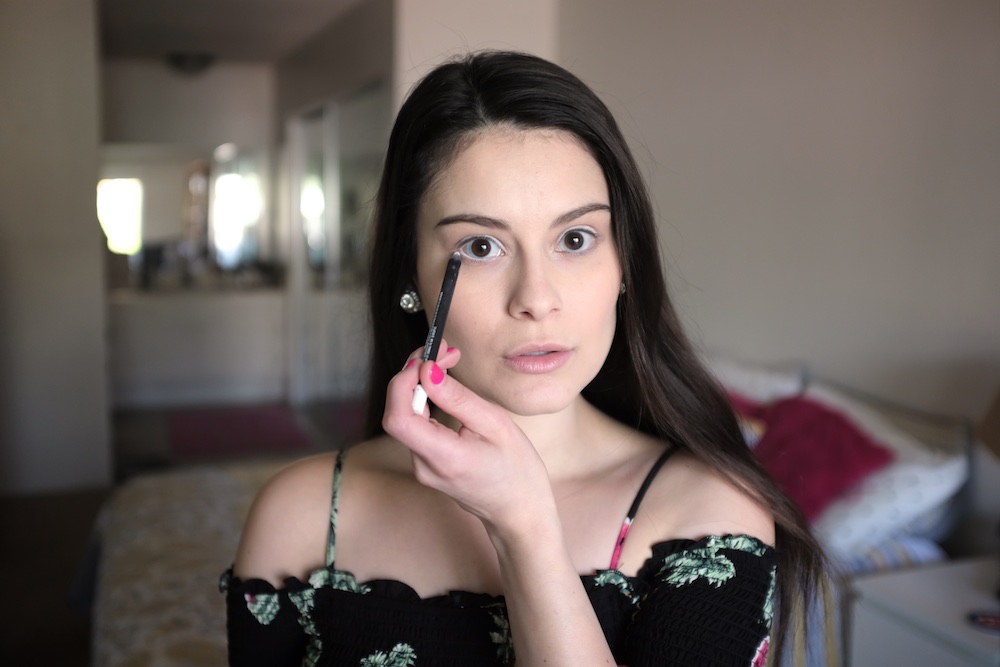 In the Julianne Moore image that I'm using as my inspiration, I noticed that only her right eye had white eyeliner on the lower lash line.
Step 3: Apply brown eyeliner to your right eye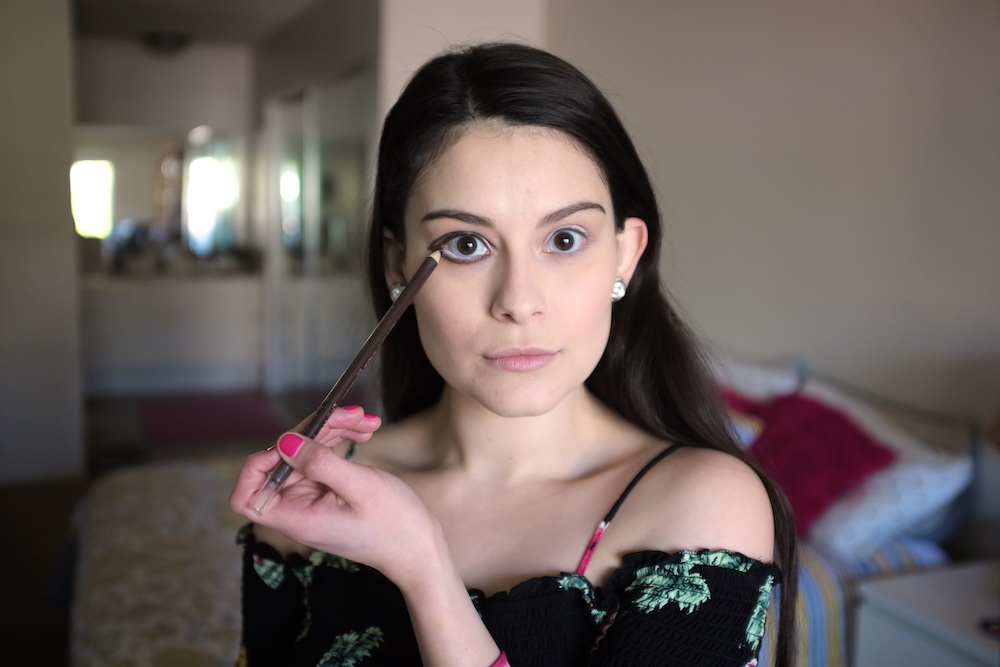 For this, I applied the brown eyeliner underneath the white eyeliner. Instead of adding the "lash like" designs to my eye like Julianne Moore's look, I decided to connect the lower liner with the top one. It's okay if you mess up, I know I did the first time! Just grab a makeup wipe and take off the part that you messed up on, and then add a bit of concealer (so that it matches with your foundation and powder). Go back in with the eyeliner, and once you've finished, go in and add your powder.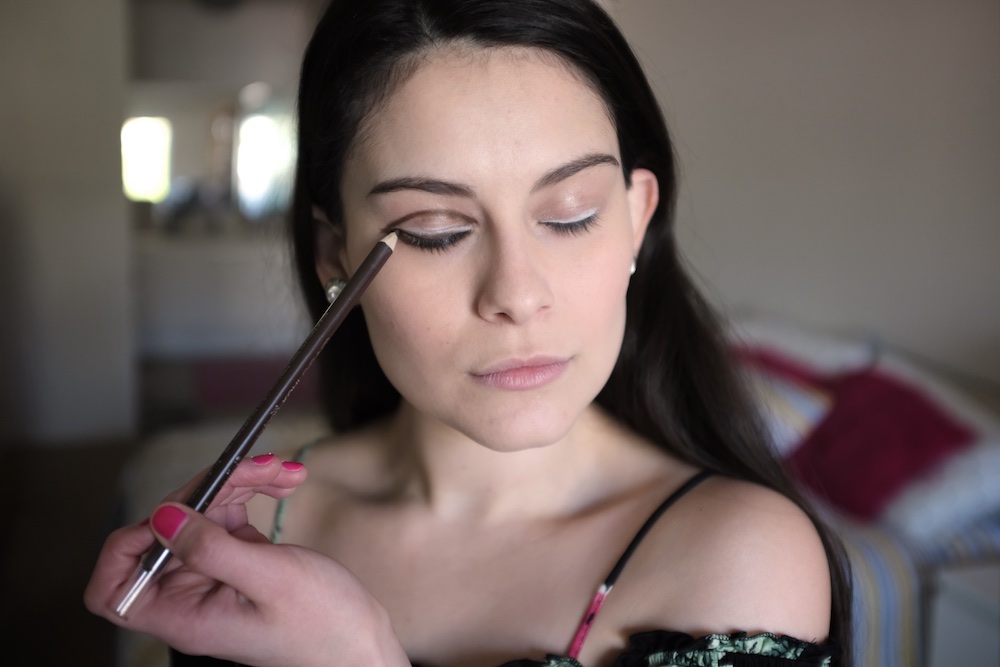 To connect the two lines, I placed a dot on my outer corner where I wanted the lower liner to connect. Then, starting at the dot, I drew a half circle around my crease. Basically, you can add eyeliner where your crease is, and then connect it with your eyeliner on the lower lash line. Next, I added the liner on my lids. At first, you might cover up some of the white. If that's the case, just go back in with the white eyeliner and trace above the brown liner.
Step 4: Outline a flower design around your eye
I will be the first to admit that I am not an artist, but the key to creating a flower around your eye is to take a deep breath, then go in lightly with the eyeliner. After you've created the flower design to your heart's content, then go back and trace over it so the color really pops!
Step 5: Add eyeshadow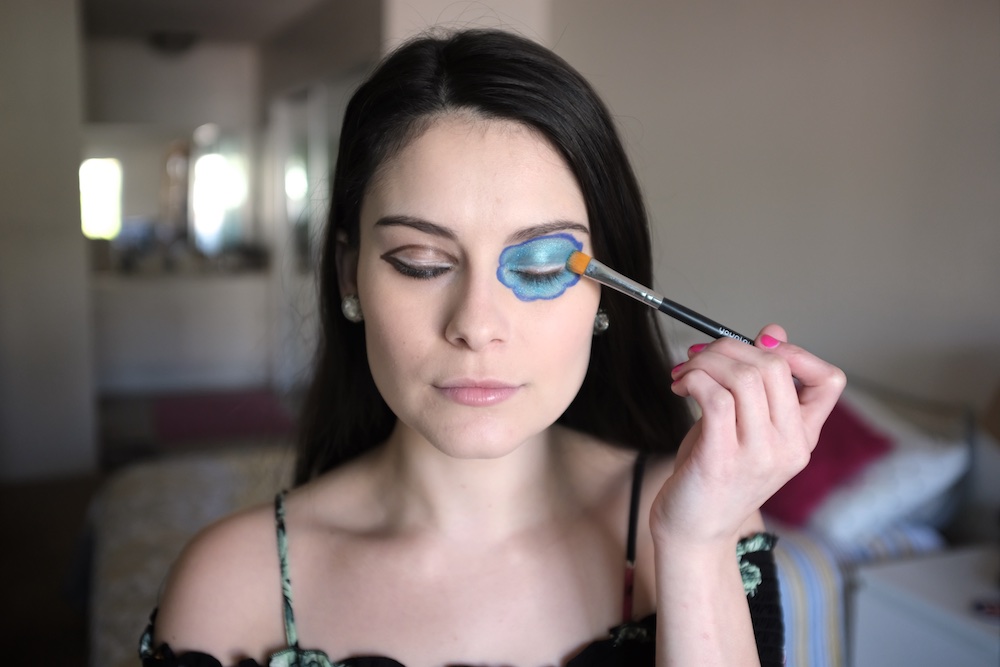 You'll want to color in the flower with a cream shadow that way it stays put. Try adding about two coats so the color is vibrant.
Step 6: Draw a flower stem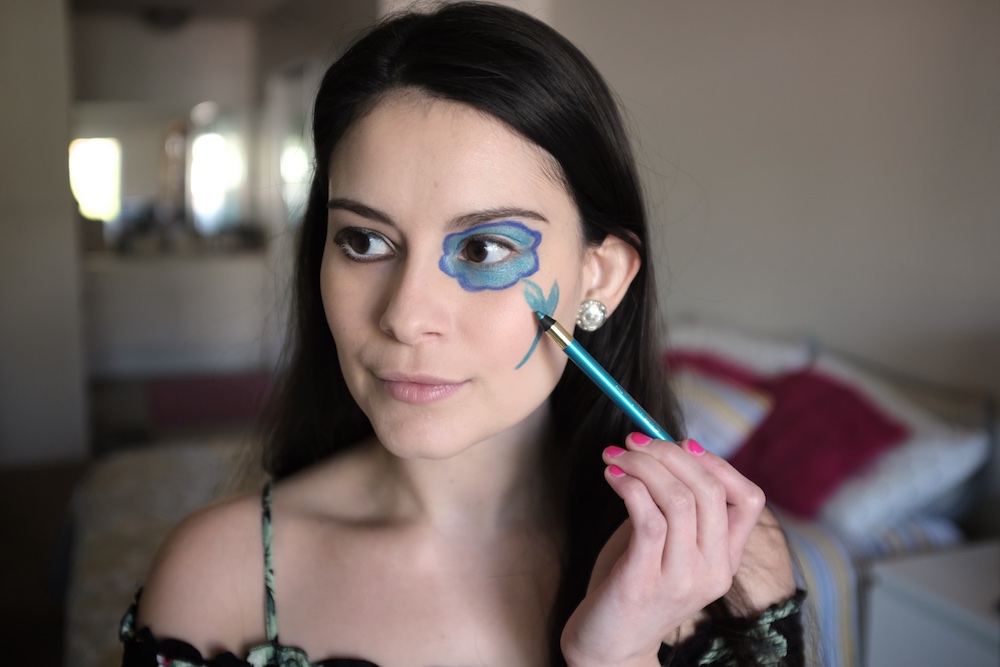 Keep the flower design going by adding a stem and leaves. You don't have to take the stem as far down as I did, but if you do, you'll want to round it out that way it curves naturally with the apples of your cheeks. After, pop on the black mascara on your right eye, and add the blue mascara to your left eye!
All done!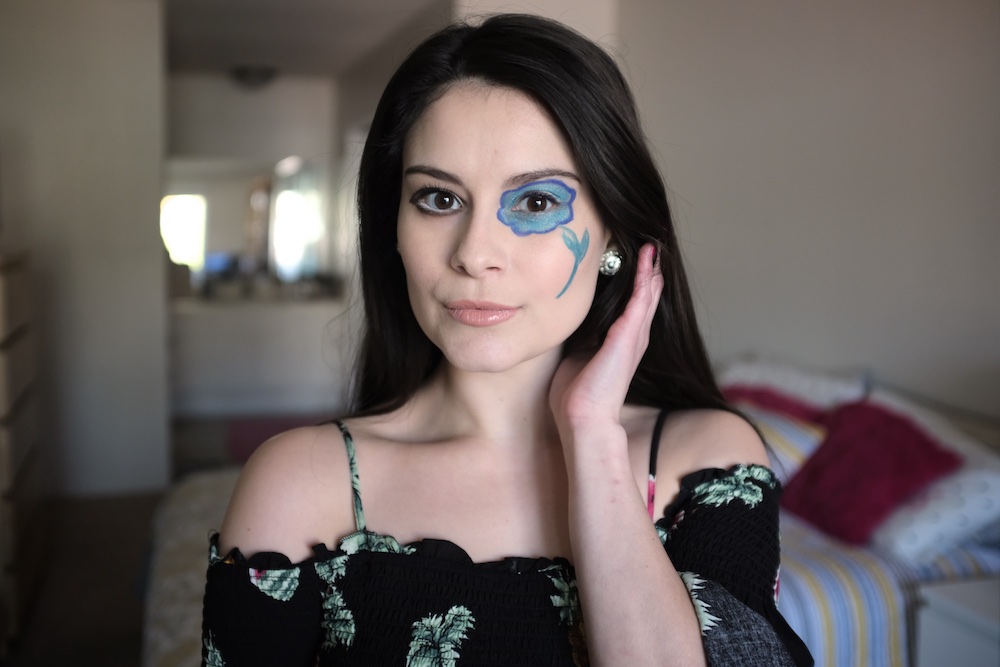 Finish off the look with a nude lip and makeup setting spray. We didn't work this hard for it to slide off our face in an hour, amiright? How will you be wearing your makeup during Coachella?