7 things about Coachella you probably didn't know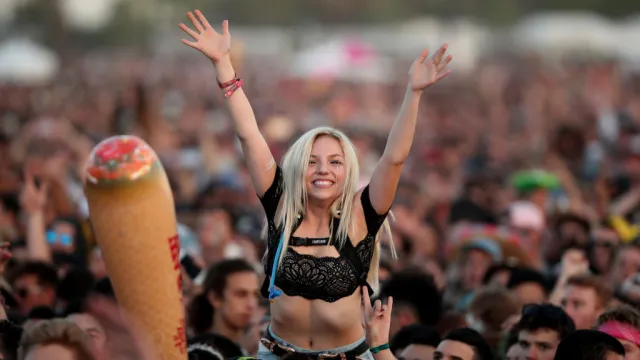 Although Coachella is now synonymous with cool musical acts, A-list headliners, celebs and flower crowns, it wasn't always that way.
The history of the Coachella Music and Arts Festival is one that dates back to 1993 and could easily fill a book. In essence, it all started when Pearl Jam's lead singer Eddie Vedder reportedly became upset at the  excessive service charge Ticketmaster was charging their fans to see them in concert. So in an effort to boycott any venues that were controlled by Ticketmaster, the band performed at the Empire Polo Club grounds in 1993.
Music executives Paul Tollett and Rick Van Santen saw how successful the one-night Pearl Jam concert was, even though the outdoor venue was in a remote location in the California desert. And thus, Coachella was born.
As years went on, the modest music festival that celebrated unknown but talented performers morphed into what it is today: a cultural phenomenon that trendsetters in both the music and fashion worlds religiously attend.
While other music festivals have tried to copy its vibe, Coachella is a one-of-a-kind experience. So let's take a walk down Coachella memory lane. Below are seven fun facts about the music festival's history you probably didn't know.
The first festival was actually affordable
The first Coachella happened in October 1999. The tickets were only $50 per day, and Los Angeles concert promotion company Goldenvoice reportedly lost $850,000 putting on the festival by charging so little. Nowadays, general admission passes for the three-day festival are $429.
Stagecoach is Coachella's cousin
Stagecoach is a country music festival, and it's always scheduled for the weekend after Coachella's last show. The festival was started by Goldenvoice in 2007, after the owner of the Empire Polo Club considered redeveloping the land unless Goldenvoice could come up with another revenue-earning event in addition to Coachella.
The Coachella festival has happened every year since 1999, except for one
In 2000, organizers cancelled the festival, citing an over-saturation of music festivals in the Southern California area that year.
Electronic music no longer dominates the festival
At the inaugural 1999 festival, electronic music made up 41% of the live performances at Coachella. However, in 2015, rock music (26%) and dance/house music (24%) were the genres that dominated Coachella's stages.
Coachella was not always a long weekend
To accommodate the growing demand, Coachella was expanded from a two-day festival to a three-day weekend for the first time in 2007.
The festival has been a boy's club up until recently
Prior to Lady Gaga's performance in 2017, Coachella had only one female headliner in its then eighteen-year history, Björk, who headlined at both the 2002 and 2007 festivals. In 2018, Beyoncé will also join the exclusive club of Coachella female headliners.
"No-Chella" is a thing
In recent years, hotel pool parties sponsored by fashion companies and luxury brands have sprung up around Coachella. Party-hopping from one soiree to the next without actually going to the festival has been dubbed as "No-Chella."