Here's how you can bring back the butterfly clip trend of the '90s for your Coachella hairstyle
Braids, double buns, and flower crowns are Coachella hairstyles that we see often. To spice things up, I wanted '90s babies and early aughts fashionistas to feel nostalgic. With the resurgence of '90s fashion and makeup (hellooooo, chokers), looking for hair inspiration wasn't hard. As a '90s baby, I grew up styling my hair with tons of barrettes. Honestly, the more the merrier.
So for Coachella, I wanted to bring back the butterfly clips. Yes, honey, you read that correctly! Butterfly clips for days. However, if you're a little too cool for school, I created two hairstyles — one that lets you say it loud and proud that you're a child of the 1990s and one that Drew Barrymore would've probably rocked on the red carpet during that era.
Let's get started!
Here are the products I used for the first and second hairstyle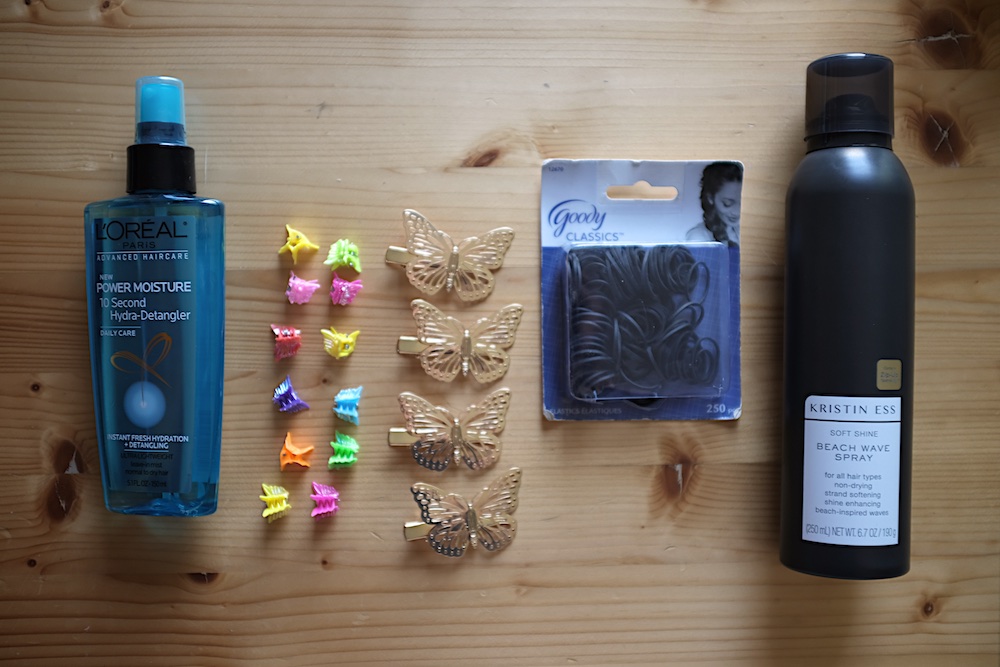 From left to right: L'Oréal Hydra-Detangler ($5.97), '90s Butterfly Hair Clips ($12.99), Golden Metal Butterfly Clips ($6.29), Goody Classic Rubberband ($4.79) and Kristin Ess Beach Wave Spray ($14)
Step 1: Brush hair and lift into a ponytail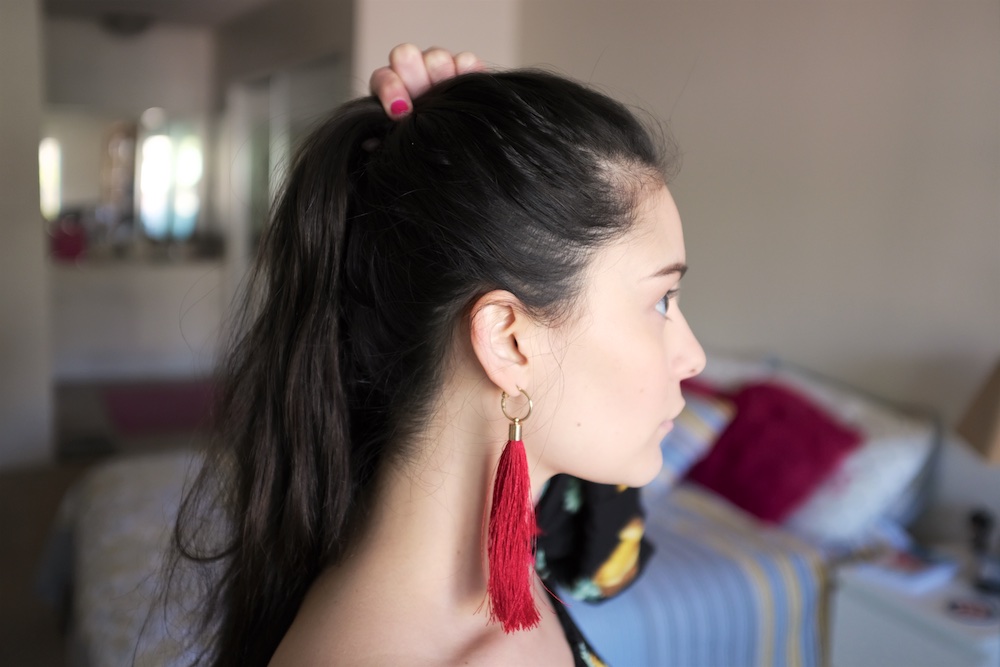 Before brushing out my hair, I sprayed L'Oréal's detangler — not only because my hair had tangles, but getting your hair into a ponytail is a lot easier when it's wet. After, I applied the Kristin Ess Beach Wave spray to give my hair texture. Plus, I wanted the ponytail to look a little messy.
Step 2: Take a small piece of hair and wrap it around your hair tie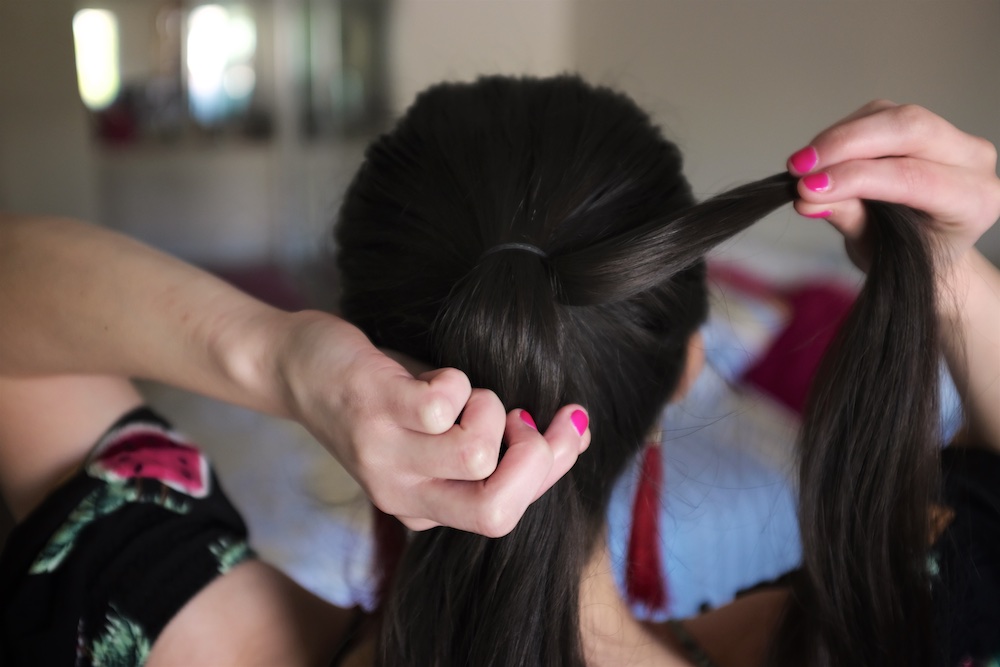 Grab a little section and wrap it around your hair tie and then pin it with a bobby pin. It's almost as if you're creating a small bun.
Step 3: Tie your hair into three parts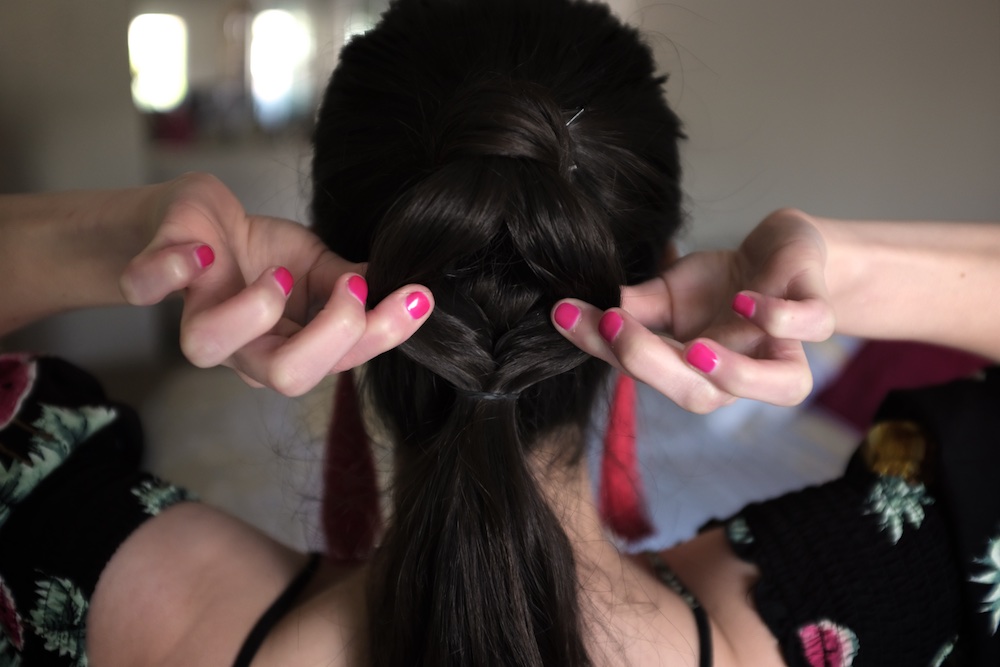 Grab a rubberband and tie it about 4 inches from your first hair tie. Then, like in the picture, separate two parts to create a "hole" and flip your hair up and through the hole. This is called an inverse ponytail. Repeat three times, or as many times as you can depending on the length of your hair.
Step 4: Pull out some of the strands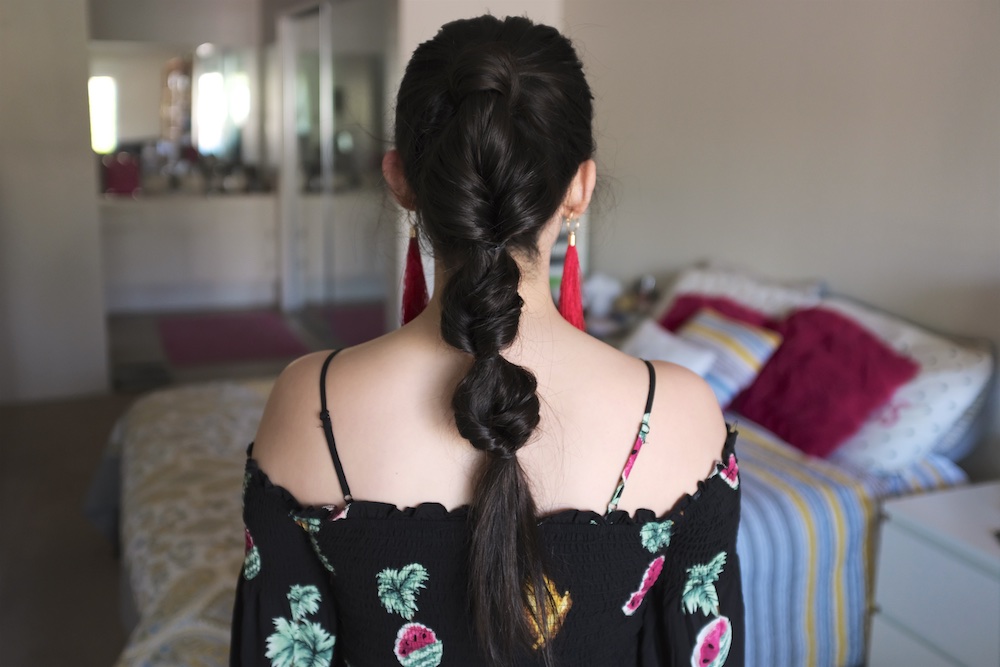 Use your fingers to pull out some of the strands, that way your hair looks full and the twists aren't so tight. You can also add some more of the Kristin Ess Beach Wave spray to give your hair more texture.
Step 5: Time to add in the butterfly clips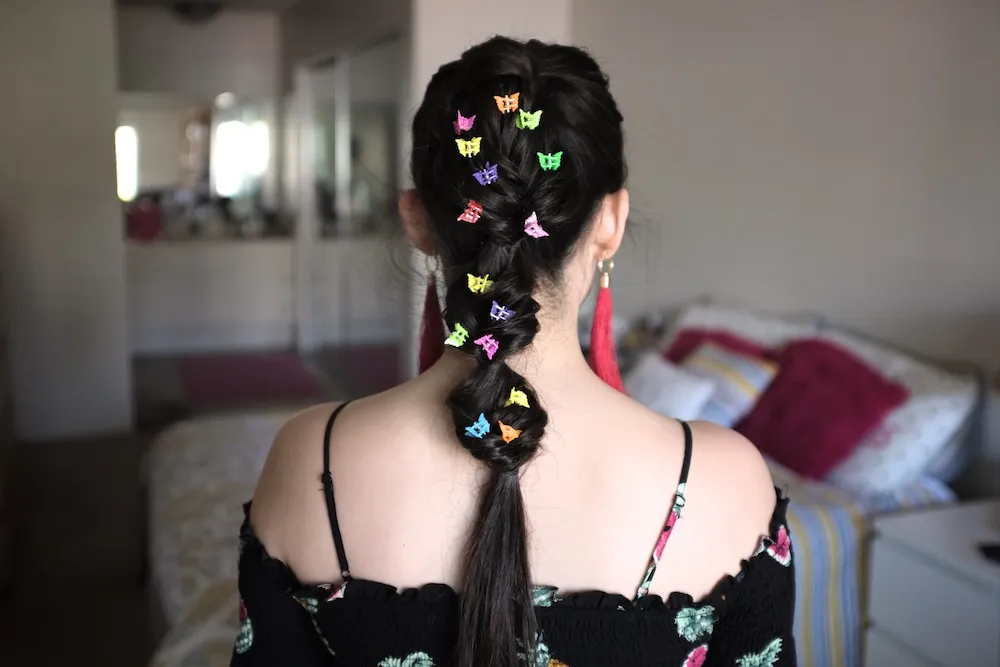 This is where you can get creative. I went ahead and filled my ponytail with all the butterfly clips that I could. Throw them on the twisted part of your hair, that way you can cover up any holes and hide the rubberbands.
All done with the first hairstyle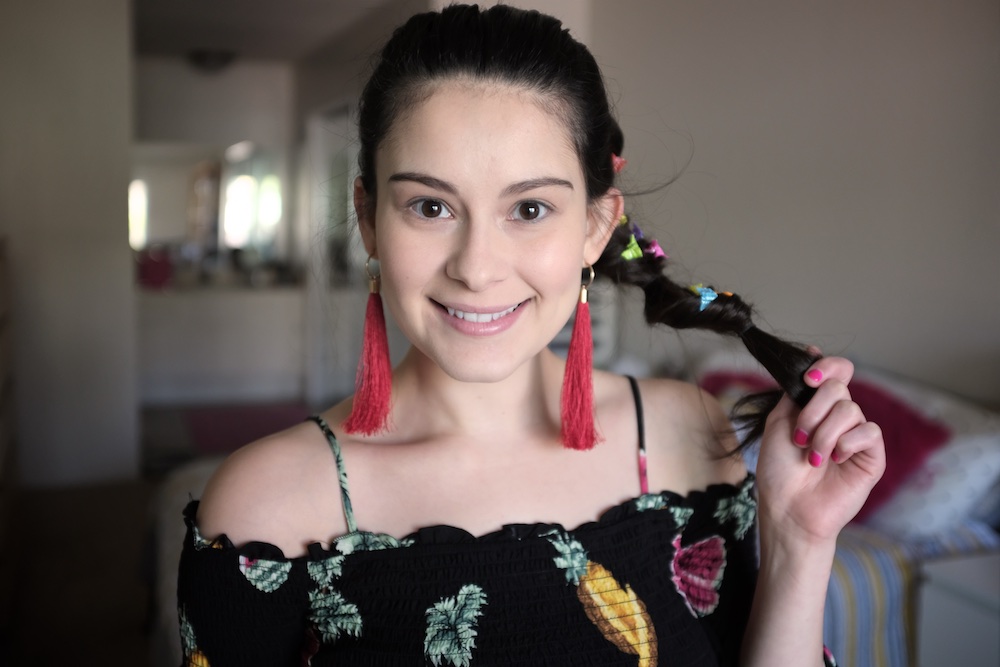 If the colorful butterfly clips aren't your style, I have you covered! You can add gold metal butterfly clips for a more "wearable" updo. It's still fun and cute, but it doesn't scream "I'm a '90s baby!"
Step 1: Put your hair in a bun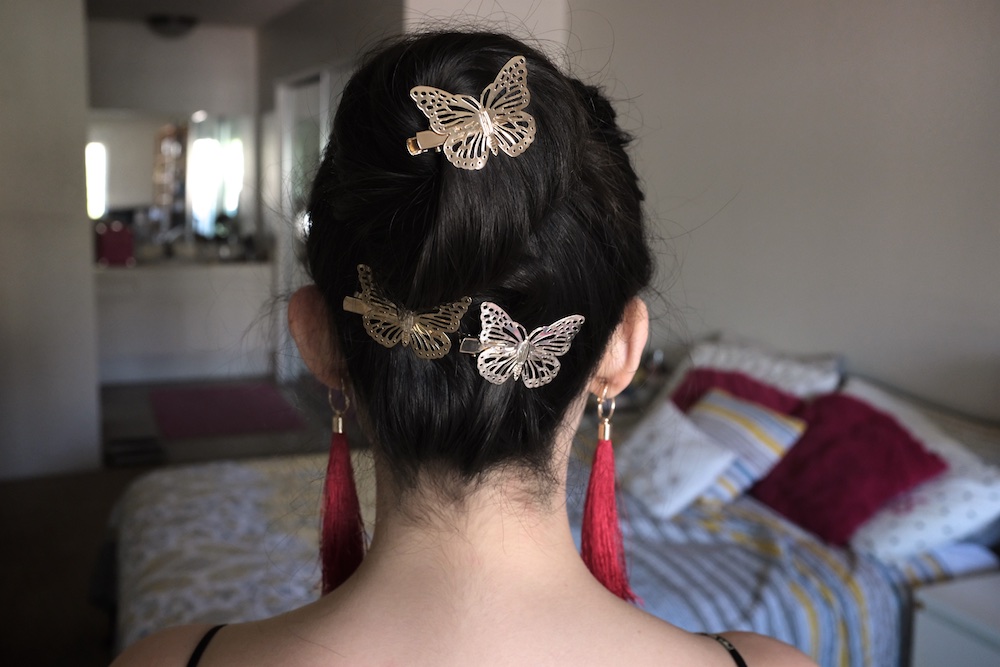 Take out your rubberbands until your hair is back in a basic ponytail. Then, wrap your hair around in a bun. In the same way we pulled out our hair to create volume, you'll want to do the same with the bun. You'll want it to look full and a bit messy when you add that one clip on it. After, place the other clips wherever your heart desires.
All done with the second hairstyle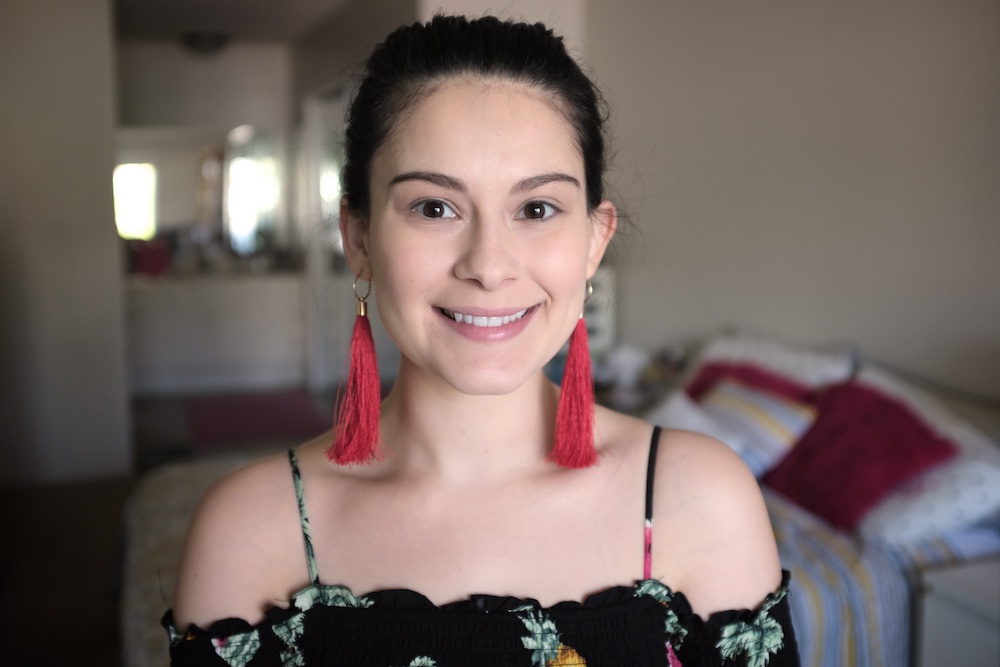 The best thing about these hairstyles is that you can wear them anytime, not just during Coachella! How will you be rocking your hair during the music festival?