When is Coachella this year? It's coming up fast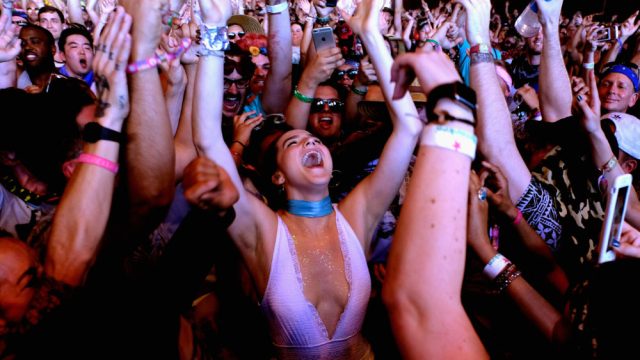 Spring has officially begun, and that means music festival season is right around the corner. And when most people think of music festivals, they think of Coachella. But before you go planning your outfits or decorating for that Coachella-themed apartment party, you probably have one basic question. When is Coachella 2018? And we got you covered.
Coachella 2018 will take place over two weekends in April.
As noted on the official Coachella website, the fest will happen the weekend of the 13th through the 15th, and also the 20th through the 22nd. There are three separate lineups, each playing both weekends. The festival is located at the Empire Polo Grounds in Indio, California, in Southern California's Coachella Valley.
The Friday lineup, playing on April 13th and April 20th, features The Weeknd as the headliner. It will also feature performances from SZA, Vince Staples, Kygo and more. The Saturday lineup, playing on April 14th and April 21st, stars Beyoncé. Saturday will also showcase HAIM, Tyler, the Creator, and Post Malone. And the Sunday lineup, playing on April 15th and April 22nd, features Eminem, Cardi B, Migos, Miguel, and more.
Now, let's circle back to one name in particular on that list— Queen Bey.
Last year, Beyoncé was scheduled to headline Coachella, but because the goddess was pregnant with twins, she had to cancel her appearance.
Coachella's Facebook page announced the news about three weeks after Beyoncé revealed she was pregnant.
"Following the advice of her doctors to keep a less rigorous schedule in the coming months, Beyoncé has made the decision to forgo performing at the 2017 Coachella Valley Music & Arts Festival," the post read. "However, Goldenvoice and Parkwood are pleased to confirm that she will be a headliner at the 2018 festival."
Beyoncé's team must have known that the Beyhive would be devastated by the news. So they confirmed her 2018 appearance then and there. Definitely a good move. And now it's finally almost here!
That being said, those who have yet to buy tickets are likely wondering if passes are still available. According to the super detailed how-to-purchase guide on Coachella's website, passes are still available. However, prices start at $429 — and that's not including accommodations (which are basically either your car or a tent). So if you decide to skip it and just wait for Coachella 2018 videos to arrive via YouTube, we totally won't judge you.