12 non-headlining acts you must see at Coachella 2016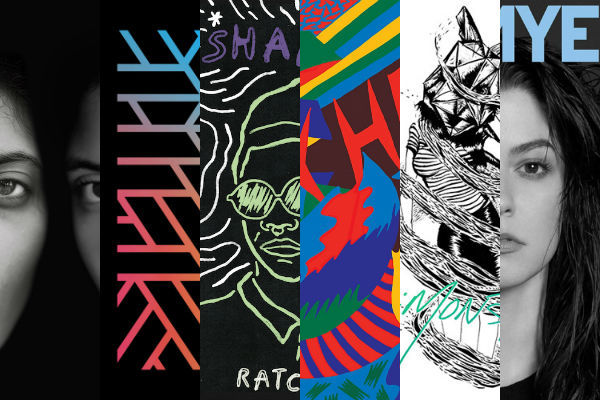 Now that you've pored over the Coachella 2016 lineup, it's time to start figuring out who exactly all these names are. And while the headliners and sub-headliners generally have name recognition, the further you go down the day's lineups and the smaller the type size, the more you'll be scratching your head wondering, "Who?"
So, we've put together a diverse (in genre and otherwise) primer of the best under the radar live acts to catch for those of you vying to get a ticket to the festival. (Remember, they go on sale today at 11 am PST.) These smaller, likely earlier acts are well worth a listen too, whether or not you're headed to Indio in April:
Friday, April 15 + 22
Ibeyihttp://docclara.tumblr.com/post/116107030406/come-to-your-river-wash-my-soul-i-will-come-to
We love the Díaz twins and their dizzyingly gorgeous beats, and we hope that the festival's organizers give them a coveted sundown set time. Just picture it: Bottomless bass and beautiful melodies in the desert, a sunset glow illuminating the hypnotized crowd. It's the kind of vibe that only a festival like Coachella can impart.
There's a pretty good chance that you've heard this infectious electro-pop group on the radio, because Years & Years does '80s-inspired dance music in the best way. Music festivals are meant for people to go around and basically "sample" live acts, and Years & Years will be a sweet reprieve from desert heat and people who don't want to dance.
This band is an acquired taste, but if you like working up a sweat with your live music, they are a must-see. Like fellow Saturday line-up act Savages, HEALTH has a show that opens up with a wall of sound, which then doesn't relent until the set lights go down. You'll need earplugs and practical shoes, but you won't hear anything else like them all weekend.
Even if you've never heard of the sub-genre "grime" (whose name inspired Grimes to choose hers), Skepta should be familiar to those of you who like hip-hop and electro alike. He's been shouted out by Drake, but fans of the grime genre consider him more of a legend than Drizzy. Believe the hype, and get ready to get down in what's sure to be one of the weirder, wilder crowds of the day.
Saturday, April 16 + 23
Shamirhttp://brandonthelibrarian.tumblr.com/post/114289075000
Shamir's debut album Ratchet was an excellent introduction to the young MC, whose lyrics are dotted with as many burns and quotable turns of phrases as a Shakespeare play. The trick, of course, is whether or not he can translate that into a festival set, but we've got high hopes for him and the rest of this stacked Saturday set.
Though it's endless fun to shake your limbs out at a set, sometimes you want to jump less and grooooove more. SZA's discography is full of slow-burning jams with bite behind them, the kind of blissed out music you could both appreciate standing with a drink in your hand or lying in the grass, letting the music wash over you.
Ex Hexhttp://idontlikeyourtunes.com/post/99251065724/artist-ex-hex-song-title-how-you-got-that-girl
It was a toss-up between including Ex Hex or Alvvays, whose 2014 record dominated college rock radio, but Ex Hex has a little more pep in their currently released music. (Ideally though, go catch both.) Frontwoman Mary Timony has that satisfyingly tart riot grrrl delivery down, and the band's songs feel propelled by the kind of vital, internal drive that translates amazingly in the live.
Describing SOPHIE, the pop pseudonym of producer Samuel Long, and his adjacent collective PC Music is difficult. (Read up here, if you're curious.) What's not confusing: The kind of super-saturated music that's been born out of the SOPHIE project. Everything about it is extra, and when you're on the festival grind, this is the kind of set that'll be a perfect respite from everything else going on.
Sunday, April 17 + 24
We are here for lady producers, and TOKiMONSTA has been killing the game for years now. (This sushi sequencer video alone should make you desperate to check her out.) Many of the lineup-topping EDM acts work out of the same sonic playground, but Jennifer Lee's a little more worldly in her influences, and her show will definitely attract a different kind of electronica-appreciating crowd.
Autoluxhttp://dontridetosunsett.tumblr.com/post/5434934295/turnstile-blues-autolux-your-mind-makes-me
Though Coachella is one of the most mainstream-skewing music festivals in the United States, it has punk and shoegaze roots that hold strong. While better-known acts in that vein aren't gracing Indio this year, Autolux more than carries that banner. The enigmatic trio will soon be out with their first record in six years, and it'll perfect if it debuts in the desert.
A few months ago, Tei Shi played a small show in Los Angeles's Lyric Theatre. At the end of the set, in front of a packed crowd, singer Valerie Teicher turned the small stage into her very own stomping ground: Spinning, falling to the ground, turning her microphone stand into a crutch for her undulating body. It was a revelation. Go see Tei Shi at Coachella.
Myers looks shell-shocked in all of her photos, but her music is similarly bare in its conceits and brutal in its delivery. Half of the songs on Myers' debut Sorry sound unhinged, and the other half seem on the verge of boiling over. It's the kind of rock record that makes you want to roll around and scream, but in lieu of that, grab a drink or two before giving this Tennesseean spitfire the respect she deserves.
Related reading:
Get ready, music lovers: The full Coachella 2016 lineup is here
27 best albums made by and featuring women in 2015
Image courtesy of XL Recordings, Interscope Records, Merge Records, Young Art, and Atlantic Records.