Get ready, music lovers: The full Coachella 2016 lineup is here
We already knew that LCD Soundsystem and Guns N' Roses were reuniting this year to headline Coachella, but the Indio, California festival just dropped their full 2016 lineup, and it is a doozy.
The aforementioned headlining acts are topping off Friday and Saturday respectively, but rounding out the festival's dual weekends is none other than Calvin Harris, TSwift paramour and EDM giant. As far as sub-headliner acts, we have familiar faces like Ellie Goulding, Disclosure, M83, Zedd, and Sia alongside longtime legends like Underworld, Ice Cube, Sasha, and John Digweed. And of course, there's plenty of young blood in the lineup, like Ibeyi, Joey Bada$$, Shamir, Alessia Cara, and Tei Shi. Overall, this year's lineup covers every genre, at every level, and offers up plenty of acts for both the Top 40 listener and the hardcore SoundCloud excavator.
Check out the full lineup below; tickets for Weekend 1 (April 15-17) and Weekend 2 (April 22-24) both go on sale this Wednesday, January 6, at 11 AM PST: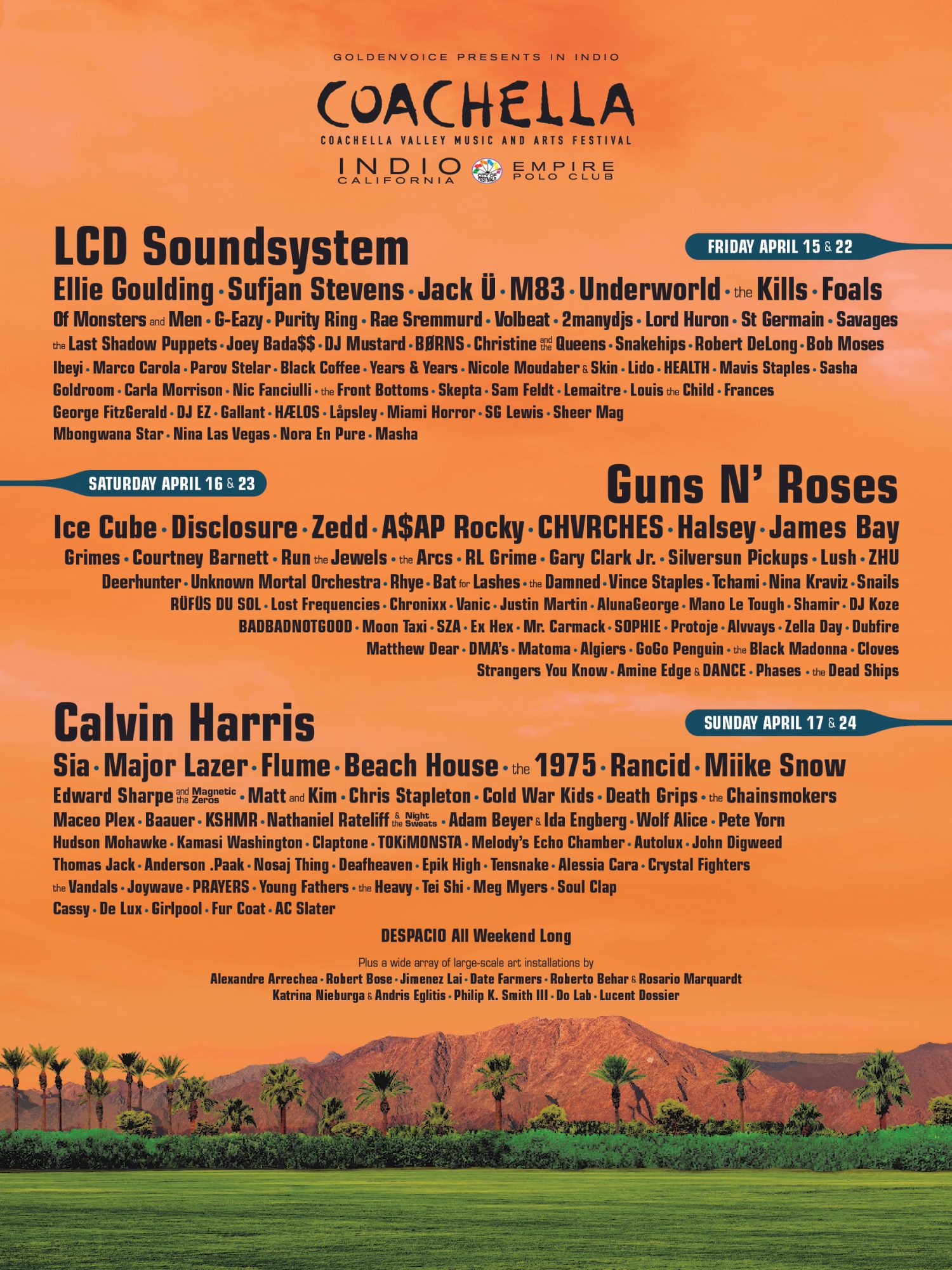 If reading the poster just makes you more confused (which is totally fine, that's a lot of names) , one enterprising Spotify user created a playlist back in November, 2015 that covers many of the artists who made the final lineup billing. Take a listen below:
Related reading:
So, we know who's headlining Coachella 2016
8 musical artists we promise you'll be listening to this time next year
Image courtesy of Goldenvoice.