The co-creator of "Rogue One" has a new "Star Wars" idea, and YES PLEASE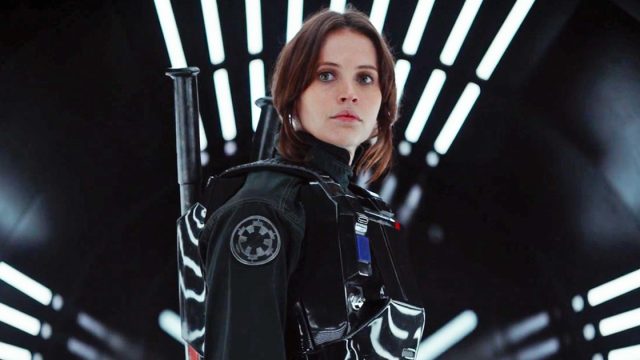 Given how much we loved Rogue One: A Star Wars Story, we're SUPER excited to learn that one of the co-creators has another idea that he's "tinkering with." SIGN US UP.
Despite the movie undergoing extensive reshoots (including *that* Darth Vader scene), we know that audiences were absolutely besotted with Rogue One, and rightly so. The movie was a box office SMASH, and while it's a standalone movie in the canon of the Star Wars universe, it seems that its characters, Jyn Erso, Cassian Andor, K-2SO, Bodhi Rook, Baze Malbus, and Chirrut Îmwe, really resonated with audiences and have become pretty iconic.
https://www.youtube.com/watch?v=ZwPgQucl4QA?feature=oembed
Well, now John Knoll, one of the co-creators of Rogue One, has revealed that he's been playing with a new idea set in the Star Wars universe, and let's make this happen, people!
Speaking at a National Association of Broadcasters panel earlier this week, Knoll announced that he was thinking of revisiting Star Wars.
"I have another idea I've been tinkering with," he told The Hollywood Reporter. "It's maybe 75 percent there." 
Knoll noted that while he hasn't yet pitched anything to Lucasfilm president Kathleen Kennedy, his idea is definitely focused around Star Wars.
In fact, Knoll said that he felt like Disney might not ever stop releasing movies set in a galaxy far, far away.
"There's no reason to think Disney is going to stop wanting to make Star Wars movies if there's quality and there's interest," he said. "It has unlimited potential. It has a huge number of characters, worlds… It's a massive playground."
While Knoll hasn't actually pitched the new idea yet, given that Rogue One was such a success — and that Kennedy recently mentioned that Lucasfilm was looking into more spinoffs — we'd say that Knoll has a pretty good chance of getting something off the ground.
Meanwhile, the release date for Star Wars: Episode IX was recently announced. The movie, which will be the last in the current trilogy, is set for release on May 24th, 2019. In the meantime, however, we still have The Last Jedi to look forward to…