You need to watch this CNN anchor read the Stanford rape victim's powerful letter to her attacker live on-air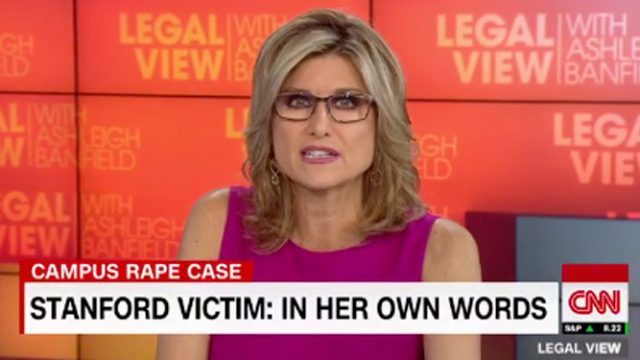 Former Stanford swimmer Brock Allen Turner was recently sentenced to only six months in jail after being convicted of sexually assaulting an unconscious woman behind a dumpster last year.
The victim, who remains unidentified, delivered a powerful statement aloud in court directly to her attacker. That letter, which has since gained a lot of attention, was read live on-air by CNN's Ashleigh Banfield, host of Legal View, in an episode dedicated to the case. false false false
Just reading the letter alone is incredibly hard to do and moving, but hearing Banfield relay the victim's voice has clearly struck an extra chord with viewers, too. false false
And Banfield's explanation for why she read the letter on-air? She told CNN Money, "This woman has perhaps superseded the work of every documentarian, the work of every politician, the work of every journalist, the work of any advocate who has tried to help people understand what is and what isn't consent. It was her. It was her words that drove me to realize that this needs to be published on a broader scale."
It's empowering to see major outlets like this help spread the word, so to speak, and to take the side of this brave woman. Hopefully, this will bring more awareness to cases like it and help prevent this kind of lenient sentencing from happening again. And, in a perfect world, we hope to see cases like this cease to exist.