The Internet's newest food obsession is "cloud bread"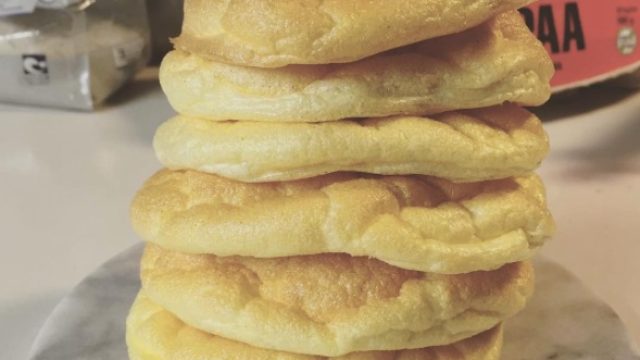 I love bread. Every kind of bread. White bread, wheat bread, pita bread, french bread, bread sticks, tortillas, buns, bagels, rolls, donuts, croissants, pretzels, challah and pizza (pizza is bread, you guys).
And I'm most definitely not alone in my obsession. Aside from me and Oprah (have you seen her Weight Watchers ode to bread commercial?), much of the Internet is also obsessed with bread. Specifically, cloud bread.
For those of you who have never heard of cloud bread, let me explain. Cloud bread is isn't actually bread. It's a replacement for bread, but still obviously has "bread" in the title, so go with me for a second.
Cloud bread is low-carb, gluten-free, high in protein and is getting rave reviews on the Interwebs. And it's super easy to make, which basically means cloud bread is magic.
To make it, all you need is four ingredients: eggs, cream cheese, cream of tartar (or vinegar) and some sweetener (or sea salt). Of course, you can add whatever spices you want (rosemary, cinnamon, etc). Once baked, the results should look like bread patties… or clouds. Light, fluffy bread clouds.
Here are some of the reasons you should probably make cloud bread every day forever: