Rihanna named one of her new Fenty Beauty lipstick shades "PMS," because she gets us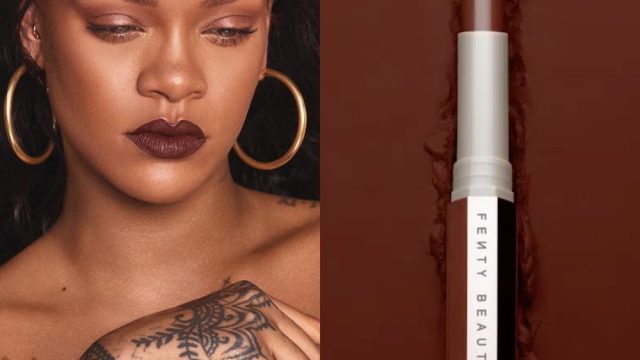 Because a fantastic holiday collection just isn't enough for Rihanna, the Fenty Beauty Mattemoiselle lipstick collection is dropping the day after Christmas, just in time for some post-holiday pampering. And luckily for us, we've finally gotten a good look at the entire lipstick collection, and not only is it next-level gorgeous, but the tongue-in-cheek shade names have given us a giggle. There's even a shade name called PMS, so you know Rihanna really gets us.
As with the rest of the Fenty Beauty brand, Rihanna has made it a point to create a universal lip line. In a press release, Rihanna said:
"I wanted a lipstick collection where every shade works on every skin tone. I wanted to prove that lipstick is meant to be fun, not feared!"
Seeing how epic Rihanna looks while wearing these luxurious lipstick shades has fans yearning to get their hands on them.
The Fenty Beauty Mattemoiselle lipstick collection will be available on December 26th at 9 a.m. EST for $18 each.
How in the world are we going to narrow down our selection? The best part, though, is that each shade has a cheeky name.
Aside from PMS, another shade that caught our eye was Spanked, a dusty rose that will take you from the office to happy hour in no time. The name is just as cheeky as it is gorgeous. Maybe just don't mention it to your co-workers.
The Mattemoiselle collection also includes: Ma'Damn, a blue-based red; Candy Venom, an electric pink; Saw-C, a tangerine; Up 2 No Good, a nude peach; Single, a rosy nude; Freckle Fiesta, a terracotta; Shawty, a warm chestnut; PMS, an espresso; Midnight Wasabi, a deep green; Ya Dig?!, a periwinkle blue; Clapback, a true navy; One of the Boyz, a wild lilac; and Griselda, a burgundy.
They're all just too good — we might as well put that holiday cash from Grandma to good use. It's what she would want, right?
Be ready to stampede over to your friendly neighborhood Sephora December 26th, because you won't want to miss out on these stunning new shades. We can't think of a better way to enter the new year.