This climate change bracelet is actually really cool, and buying one helps support super important organizations
Whether you're into the crafty, braided kind or the charming, dangling variety, if you want to make a bold fashion statement, bracelets are the way to go. But what if you could rock rad wrist wear and support efforts to combat climate change, too? You can! Thanks to Bird + Stone's new, "Our Planet, Our Future" climate change bracelet.
Made of sustainable, recycled brass — and launching on Monday to coincide with this weekend's massive climate march in D.C. — the adjustable, one-size-fits-all cuff reminds stylish wearers and style watchers alike of the urgent need for meaningful action to reverse the effects of climate change. It features markings on the outside of the band tracking the steady rise of the planet's temperature, up by 1.4 degrees since 1800, while inside, the bracelet's inscription reads, "Our Planet, Our Future."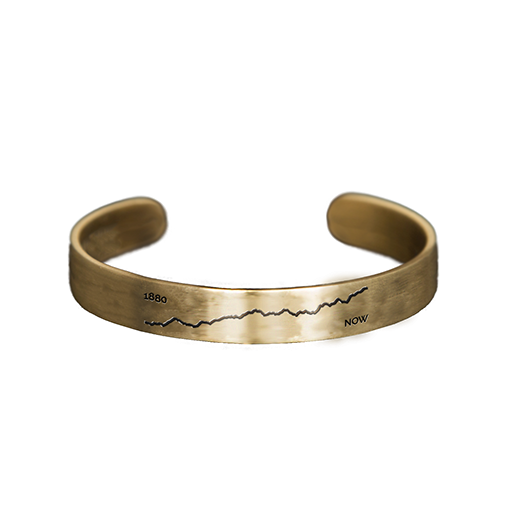 But this wristlet of #theresistance is not only fashion forward, it progresses the climate movement, too. Described as "an inspirational call to each of us to protect our earth," each bracelet purchased gives back $5 to the Earth-friendly organization of your choice.
Feeling the bling-for-a-better-world look? That's Bird + Stone's whole vibe! Founded in 2012 on the principle that jewelry can improve the world, the made-in-NYC trendy trinket maker has designed a wristful of woke bangles in the hopes of activating a whole generation of socially-conscious "micro-philanthropists," empowering even the most armchair of activists to take steps — however small — toward a brighter future.
In addition to company's climate change bracelet (available now for pre-order at $38 a piece),  Bird + Stone's collection features a similarly designed "The Future Is Female" bangle ($40) benefitting Planned Parenthood of New York City…
…as well as a suede, double-strand bracelet with a custom brass "By Girls, For Girls" bead ($30) supporting Girl Up, a United Nations Foundation initiative to establish access to educational opportunities for girls around the world.
Jewelry that's fashionable and up for the fight? This arm wear has us raising our fists!