These 7 Women Are the Eco-Warriors Fighting for Our Future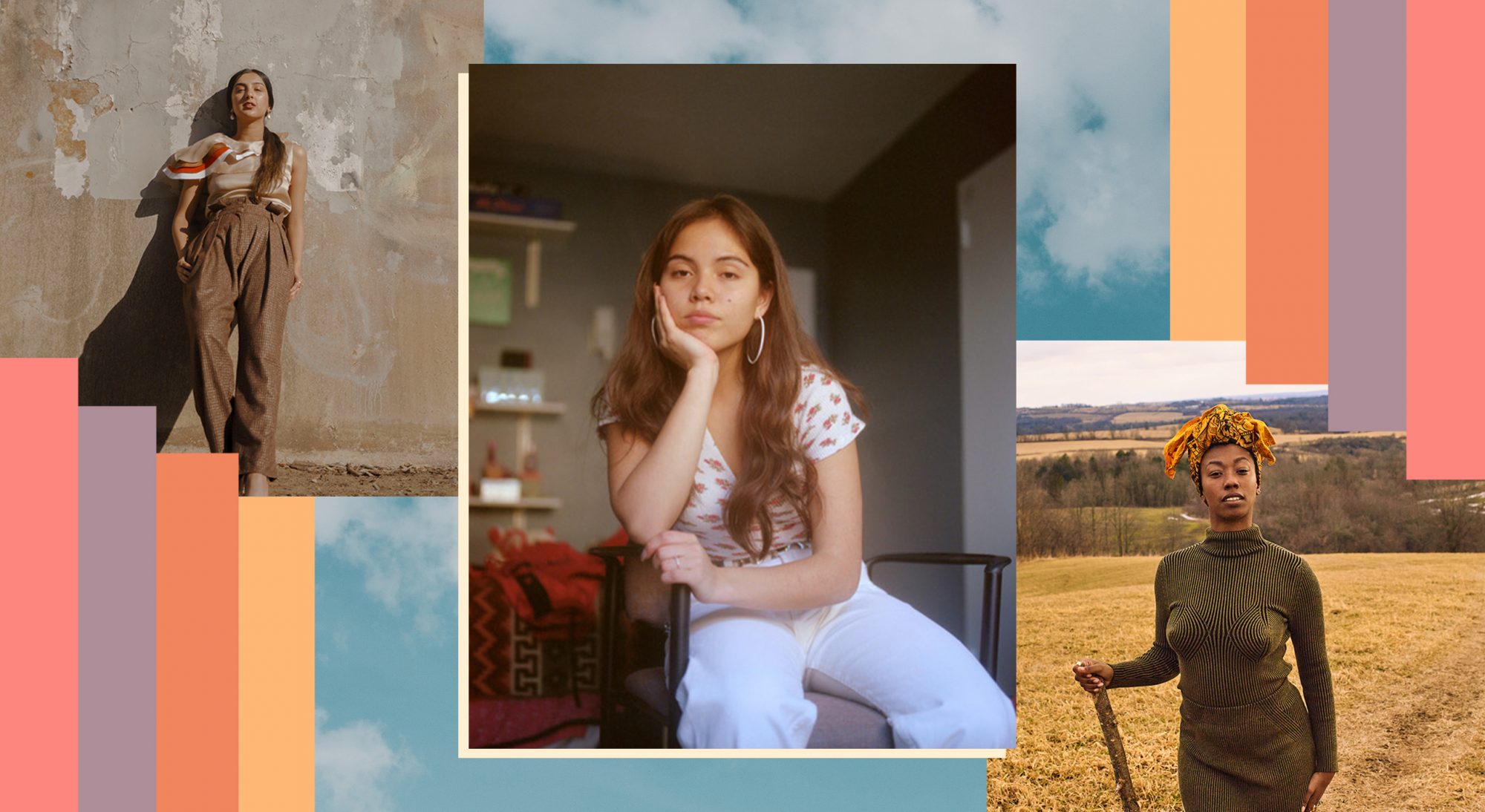 We all want to be more sustainable and eco-friendly, but today, there's so much pressure to be a purist that it can be intimidating—not to mention costly or geographically unattainable. That's why, throughout April, Going Green Without Going Mad will unpack how to be more eco-conscious without sacrificing your sanity or 401k. We're diving into the truths about sustainable fashion, talking about the business of going green, and highlighting the brands and people making changes towards a better and safer planet.
Over the past year, the earth has undergone a dramatic transformation: Human life is being tested, pollution across the world has been lessened, and animals are roaming free in territories that they were never allowed to pass through. In 2021, the place we call home is going through a major shakeup—and if there's any time to pay attention to the warning signs for global warming, it's now.
While past generations may not have heeded the subtle symptoms of climate change, it's now a major topic of conversation for millennials and Generation Z. Climate activists and leaders like Greta Thunberg, Isra Hirsi, and Helena Gualinga have come forth with urgency to find ways to fix Mother Earth before it's too late, setting a precedent for how we can change the ways we view and utilize Earth's resources. These individuals are paving the way for other environmental leaders to follow, and as we try to envision a better future, there is no better time to highlight the next class of fighters striving to make a difference in the world.
That's why we're introducing seven eco-warriors, women who are fighting for better sustainability practices and lifestyles—whether those have to do with beauty, race, climate, fashion, or the media. We asked each person how they're trying to make a difference, the reasons behind their actions, and why they think others should follow suit—because if we don't show empathy to our earth in the present, there won't be a future earth to fight for.
1. Lauren Singer, 29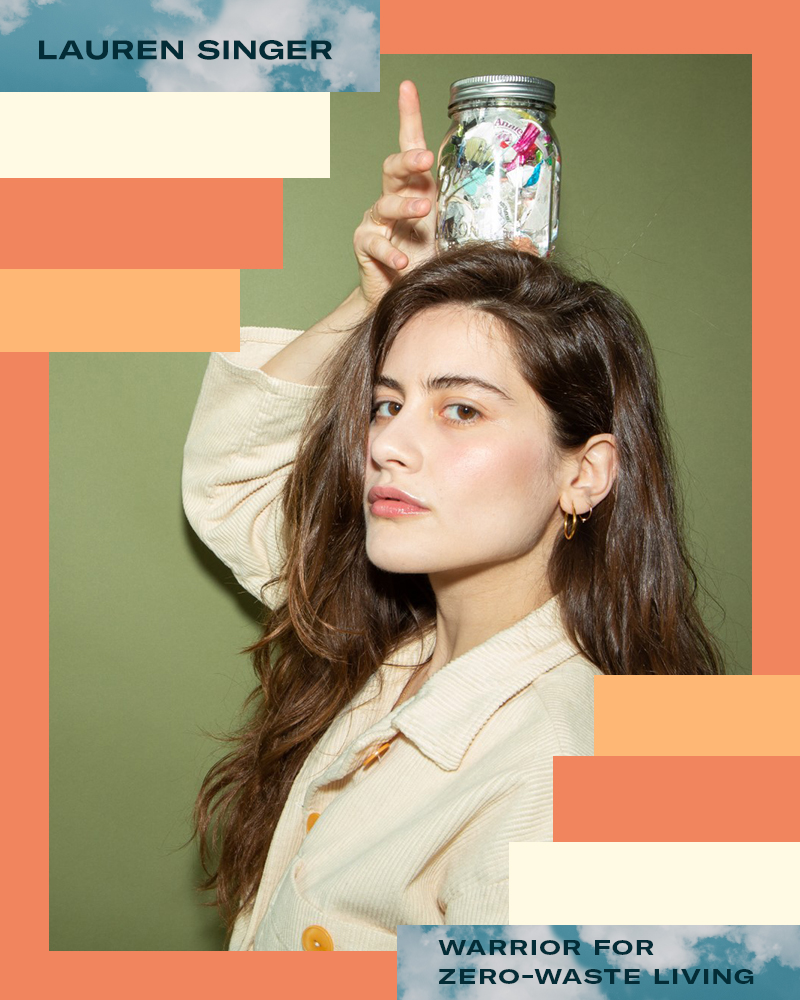 For as long as Lauren Singer can remember, she's had a passion for social justice and helping people. But it wasn't until she read Rachel Carson's classic 1962 book, Silent Spring, that she realized just how much our actions can affect the environment.
"It made me realize that humans are so powerful and have the ability to use power to do something really destructive, but maybe also have the power to do things that are really positive as well," Singer says.
Armed with this new outlook, she began studying Environmental Science in college, occasionally protesting about climate change in D.C. and creating environment-focused student groups on campus. Yet it wasn't until she noticed a classmate in her Environmental Studies course using plastic silverware and containers for dinner that Singer realized she also needed to make a change herself. "She would use all that stuff and then throw it away, but then I went home and when I started making my dinner, I realized that every single thing in my refrigerator was packaged in plastic, too," she recalls. "I was a huge hypocrite, and I needed to start living my day-to-day life in alignment with my values."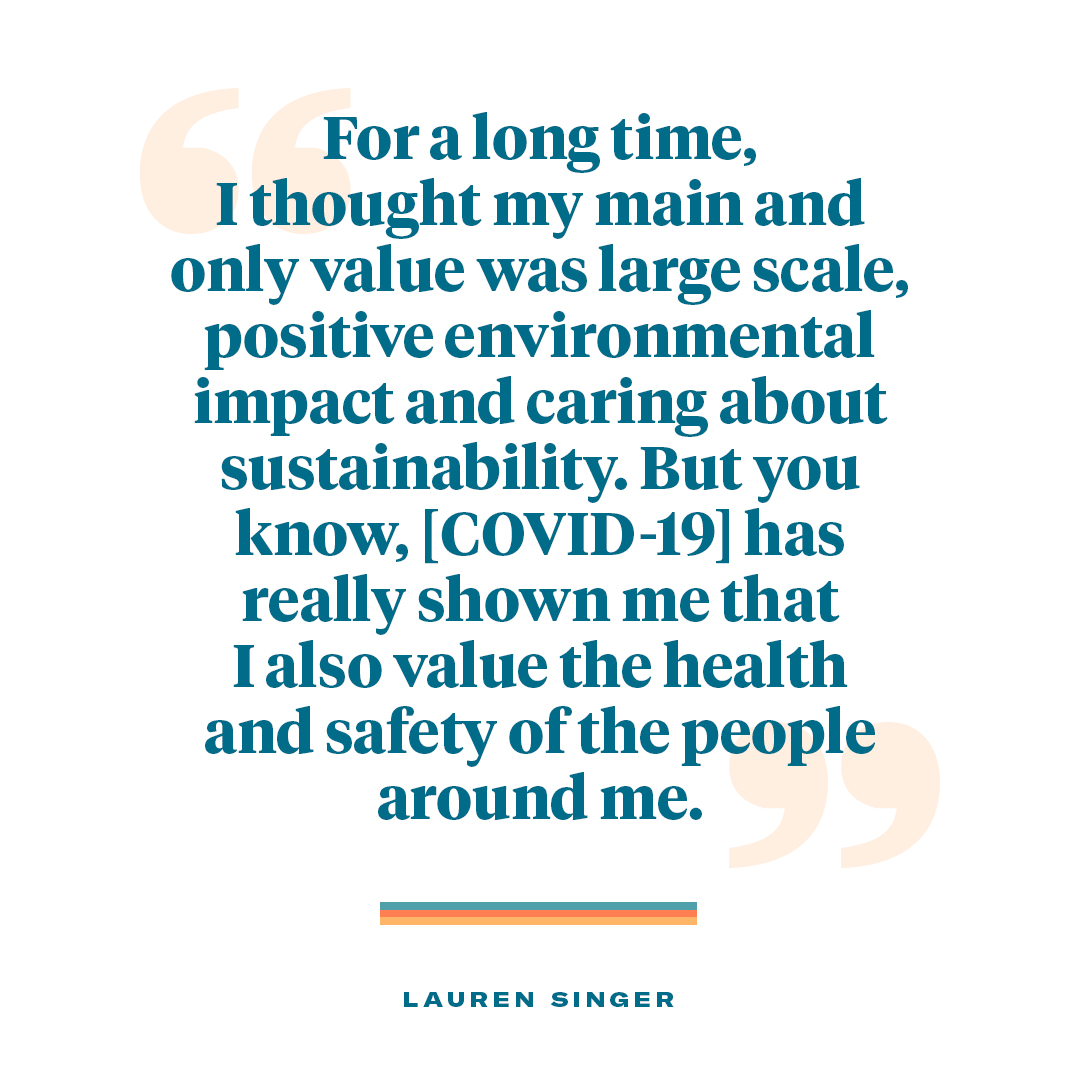 That's when Singer learned about the Zero Waste Lifestyle from Bea Johnson, a woman who produced little to no waste and gained control over her day-to-day choices by not creating trash, refraining from using plastic, and creating her own home and beauty products. Inspired by Johnson, Singer started the website Trash Is For Tossers to combine her passions for helping people and for environmental justice. "Trash Is For Tossers is a way for me to chronicle [my Zero Waste Lifestyle] and show that all the changes I've made are simple and cost-effective," she says.
Singer also opened a Brooklyn-based eco-conscious shop called Package Free in 2017, not only to make sustainable products more accessible to the community but to help eco-friendly brands grow and sell. Recently, due to COVID-19, she had to buy plastic goods for the first time in eight years because of her fear of living without food and healthy goods. But according to her Instagram, Singer plans to make the best of this situation and create "low-cost essentials free of plastic" while also helping her "community divert any packaging accrued during this time from landfills."
"[It's important to] ask yourself: What do I care about? What are my values? And am I living in alignment with them every day?" Singer says. "I really believe what my mom always said to me: 'You can't change people, but you can inspire them to do differently.'" And that's exactly what Singer is doing.
2. Aditi Mayer, 24
Aditi Mayer's entry into the sustainable fashion space started with a concern for basic human rights. The now 24-year-old was a senior in high school in 2013 when Rana Plaza—an eight-story building in Bangladesh that housed several garment factories associated with brands such as Zara, Walmart, and The Children's Place—collapsed. The disaster left over 1,100 people dead and over 2,500 injured—and even though many employees had noticed large structural cracks on the day before the collapse, garment workers (most of whom were young women) were ordered to report to work nonetheless.
Mayer—who's now a sustainable fashion blogger, photojournalist, and workers' rights activist—says that watching this happen on the news helped open her eyes to the fashion industry's disproportionately negative impact on women of color across the globe. After all, the imbalanced race, class, and power dynamics in the fashion industry are systemic, and they didn't begin or end with the factories in Bangladesh.
When Mayer took her first internship at a sustainable fashion brand in her freshman year of college, she quickly noticed that the sustainability element didn't cancel out existing issues like Eurocentrism and a lack of minority representation within the fashion industry. "There were no women of color at the events I would attend," she recalls. Plus, the narratives the brand put out were rooted in "problematic power dynamics like, 'buy this in order to save the starving Black and Brown women.'"
So, Mayer started writing a blog to process her issues with the lack of diversity in the sustainable fashion industry. Over the past five years, that blog (ADIMAY) has led her to become a trusted voice in the space. She's frequently invited to speak at sustainability forums and events hosted by feminist media brands, leading conversations at the intersections of fashion, sustainability, and social justice. 
She also has 55,000 followers on Instagram, but even though she does do sponsored partnerships with a handful of sustainable brands, Mayer is not your typical influencer. In between posting artful images featuring ethically-made clothing, she provides education and thoughtful commentary on the fashion industry. Her informative IGTV videos cover topics like cultural appropriation, Black and Brown liberation in sustainability, and fast fashion brands co-opting the sustainability movement. Mayer's overall focus, as her bio states, is on decolonizing fashion and sustainability, and so she's constantly informing her followers as to why this matters so much. 
"It's important to look at the fashion industry through a lens of history," she says. "If you look at the legacy of colonization, the supply chains of most major fashion brands today are merely colonial trade routes from 150 years ago, during the height of British colonization."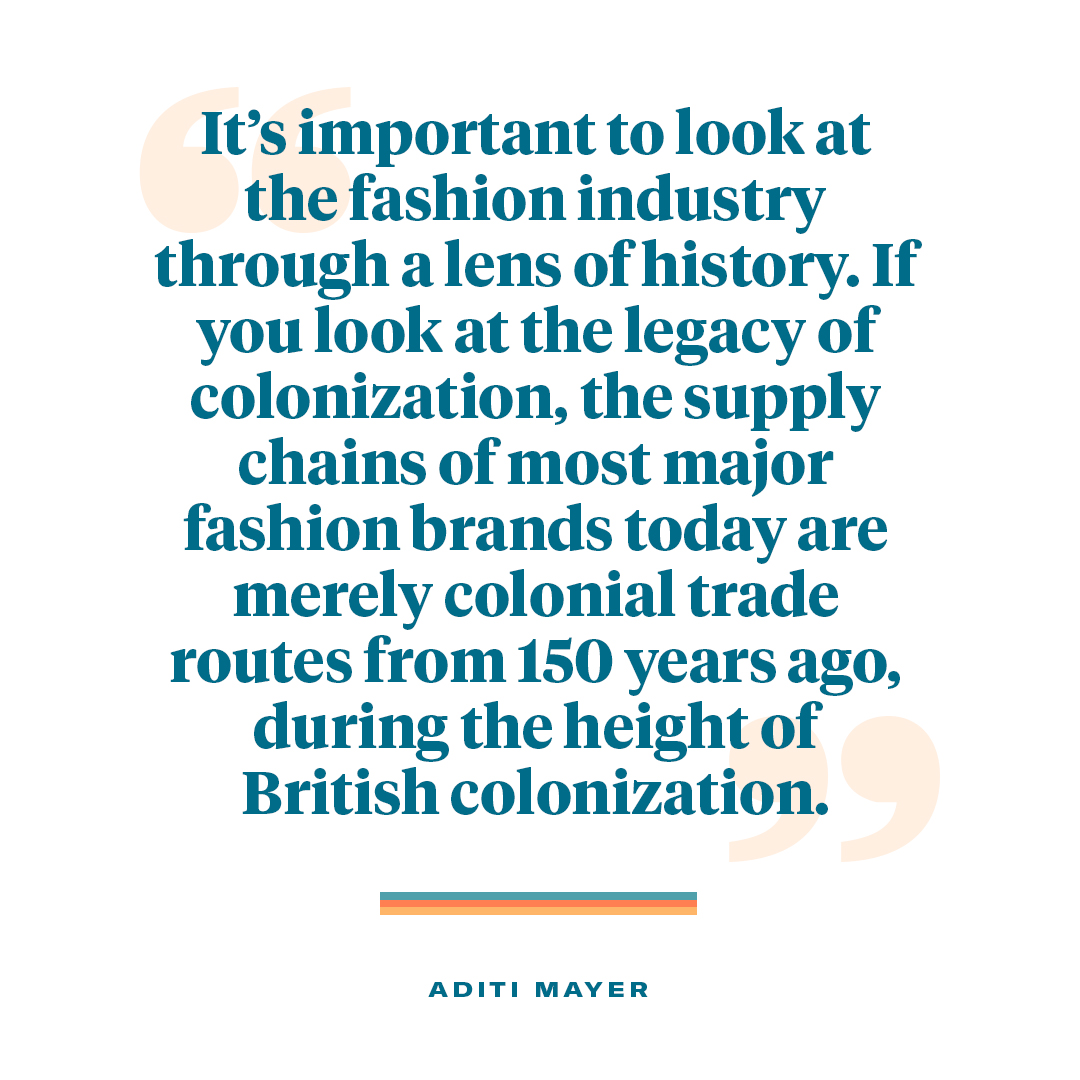 As Mayer explains, the fashion industry is still rooted in colonial practices in how it profits on the exploitation of resources (both human labor and the natural environment). And this, by definition, is unsustainable. A 2018 U.N. report found that the fashion industry produces 20 percent of global wastewater and 10 percent of global carbon emissions. Plus, the demands of fast fashion often put garment workers at high risk, working under harsh conditions for low wages. 
This is why Mayer says sustainable fashion can't only be about changing materials to be more environmentally friendly. "Sustainability, for me, is also: How do we make this culture more sustainable?" she says. The answer, to Mayer, involves an "overhaul of how the industry has operated thus far." That includes putting more people of color at the forefront of the sustainability movement, pushing brands to be more transparent about their production and suppliers, and demanding humane labor practices. 
Mayer plans to shine more light on these issues as she works to expand her role as a journalist in the coming years. She wants to spend more time on the ground, where fashion supply chains exist, and research their social and environmental impact, "from cotton farmers to the factories to artisans."
Mayer also notes how important it has been for her to honor her own identity by partnering with brands that support and lift up South Asian artisans. For others looking to find their voice in the movement, she offers this advice: "Speak to the different parts of your own identity. I think that's how we really make this movement our own rather than just this distant abstraction of 'Earth.'"
3. Dominique Drakeford, 32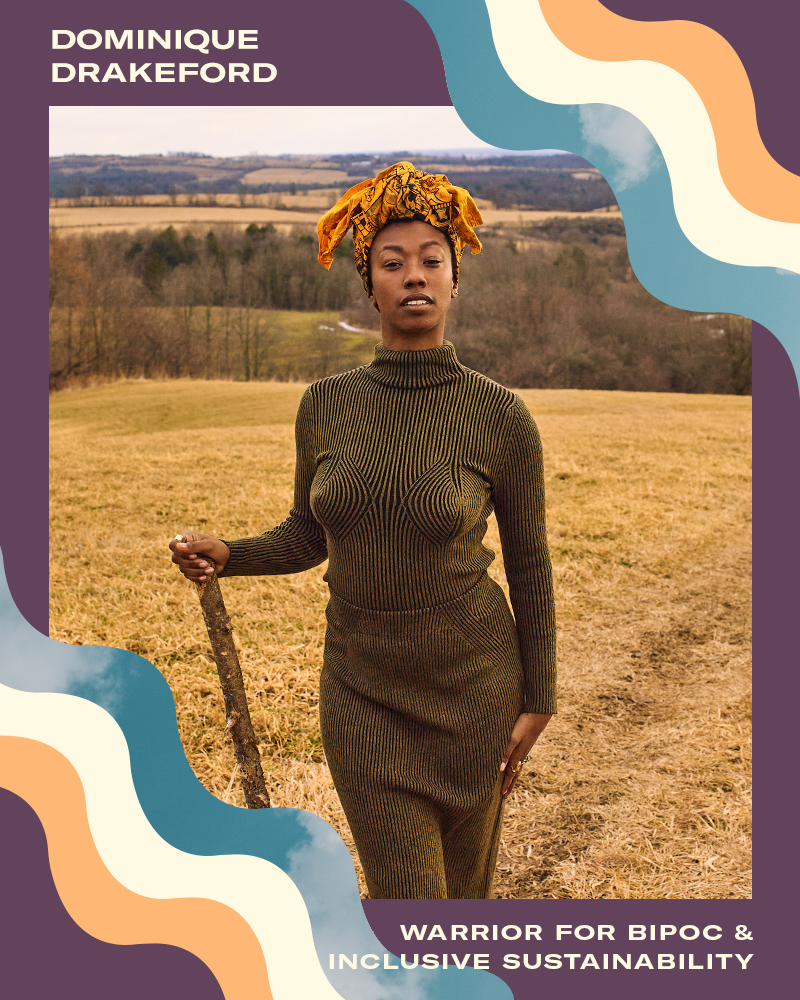 For Dominique Drakeford, deconstructing the mainstream sustainability narrative and helping to provide awareness of Black and Brown ancestral culture to others has been her tried and true passion. That's why, in the summer of 2018, she and lawyer Whitney McGuire co-founded Sustainable Brooklyn, an organization that brings sustainability access to minority communities like Black Indigenous People of Color (BIPOC).
"We're able to create accessible and real programming, both locally in our community as well as at a corporate level, to bring Black and Brown Indigenous leaders to the forefront of conversation and activation across fashion, agriculture, and well-being," Drakeford says.
For instance, within a year of operation, Sustainable Brooklyn successfully curated two sold-out symposiums (one of them in partnership with fashion designer Mara Hoffman); worked with Slow Factory's "Landfill as Museums," where a few members of the community toured a Pennsylvania landfill to work with students on sustainability; and held a sold-out "Blackness and Sustainability" town hall meeting, dinner, and discussion, a collaboration with public service organization The Slow Factory and CBD company Rosebud.
"We're most definitely still in startup phase, especially with COVID-19, and re-evaluating our needs by looking at what will be the best economic and community-based approaches," Drakeford says. While Sustainable Brooklyn's short-term goals involve local community programming, its long-term aim is to create "inclusive sustainable initiatives throughout urban communities," especially right now. "How we understand sustainability and the society detriments that this pandemic has especially had on targeted communities is why our work is so important," Drakeford explains. "Now, humanity will be forced to re-imagine sustainability from our vantagepoint."
Drakeford has also created MelaninASS, a digital platform featuring interviews of Black and Brown Indigenous people from across the world about sustainable food, fashion, wellness, and land sovereignty. "MelaninASS came from out from frustration," Drakeford explains. "[There's] a holistic lack of representation throughout the mainstream movement." As she sees it, most of the narrative around sustainability has been controlled by white women who have been missing the mark when it comes to essential components of cultural history, colonial systems, and environmental racism.
"The foundation of the movement was built on our silence—much like most large movements and systems," Drakeford says. To increase representation, she adds, "it's less about 'amplifying minority voices' and more about how can the mainstream space use their privilege to change toxic colonial systems and be a gateway for agency and sacrifice to give stakeholdership."
4. Alexa Gantous, 26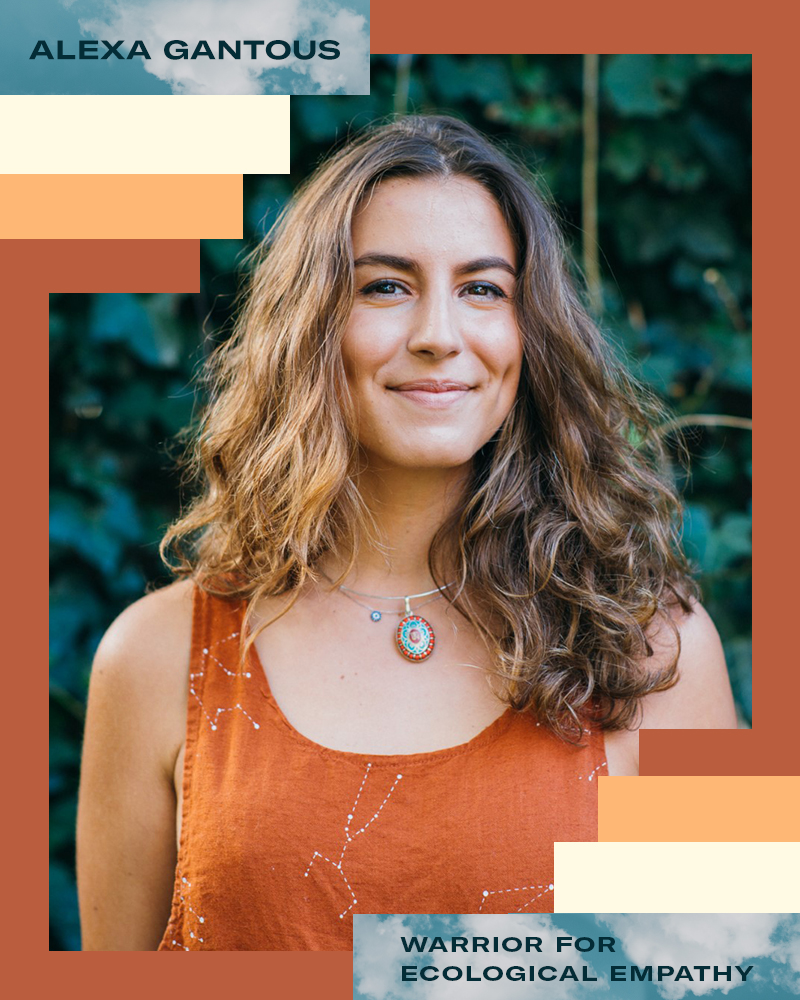 As a kid, Alexa Gantous would give her mom speeches about animal extinction and get worked up about environmental destruction in the world around her. As she grew older, though, new things took priority, and, just like growing apart from a childhood friend, she grew out of touch with her love for the environment. 
But after moving to New York at age 19, Gantous noticed that the lack of access to nature in the city made her crave a connection to the environment. She also became more aware of how her own lifestyle, from grocery shopping to creating waste, negatively impacted the natural world. This personal reawakening informed the research she conducted at Parsons School of Design; in 2018, she created an experimental living lab, TrashTalk, to host conversations and workshops that explore the human role "as makers, consumers, and humans in the face of the environmental crisis," according to its website.
Though TrashTalk has taken a bit of a pause, its findings have informed what Gantous does as a freelance environmental strategist: helping brands incorporate a more holistic environmental approach into their day-to-day operations. She's learned how important it is to help people tap into ecological empathy, which she defines as asking, "How do we show up with sensitivity and compassion for the natural world around us?" She's finding out not only how to connect others with the environment, but also what's been holding some people back from taking action and leading a more eco-friendly lifestyle.
"We all are super aware of how urgent it is for us to act. All the facts are out there, all the stories are out there—yet as a global population and as a collective, we're paralyzed," Gantous says.
She believes this issue can be most attributed to language, as she worries that vague metaphors like "fighting climate change" and "declaring war on the climate emergency" play into fear rather than work to evoke human empathy. "By othering nature and making it the enemy, we're never gonna get the results we want," Gantous explains. "What we really need to understand is that we're part of nature and if we're harming nature, we're inevitably harming ourselves."
The traditional environmentalism approach is also often statistic-heavy and daunting, and Gantous says it's easy, especially for adults, to get stuck in the mindset of "this is just the way things are." As she explains, "We cease to see the world again with the eyes of the beginner's mind."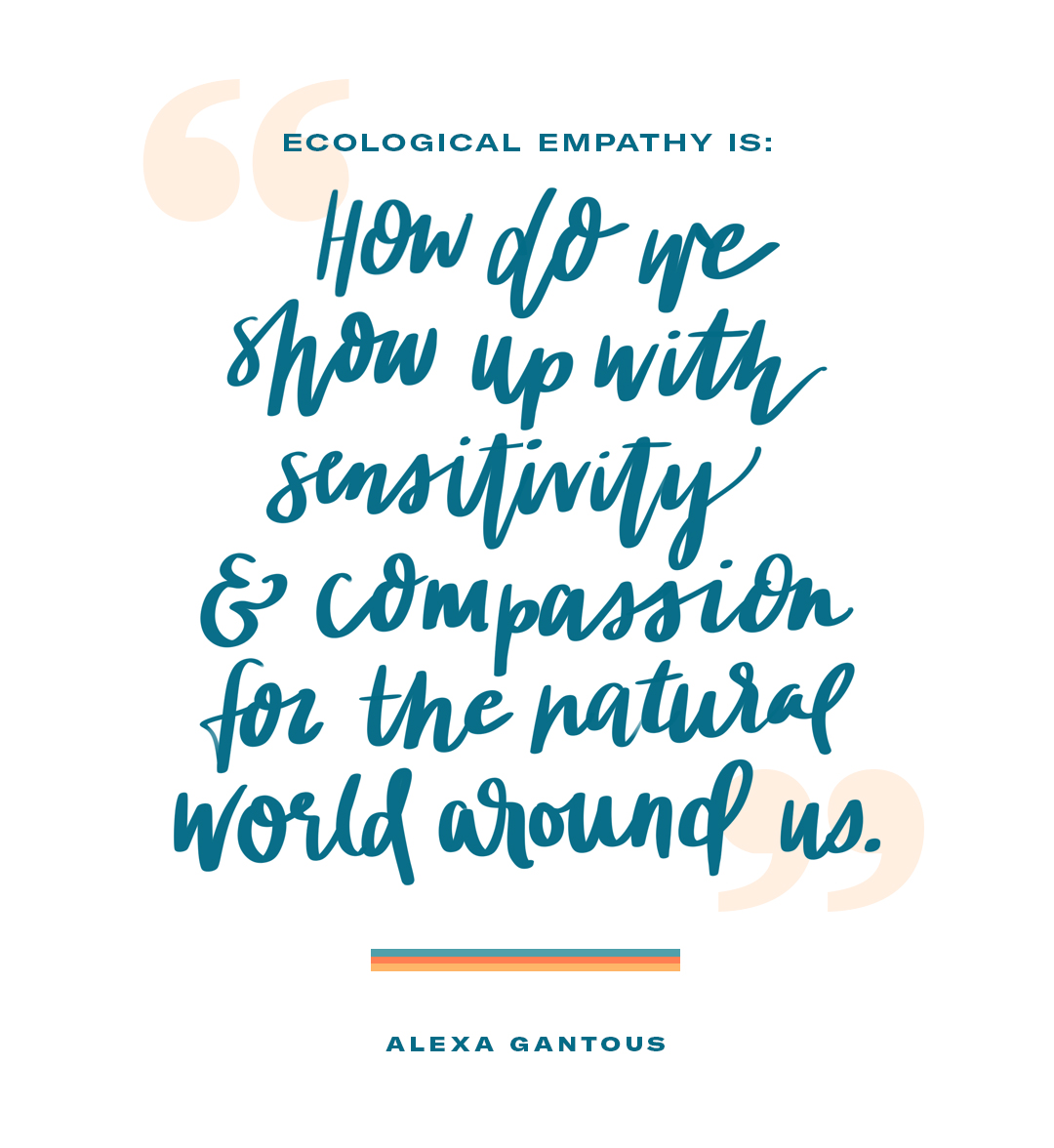 Through her work, Gantous aims to hit the refresh button on the conversation of environmental action and get more people involved in the cause. "If not every single person in your office is thinking about the environment, then you're not going to have a hub for real innovation," she says.
In both her professional work and personal advocacy, she asks the question, "How can we interact with something that we see every single day or do every single day with a completely new perspective?" One possible answer: starting a mobile trash pickup dance party called LitterRally. That's what Gantous and a couple of friends did in March 2019 as a way to turn a simple act of caring for the environment into something fun and positive. She and her friends got 50 people out to that first event, and before the coronavirus outbreak hit this year, they were planning to launch the movement in San Francisco and Los Angeles as well.
Amidst the pandemic, Gantous is busy brainstorming ways to keep bringing the community together through things like virtual spring cleaning events. She says these acts of environmental consciousness have brought new meaning to her life, and she hopes it can do the same for others. "Suddenly, everything is like this new playground," she says.
5. Reza Cristián, 25
Reza Cristián was into sustainability long before she even knew what it was. Growing up in a Mexican-American household, she saw her mother recycle, go thrift shopping, and buy secondhand items. While this lifestyle was the norm for her family, it wasn't until she went to college for journalism and learned more about sustainability from her friends that she truly understood what the term meant—and that's when she began Sustain the Mag, an online media platform that cultivates content for a healthy, planet-friendly lifestyle.
"I wanted to create a space that had to do with editorial and storytelling for what I was learning [about sustainability] and what my friends were doing," she explains.
Now that Sustain the Mag is three years old, Cristián has her eyes on new and innovative ways to connect with her millennial and Gen Z audience. "When we first started Sustain the Mag, we were more focused on making people not feel like they're being sucked into a societal lifestyle, where we tell people the latest trends or items to buy," she says. As she notes, "You don't need to buy sustainable products all the time just to be sustainable."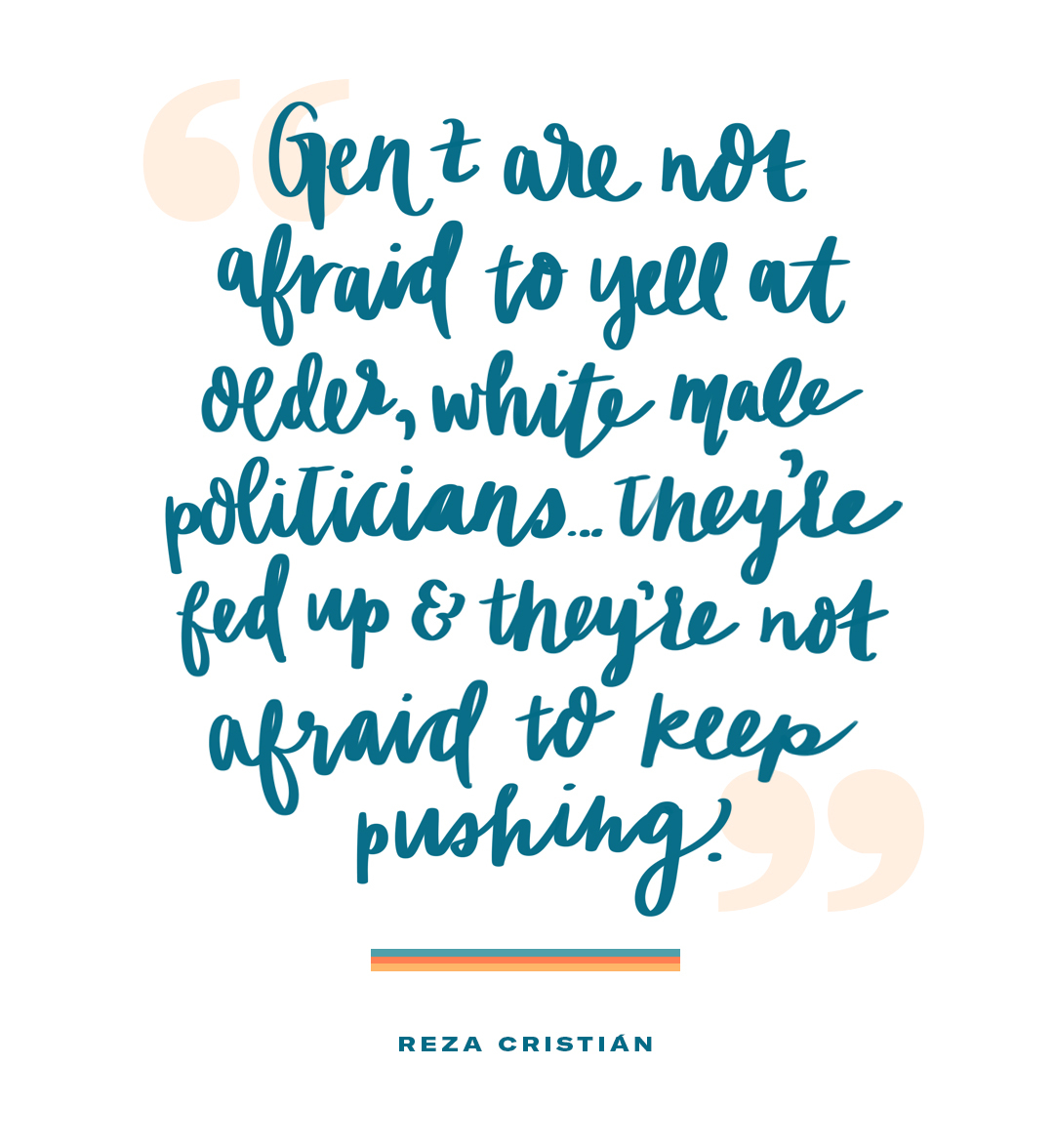 These days, Cristián says, "we're more about sharing stories and highlighting business (i.e. local, artisanal, and craft workers)." She and her team want to change how sustainability has been shown in media by making it more accessible for young readers, which is why she flipped the script when it came to sustainable content, especially since most Gen Z members voted for the first time in the 2020 election. "I think Gen Z is the generation that really cares about politics. They're going to be our next politicians and are really trying to fight for a better, safer place to live. And they want more of that news factor that reflects their goals and worldview," Cristián says.
While we saw record-breaking voter turnout this past year, Cristián notes this is because young people are not afraid to tell older, typically white, and male politicians what they want for their future. "They're fed up, and they're not afraid to keep pushing," she says. We couldn't agree more.
6. Xiye Bastida, 19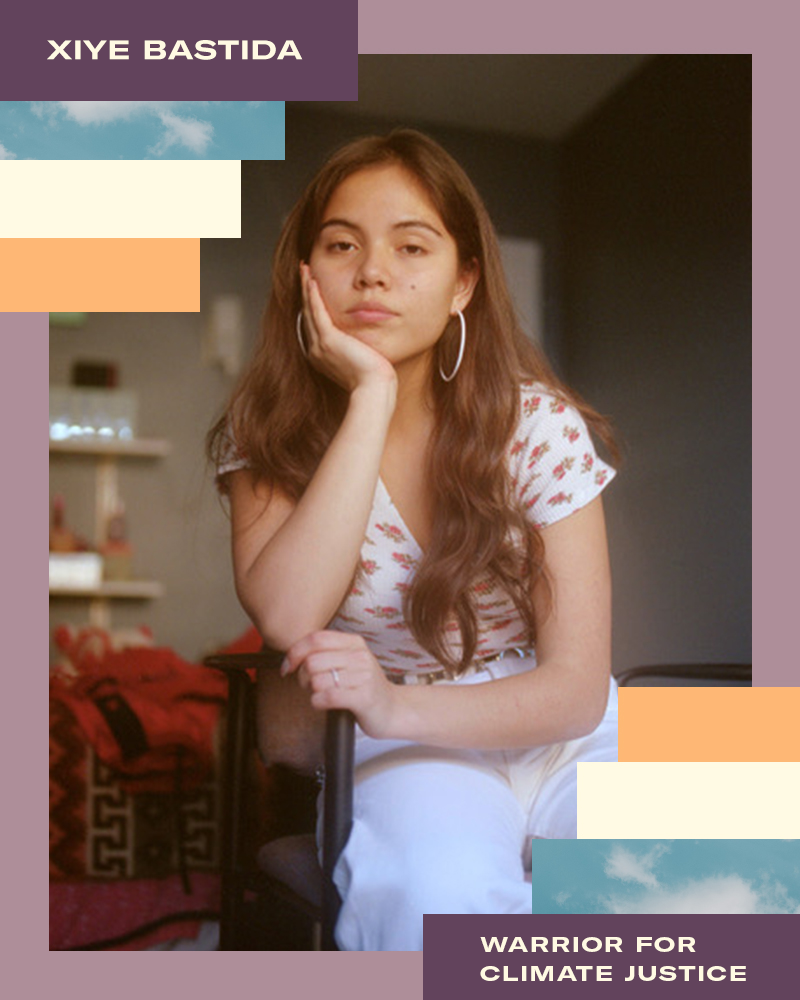 Before moving to the U.S. at age 13, Xiye Bastida was raised in Mexico as part of the Otomi-Toltec indigenous peoples, and environmental understanding was ingrained in her upbringing. "I was raised just always knowing that there needs to be balance with our relationship with the earth and that when you disrespect that close relationship, the disrespect comes back," Bastida says. 
However, as a young climate justice activist, she's realized that these consequences hit some harder than others. "The climate crisis happened by first displacing indigenous people from their culture," she explains—and it continues to disproportionately affect marginalized groups. 
For example, a 2015 study published by IOP Sciencefound a consistent pattern, over a 30-year period, of hazardous waste sites and other polluting facilities being placed in neighborhoods where low-income communities and people of color live. Environmental disasters—whether hurricanes, the Flint water crisis, or the construction of the Dakota Access Pipeline—"exacerbate every single injustice that is already present every day," Bastida says. 
That's why she advocates not only for individual action, but for structural change to address acts of environmental racism and injustice. As she notes, so much of the current mainstream climate conversation on the topic falls short. "It fails to recognize that the climate crisis affects people in urban areas as much as it affects animals and glaciers," Bastida says.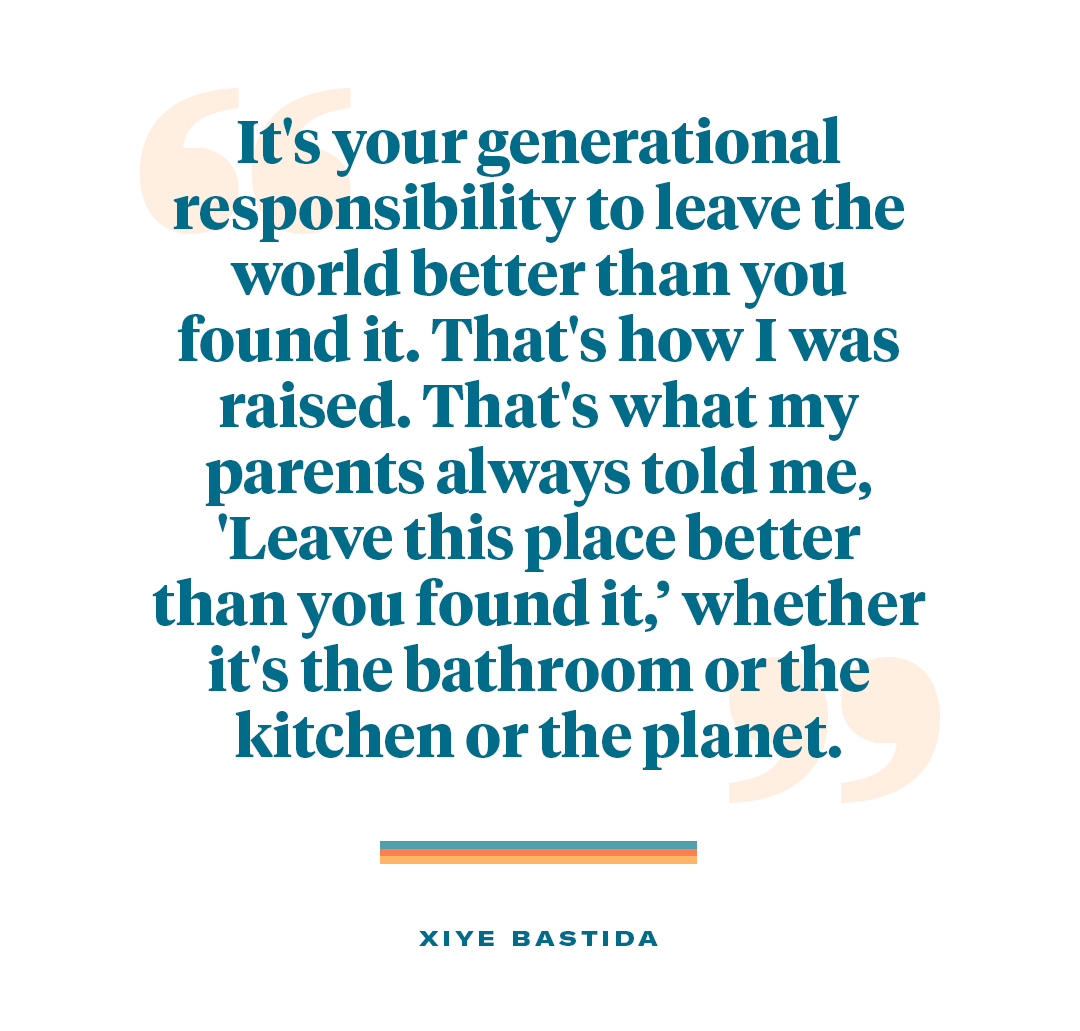 Bastida wants people to be inspired to call their senators and fight for institutional change. To help shift the conversation herself, she's put her energy into the youth climate activism movement. She's one of the lead organizers of Fridays for Future NYC, a segment of the global youth climate strike movement that Greta Thunberg started in Sweden; for the first strike in March 2019, Bastida mobilized 600 students at her high school. She's also a member of the team of activists behind We The Planet, an international campaign advocating for climate justice through digital action this Earth Day.
Bastida feels that her natural role is to lead, but she wants others to know that they don't have to be masters of public speaking to participate. "Everybody has their space in the climate movement," she says. "Somebody who does graphic design is maybe not going to stand on a podium and speak, but they're going to have amazing graphic design skills [to contribute]."
Included in her "10 tips for being a climate justice activist," a post saved at the top of her Instagram, is this helpful reminder: "The world doesn't change when 1,000 people do climate-justice activism perfectly; it changes when a billion people do it the best they can."
7. Jessica DeFino, 31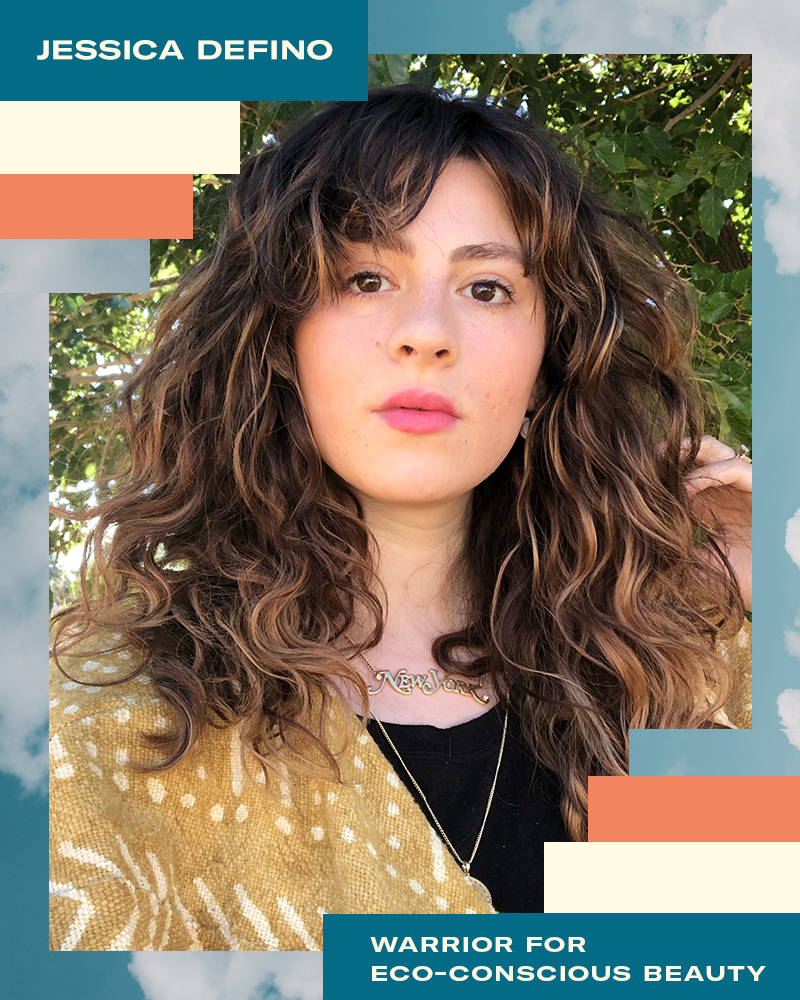 Jessica DeFino's relationship with natural and sustainable beauty began after she experienced skin issues, such as dermatitis, while testing beauty products as a media reporter. When she tried to cure her skin with products, prescriptions, and fad diets but ended up aggravating it even more, she decided to take matters into her own hands by studying the biology of the skin. And while DeFino was never into natural skincare before these issues, she soon found that products like pure Manuka honey, rosewater, and apple cider vinegar helped clear her skin so quickly that she decided to shift her career focus to sustainability in the beauty industry.
As soon as her eyes were open to the kind of power that nature can provide through plants, herbs, and flowers, DeFino realized "she couldn't do anything to the planet that would hurt it."
That's why DeFino now devotes her life to understanding the skin and articulating information about natural beauty and sustainability through every article she writes for Vogue, Allure, The Cut, Nylon, and more. "My goal as a beauty journalist is to kind of peel that back and help people pare down their routines and understand what their skin can do all on its own," she explains. "The only thing you really should listen to is your skin. It will communicate with you, it'll tell you what you need—and, if you're really listening, the skin needs very little."
So what is Defino's advice on how the beauty industry can make a difference? Make less stuff. "I would love to see eco-activists and entrepreneurs in the industry look beyond launching new beauty brands and find other ways to affect change in the industry," she says. Rather than adding another product into the already-packed beauty space, she suggests that people consult for existing brands, research and develop new technology in the space, join a nonprofit, or educate and lobby for legislation. "Launching a brand is not the only option—and, in fact, it's probably the least 'sustainable' option," she says.
Read More