These cleansing balms will get rid of every trace of makeup from your festive face beat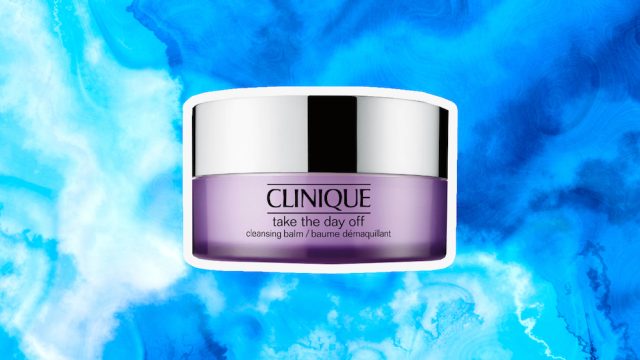 The holiday season is officially here, which means we get to have fun creating all of the many festive makeup looks that we can conjure up.
Holiday makeup is great. Removing holiday makeup, especially when there's a ton of glitter of bold red lips involved? Not so great. Many makeup removers can leave even the oiliest of skin feeling dry and irritated. So, how do you get around it? The answer is cleansing balms.
Compared to traditional makeup removers like cleansers and wipes, solid cleansing balms transform into gentle cleansing oils that remove all traces of makeup with less work and stress on your skin. (Plus, they're better for the environment than wipes.) If you're planning on creating some killer Christmas and New Year's makeup looks and want to keep you skin in tip-top shape, these 19 cleansing balms that will remove all that face beat while leave your skin hydrated and glowing.
1Farmacy Green Clean Makeup Meltaway Cleansing Balm
This gentle balm erases all traces of your makeup while papaya extract natural exfoliates your skin for a renewed complexion.
2Estee Lauder Advanced Night Micro Cleansing Balm
Infused with lavender and chamomile, this balm is heaven-sent for even the most sensitive skin. Use it alone or just to remove makeup before cleansing with a face wash.
3Nyakio Sweet Almond Cleansing Oil Balm
Sweet almond oil from almonds sourced out of Spain break down your makeup leaving your skin radiant.
4Clinique Take The Day Off Cleansing Balm
If your dry skin is suffering from removing all of your holiday makeup, gift this balm to you from you.
5IT Cosmetics Bye Bye Makeup 3-in-1 Makeup Melting Cleansing Balm
Give your skin the best of three worlds with this 3-in-1 makeup remover, cleanser, and anti-aging serum.
6Sunday Riley Blue Moon Tranquility Cleansing Balm
This sugar-based balm is just the sweet treat that your skin wants and needs. Vanilla and sweet orange help you relax so you'll feel like you're getting the ultimate spa treatment from the comfort of your own home.
7Charlotte Tilbury Multi-Miracle Glow Cleansing Balm
If the stress of the holiday season is wreaking havoc on your skin, this multi-action balm will help save it. Good news—it doubles as a face mask so your dry skin will be merry.
8Sephora Collection Cleansing Oil In Balm
Even waterproof makeup is no match for this balm. Made from jasmine, mimosa and rose wax, it will overwhelm your skin with joy throughout the holidays.
9Beautycounter Cleansing Balm
This cleansing balm is the gift that keeps on giving. It includes a super soft muslin cloth to wipe away all traces of your festive makeup while vitamin C helps to boost your overall complexion.
10Elemis Pro-Collagen Cleansing Balm
Let this powerful cleanser do all the work while you reap all of the many skin benefits.
11Julep Love Your Bare Face Detoxifying Cleansing Balm Stick
If you plan on being on the move this holiday season, this travel-friendly cleansing stick is perfect for the road.
12Shea Moisture Green Coconut & Activated Charcoal Purifying & Hydrating Cleansing Balm
Activated charcoal in this formula draws out impurities and excess oil while green coconut nourishes and hydrates your skin.
13Pond's Cold Cream Cleansing Balm
Even the heaviest of holiday makeup will be easily removed with this moisturizing balm.
14Yes To Coconut Oil Cleansing Balm
This balm is 98% natural and comes with reusable coconut-infused sponges for easy mess-free application.
15Boscia Charcoal Makeup Melter Cleansing Oil-Balm
This dermatologist-tested charcoal balm is gentle yet effective for use on all skin types.
16Skinny & Co. Calming Facial Cleansing Balm
Blended with some of nature's best essential oils, this calming balm is perfect for oily, acne-prone skin. Yes, those of us with oily skin can use cleansing balms, too.
17Pixi Skintreats Nourishing Cleansing Balm
Use this balm day or night to remove makeup or to just simply cleanse your way to glowing skin.
18The Creme Shop Clarifying  Charcoal Melt Away 3-in-1 Cleansing Balm
As the name suggests, this clarifying balm melts away makeup and prevents you skin from breakouts thanks to the toxin-drawing properties of charcoal.
19Physicians Formula The Perfect Match 3-in-1 Melting Cleansing Balm
The matcha green tea in this cleansing balm will give your skin the ultimate boost it needs to get through the holidays and the New Year.