Karrueche Tran of "Claws" talks about her all-time fave skin care brand and her third collab with ColourPop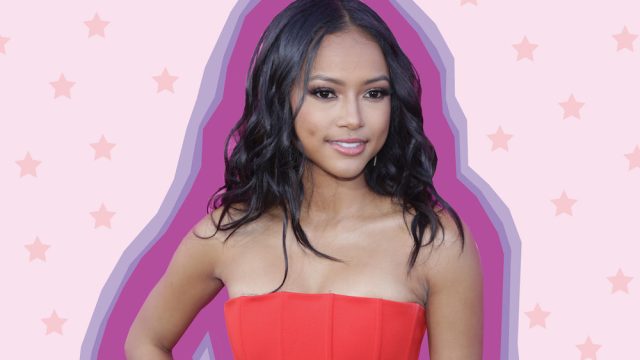 You might have first heard of Karrueche Tran after she came into the spotlight during her relationship with Chris Brown. In the years since, Karrueche has become a Wilhelmina model, launched two makeup collections with ColourPop, and nabbed several acting roles, including one on the upcoming TNT dramedy, Claws. Karrueche stars alongside Niecy Nash (who has become quite her BFF if their cute Insta posts are any proof) as a young nail artist named Virginia who starts working at the nail salon owned by Niecy's character.
We visited the set of Claws and talked to Karrueche about playing Virginia, the addiction we ALL have to Sephora, and whether she has plans for another makeup collab. (Spoiler alert: she sure do!)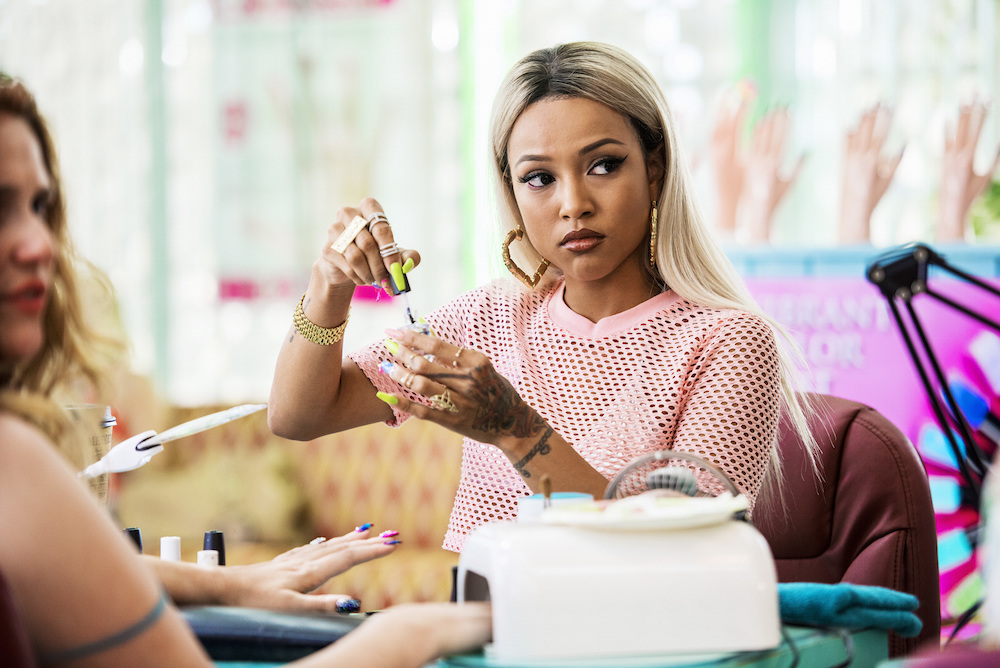 HelloGiggles: How did you decide to join Claws and take the role of Virginia?
Karrueche Tran: It seemed like an interesting story — five manicurists who work in this nail salon and here I am, not the bad girl, but the feisty one in the group. She just seemed like a lot of fun. I've been the girlfriend or the girl-next-door in most roles that I've played — kind of very similar to me, so this was so cool because I could actually play a character, and really become someone else.
HG: I love Virginia's outfits, they're so good!
Karrueche: They're crazy, yeah. And that's one thing that I love, because, day-to-day, I dress nothing like Virginia. I'm just a little bit more chill, so I love that I can live through her and just have so much fun. Off set is totally different.
https://www.instagram.com/p/BSZnEpUj9I1
HG: I was going to ask, would you want to steal anything from her wardrobe?
Karrueche: Nothing from Virginia. She's overly trendy. She wears everything at one time. I might do pieces here and there, but not everything at once!
https://www.instagram.com/p/BU5SfVVD4Lb
HG: Your collabs with ColourPop last year were amazing. Can we expect any more?
Karrueche: I'm actually working on my third collection with ColourPop, which I'm really excited about because with this one I nurtured it a bit more. I put a lot more thought into it. There's a theme around it, which I love. It'll be coming out soon.
HG: We're obsessed with ColourPop at HelloGiggles.
Karrueche: Yeah, they're so great because they're up to speed with trends and they're affordable. I love that so many girls are able to purchase and be a part of it. I don't want to have a product where nobody can really afford it, so it's really great.
https://www.instagram.com/p/BANjaAdGTmV
HG: What are some of your favorite skin care products right now?
Karrueche: Oh, girl. I've been so into products lately. I was gifted some La Mer moisturizer and I'm loving it. But Kiehl's is my main product for everything. Face wash, face lotion, their face masks are so great, too. I use their deodorant, and their lotion keeps my skin so soft. So, my number one go-to is Kiehl's. And I dibble and dab, I try to test out new products. One thing I always tell people is, it's not about what's the most glorified, it's about what works for you and your skin.
https://www.instagram.com/p/BTSWgR9DTLC
HG: What are some of your beauty must-haves that you always like to keep around?
Karrueche: I always keep my moisturizer on set. I'm the type, like, once I get out the shower I need to put lotion on my body, my face, everything. And I always keep my little makeup kit with me because I'm the girl that like, even after I get my makeup done by the top person I'm still fixing myself. The basics are just the foundation that I'm using, Laura Mercier. I keep that and my Smashbox mascara.
https://www.instagram.com/p/BSr2hfCjnXg
HG: I always end up forgetting some when I'm packing. When I was at the airport, I was like, they need a little Sephora kiosk.
Karrueche: Yeah, they do…have you seen the Benefit trucks? That's such a smart idea because sometimes you're like, "oh I forgot my mascara," and it's perfect because it's right there. Sephora would actually be a great thing to have in airports. But is dangerous at the same time because that's where if I'm bored and I'm just like, I think I need another face moisturizer, I think I need another eyeliner. Like, I don't, but you just want to have fun and play.
https://www.instagram.com/p/BU2aveFDPi0
HG: Do you ever do drugstore beauty?
Karrueche: I guess because I go to Sephora, I don't really think to go to the drugstore. But with Virginia's looks, I've been drawn towards finding new colors and stuff. I was actually in Walgreen's the other day and walked past the cosmetics department and slowly backed up and was like, oh let's try a lip or something. I found an awesome L'Oreal chocolate brown lipstick that ended up being so perfect, exactly what I needed.
https://www.instagram.com/p/BUXoa33jySe
HG: What's the last thing you bought online?
Karrueche: I do not like to online shop. I want it now!
HG: Old school.
Karrueche: Everybody loves Amazon because you get it in a day or two. And I'm just like, I don't know. I need to touch it, and have it.
Claws premieres on TNT on June 11th.